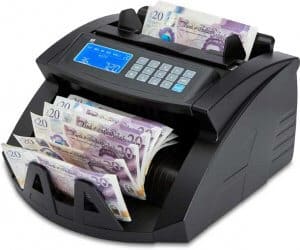 If you're working in any cash handling business environment, you'll understand first hand the importance of tools and machines to make your working day easier and more efficient. The first kind of machine that might spring to mind would be a banknote or coin counting machine, which is the simplest way to guarantee accuracy and speed when it comes to handling cash in your business. This leaves both business owners and employees with more time to focus on other responsibilities. All our machines are updated with the latest technology, ready for the new £20 polymer note too.
Efficiency
Efficiency is key for any business. As the saying goes – time is money! So, if there are ways to save time and make more money, you're going to want to give it a try, right? ZZap cash and coin counters are made with efficiency in mind, and are guaranteed to save you time. Naturally, our machines count at a much faster rate than a human would, and can handle a lot of cash at once. Simply put the notes or coins through your selected machine and it will give you a figure in seconds, with no need to recheck figures over and over. If you needed any more convincing, how's this for a stat; ZZap note counters can count over £20,000 in as little as 13 seconds. Just imagine how long that would take you to count by hand…
Easy to operate 
Part of the efficiency of a cash counting machine is linked to how easy it is to operate. The machines are very simple to use – in many cases, all you need to do is place notes correctly onto the machine and it will automatically start counting, and intuitively know when to stop. Other machines will require more user input, with simple functions to talk you through the count. For ease, many machines these days come with a LCD interface and keypad to make the process even easier.
Accuracy 
No need to factor in human error when you're using a cash counting device – they will give you an accurate result every time. In fact, ZZap machines are so clever they will separate and count even old or soiled notes which could be stuck together, counting them individually to give an accurate figure. So not only do our modern banknote and coin counting machines look smart, they are also very intelligent too. The machines also perform self-examination so if there are any issues with a count, the machine will alert you immediately.
Counterfeit detection 
Fake notes can impact negatively on the economy and also damage the reputation of a business. The good news in regards to this is that many cash counting machines do more than just count cash – they can detect fake notes too, with built-in counterfeit detection.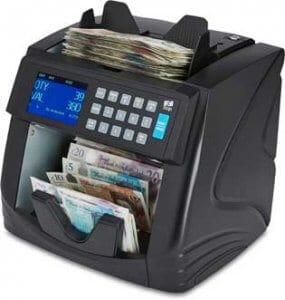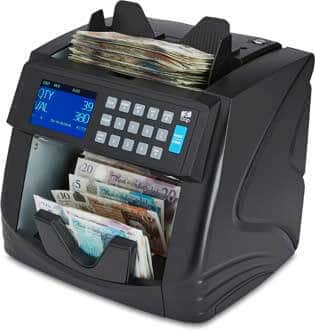 For instance, the ZZap NC20+ Banknote Counter, ZZap NC30 Banknote Counter, ZZap NC40 Banknote Counter or ZZap NC50 Banknote Counter all offer varying degrees of counterfeit detection, from 4-fold to 8-fold. Our most advanced machines, the ZZap NC60 Banknote Counter and ZZap NC70 Banknote Counter even offer built-in 10-fold counterfeit detection. Identifying fake notes can be difficult, or near impossible for the human eye, but these machines will help to keep your customers honest and save our business from unnecessary losses.
Reasonably priced 
There's no need for a cash counter to break the bank, and we believe good value products should be widely available to all business owners. There are a range of different items for businesses of all kinds of sizes and needs. For instance, you can start with the ZZap NC10 Portable Banknote Counter, which is battery powered, for just £69.99, or it's upgraded sister the ZZap NC10+ Banknote Counter for £94.99. One of our most popular banknote counters, the ZZap NC20i Banknote Counter, is priced at £199.99 and has UV & MG counterfeit detection. Of course, depending on your needs you can up or downscale the size and capabilities of your machine, which will be reflected in the price.
Easy to purchase 
Finally, if you need any more convincing, these cash counting machines are so readily available around the world that you don't even need to leave the office to purchase one. You can buy a machine online and have it ready to use in your business by the very next day, so the time saving can begin immediately! We'd recommend you head to our website and have a look through the different options before making a final decision on what will work best for your business. If you buy through ZZap, you will enjoy free postage, our 3 year warranty and a 30 day return policy (although we doubt you will need to use this!). If you'd like some advice from our team first, you can live chat with our sales team via our website.