In 2020, businesses and individuals have more choice than ever when it comes to counting their profits. Luckily there are a number of products on the market to help you do so quickly and accurately. But what are some of the top money counting machines out there? Let's take a deeper look into which machines might suit you and how they work…
The ZZap NC20i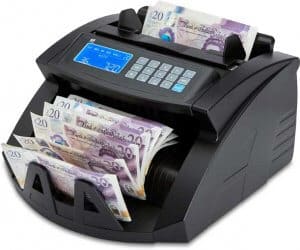 What can we say; the NC20i has already established itself as one of the best selling banknote counters in years gone by, and it's set to break sales records in 2020 with its ever-growing popularity. This intelligent, yet affordable machine counts all world currencies at the extremely fast rate of 1,000 banknotes per minute. This minute includes verification of each and every banknote that passes through the machine with 5-fold counterfeit detection.
One of the main selling points of the NC20i over other machines at this price point is its ability to count single denomination values. This allows the machine to display the value of the amount counted rather than just the number of notes counted. 
Its sorting function allows the NC20i to detect different denominations, along with its batch counting function to allow for easy preparation for cash drawers and bank deposits. On top of all of this, it has excellent counterfeit detection and high speed counting capabilities that are 8 times faster than manual counting, making it one of the best all round banknote counting machines available.
The ZZap NC50
This counter is value for money and makes counting your cash simpler than ever. It allows you to count a mixture of note denominations without needing to presort them. The machine also has the ability to display the total value and quantity of notes counted, reporting the total value and quantity of each denominated counted. While there are 7 default currencies installed in the machine, other currencies can be loaded as and when needed.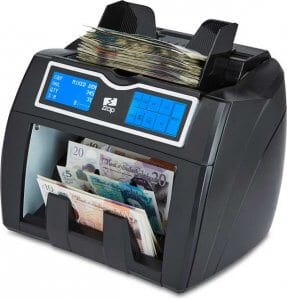 The USB currency update port allows for newly issues banknotes to be counted as well as the downloading of other currencies.
The NC50 has 3 speed settings depending on the condition of the notes you are counting – 800 notes per minute, 1,200 notes per minute or 1,500 notes per minute. Old or worn out banknotes should be counted at lower speeds to reduce the risk of ripping.
This clever machine also has a sort function to detect rogue denominations within your single denomination banknotes. If a different denomination is counted, the machine will pause and alert you with a visual and audio warning. 
The ZZap NC70
The NC70 is known as the ultimate professional-grade bill counter and is designed for high-volume use and error-free counting. Some of its key features include mixed denomination value counting and 100% accurate counterfeit note detection. It can also sort bills by face, orientation and denomination and count up to 4 mixed currencies at once.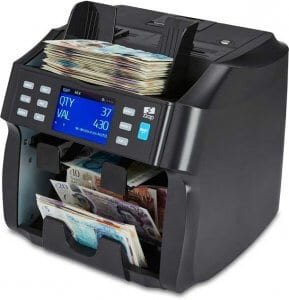 It's a two-pocket machine which enables it to split the notes and sort them while counting. The NC70 will automatically off-sort counterfeits and other bills of your choice.Because it has a top loading hopper and a larger bill capacity, it allows you to add bills to the hopper while it runs for easy and continuous counting.
The NC70 also has a unique built-in thermal printer which is integrated into the body of the machine and doesn't require ink. This allows you to print the counting report breakdown or a list of all the banknote serial numbers, making administration reports easy for your business. Alternatively, you can always view these reports on the display screen or export them to a PC. 
The Glory 2650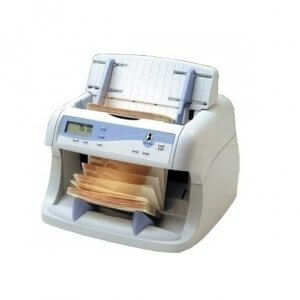 This mid-range banknote counter is polymer compatible and a decent entry-level choice in terms of its affordability and suitability when it comes to most world currencies.
The 2650 has a high-speed note feeding mechanism to ensure the efficient processing of your banknotes. In fact, it's able to sort anywhere from 600 to 1,500 notes per minute. And then it comes to accuracy, this machine can help you regardless of note condition. It comes with six pre-set batch stops, with additional non-standard batch sizes able to be selected using the keypad for individual needs. Your chosen configuration is then able to be saved and restored when the banknote counter is next switched on.
The Laurel J 757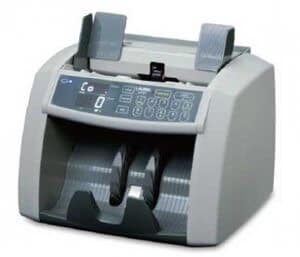 This machine also boasts high counting speeds of up to 1,500 notes per minute to significantly improve operational efficiency. You won't need to worry about rogue denominations being counted either, as the J-757 comes equipped with a short size check function to prevent this.
It comes with built-in UV authentication to detect counterfeit notes. It also has an enhanced Counting Sensor System which means its error rate is significantly reduced even when counting through notes of poor quality. Its note transportation mechanism is of professional quality, meaning less frequent jamming of notes during the counting process.