The history of the £20 note
The £20 note is Britain's most commonly circulating note, which is perhaps why it's the most commonly forged note in the UK. There are double the amount of £20 notes in circulation compared to £10 notes – two billion of them to be exact! This is even more than the number of £5 notes (396 million) and £50 notes (344 million). Did you know the first £20 notes were introduced by the Bank of England for the very first time in 1725? The earliest notes were hand written and issued to individuals as and when needed. Indeed, we have come a long way in terms of both note production and security since then.
Tell me about the new £20 note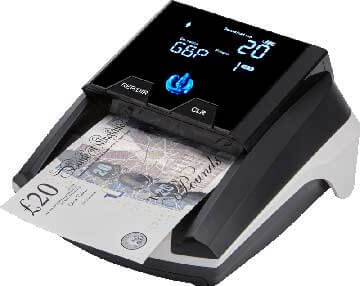 a polymer version of the £20 banknote. And its new security features promise to tackle the use of fake notes in the UK. However, even with this latest technology, it is important to be vigilant and to have devices, such as the ZZap D40, in place to protect your business against the use of fake notes. The Bank of England announced the new design on the 10th of October, to be brought into circulation on the 20th of February 2020. The latest design featuring the artist JMW Turner has been classed as the most secure banknote yet, incorporating two windows and a two-colour foil which makes it very difficult to counterfeit. The artwork on the reverse side of the note will feature Turner's self-portrait from 1799, alongside one of his most notable pieces – The Fighting Temeraire – which is currently displayed in the National Gallery. The next step for polymer notes will be the £50 note, due to be released by the end of 2021.
Why Polymer?
Polymer notes are the way forward, typically lasting longer than paper notes and also remaining in a better condition. According to the Bank of England, polymer notes have three key features which prove this – they are cleaner, safer and stronger. Because they last longer, they are also more environmentally friendly and have a lower carbon footprint. The waste from old polymer notes can even transformed into new plastic items.
How will this affect my business?
Long term, this will be a very positive step for British businesses, eliminating the chance of accepting counterfeit notes. But don't worry if you are yet to prepare – ZZap works with the Bank of England to make sure its machines are up to date ready to count and check the new £20 note so you don't have to. In fact, most of the machines we currently supply already have the latest software installed. If you have previously purchased a product, head to our website to download our free software update, complete with installation instructions. Essentially, you will be able to use your banknote counter to sort £20 notes with the same maximum security and confidence as long as your machine has the latest software.
Once the new polymer note is issued by the Bank of England, the current paper version will still be able to be used until it's withdrawn from circulation. This withdrawal date will be announced once the new note is issued, giving at least six months' notice. However, many banks and, in some cases, The Post Office may still accept withdrawn notes.
How to ZZap banknote counters work and how do I choose the right one for me
Your note counter should be about having peace of mind and streamline your cash handling process, which is why ZZap cash counters,  are designed for one main purpose – reliability. While also saving you time and money, our banknote counters eliminate human error and fake notes.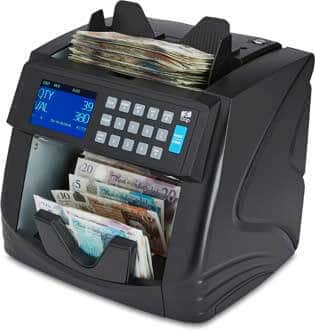 While all of our machines can count single denomination banknotes, our advanced counters such as the ZZap NC60,  have the ability to detect several different denominations. This means you don't have to sort through the notes before putting them through the note counter – if you want to save time, then our NC60 is the machine for you. Let us do the counting for you!
Our counterfeit detection works by sensors, which check to see if a note's built-in security features are present as it passes through the machine. Our high-end note counter, the ZZap NC40, will check for the most advanced security features like infrared and metal threat.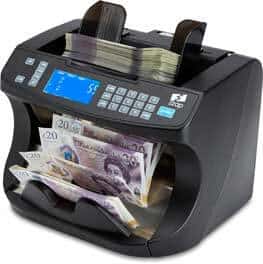 This means the counterfeit detection is more accurate as it's a more sophisticated device. If you believe your business could be at risk of receiving counterfeit notes, you should opt for the highest degree of detection to catch any fake notes immediately. If you run a business where there is a small risk of this happening, then you may be able to purchase a machine with a lower degree of detection.
Before deciding on a machine, it's important to compare our many different devices to ensure you choose the best one for your individual business needs. Unlike our competitors, we retail bespoke products that are designed to our exact requirements. We only sell the best (premium) quality products which are designed to last and make your life easier.
To learn more about how ZZap cash counters can improve your business, visit our website or give our sales team a call on 0333 355 1219 .