Features
Rejects foreign & counterfeit coins
For high volume & continuous counting
Counts all denominations into 1st coin tray
Rejects foreign coins into the 2nd coin tray
Can also off-sort 1 denomination at a time
Inbuilt thermal printer
Heavy duty motor & steel sorting disc
High-speed counting (600 coins/minute)
Batch counting & add functions
Suitable for the new & old £1 coin
Reports the total value & quantity counted
Reports value & quantity per denomination
Save & view count reports
Export count reports to a PC
Memory function saves your batch settings
Anti-jamming technology
Presorting coin feeder included
Large LCD screen displays entire count report
Top cover & auto-diagnostic for maintenance
USB currency update port
Easy to operate & professional manual
Auto-stop when hopper is empty
Displays helpful on-screen instructions
Different currency versions available
Coin bag trays (optional)
Overview
The CS70 unique design offers the functionality and reliability of a high specification model but at a reduced price. Incorporating 2 coin trays, the CS70 uses its advanced alloy sensor to count mixed denominations and reject counterfeit/foreign coins. The CS70 neatly displays the total value/quantity counted and reports the value/quantity counted per denomination on its large LCD display.
The CS70 uses a heavy duty motor enabling it to count at an impressive 600 coins per minute while ensuring consistent accuracy and reliability. Perfect for high volume counting. The easy to use interface makes batch counting simple and enables you to save and view your previous counting results. Furthermore its integrated thermal printed means you can print your counting report at any time.
What It Does
Simply pour your mixed denomination coins into the hopper and press start. Using the coin feeder, incrementally feed more coins into the hopper. The CS70 displays the total value & quantity counted and reports the total value & quantity counted per denomination on its large LCD display. It also reports the total quantity of rejected foreign/counterfeit coins. The CS70 has two counting modes shown below: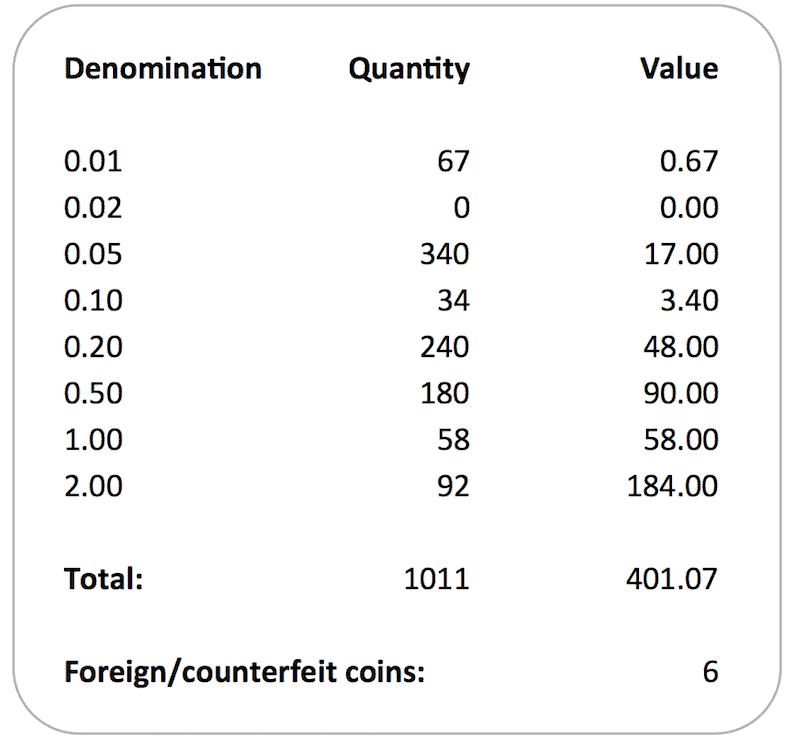 Mix-Count (Mixed Denomination Counting)
In Mix-Count mode all genuine coins are sorted into the left coin tray and counterfeit, foreign or damaged coins are rejected into the right coin tray.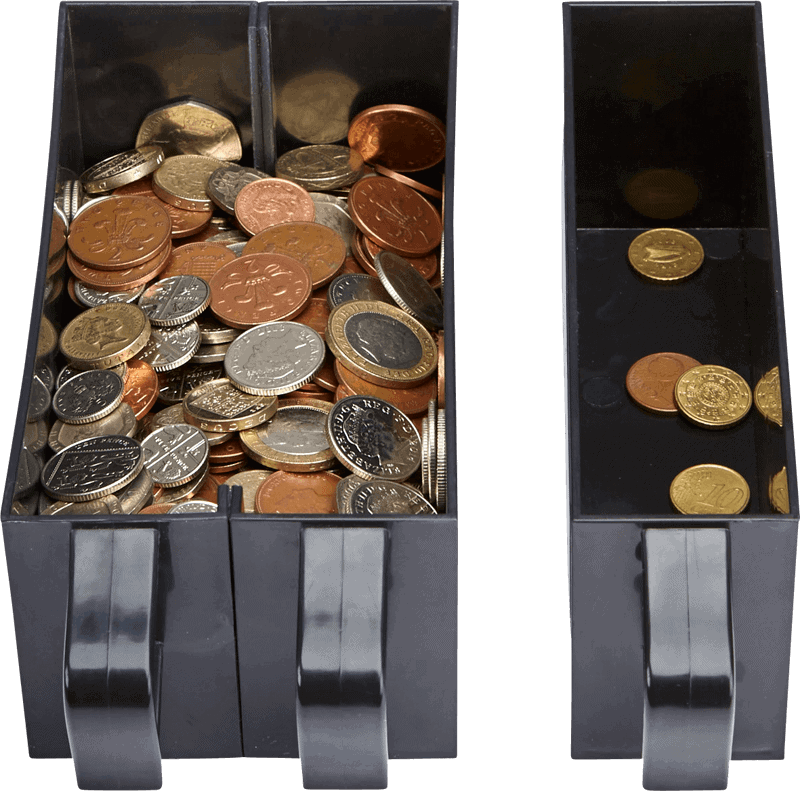 SDC-Count (Single Denomination Counting)
In SDC-Count mode simply select a denomination to be off-sorted. The selected denomination will be sorted into the left coin tray. All other denominations and foreign/counterfeit coins will be rejected into the right coin tray.
The CS70 has 2 coin trays. One large tray, one small tray. Simply insert the tray to the left or right side depending on what tray you expect the most coins to go into.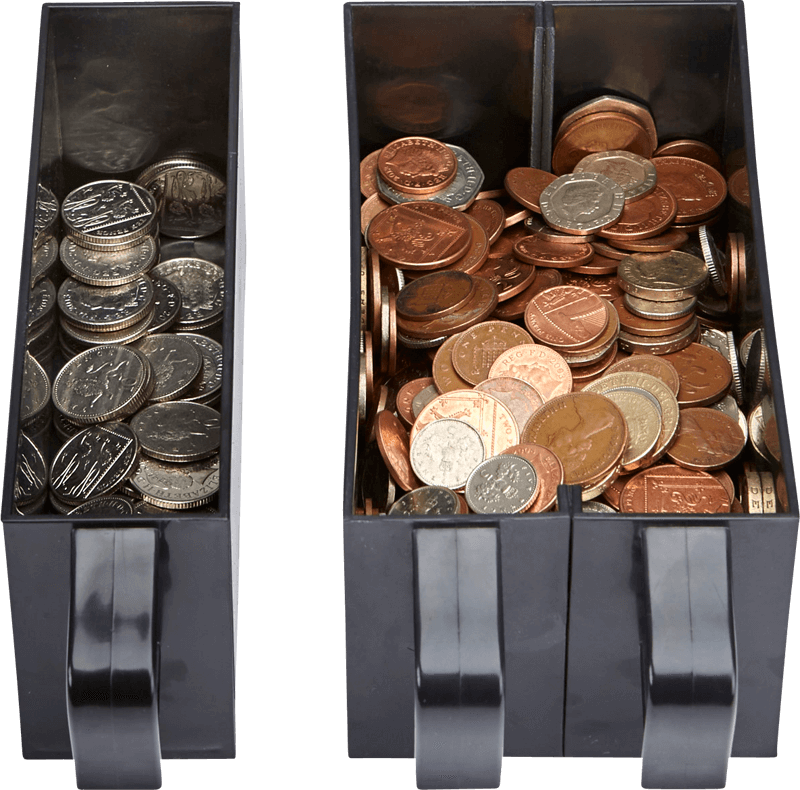 Rejects Foreign & Counterfeit Coins
The CS70 advanced alloy sensor scans each coin and rejects foreign, counterfeit and damaged coins. It's so accurate it can even off-sort a denomination of your choice and reject all the other coins. Simple, fast and effective.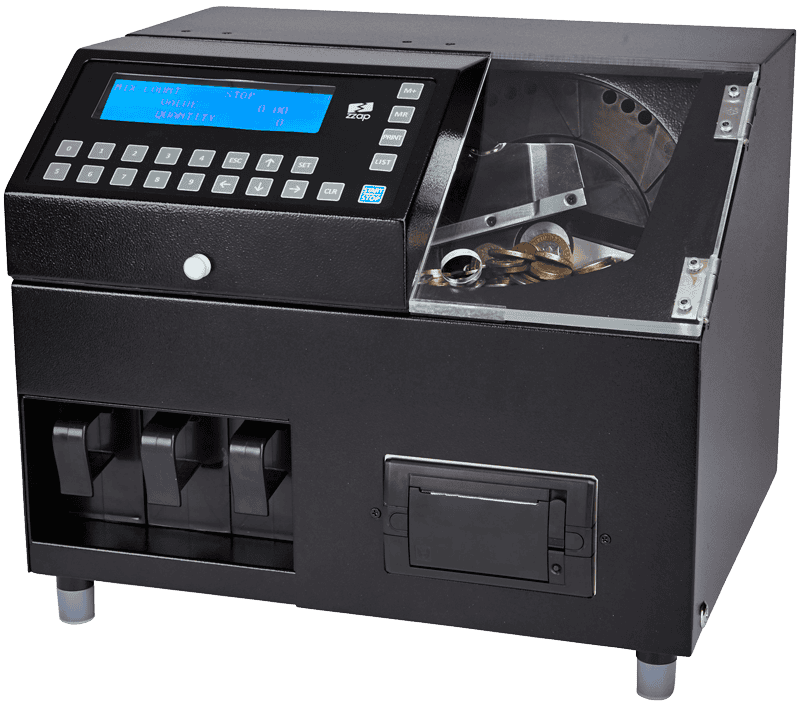 Unique High Speed Counting
The CS70 eliminates human error, simplifies your cash handling process and saves time. Thanks to its heavy duty motor and latest alloy sensor, the CS70 can count & sort up to an impressive 600 coins per minute and ensure maximum counting accuracy & reliability.
0
x
Faster Than Hand Counting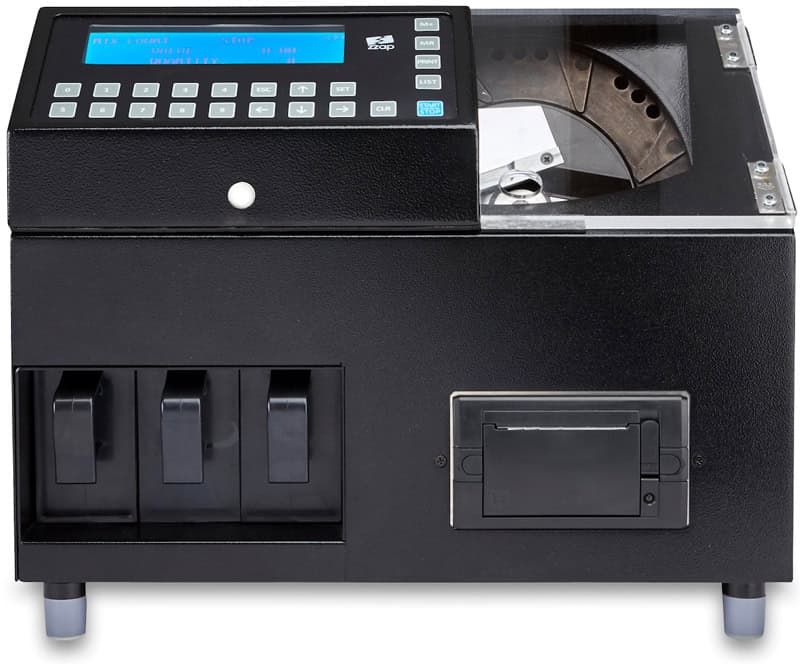 Batch Counting & Add Functions
Preparing bank bags, coin rolls & cash drawers has never been easier. Simply input a batch quantity for each denomination and the CS70 will automatically pause counting each time a denomination reaches the programmed quantity. The CS70 will save your batch quantities to optimise your workflow. Batch counting is used in SDC-Count mode (see above).
If the hopper needs refilling you can utilise the add function. Simply refill the hopper and press the start button to continue counting. This allows you to keep track of the grand total across individual runs, ideal for large coin volumes.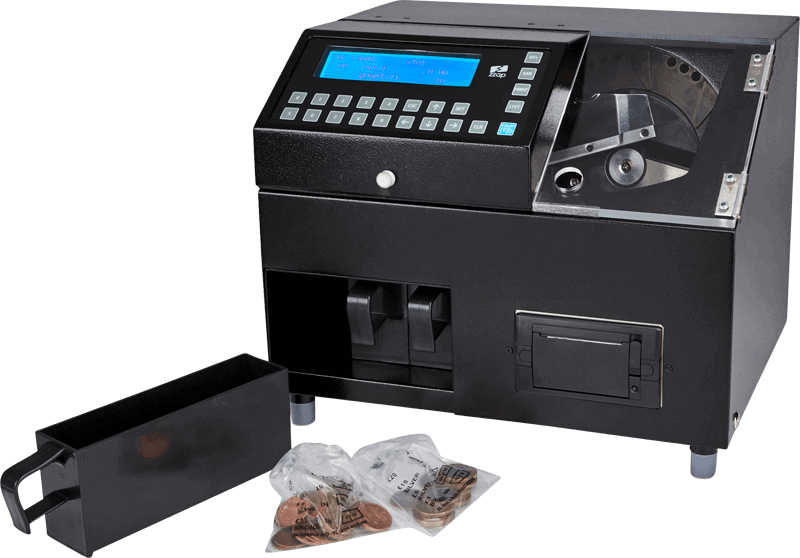 Inbuilt Thermal Printer
The CS70 has a thermal printer integrated into the body of the machine saving space and clutter. It automatically prints your count report in seconds, ideal for when you need to print a hard copy for your records. To make administration easy the full counting report breakdown is clearly shown. The printer uses thermal printing technology therefore no ink is required, just press print.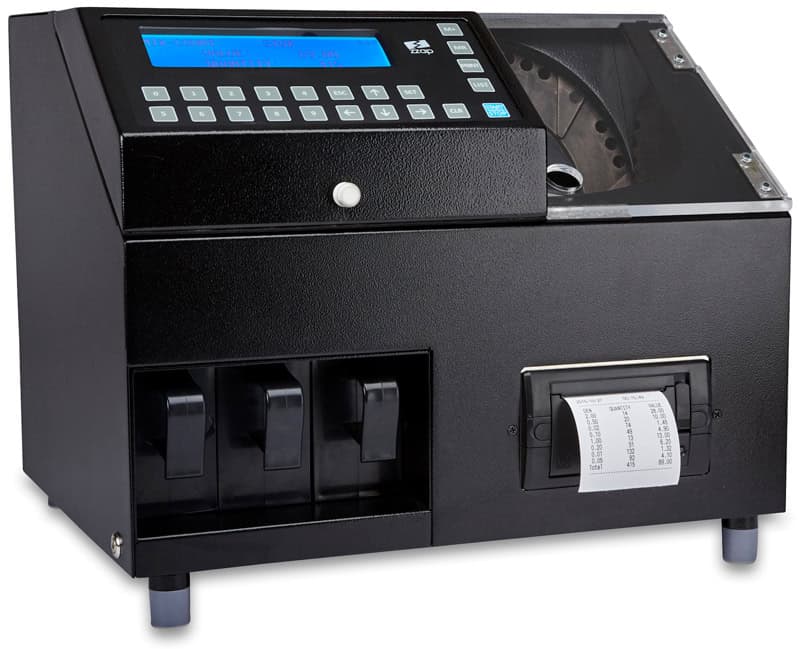 Save & View Detailed Count Reports
The CS70 unique internal memory can store previous count reports that can be viewed at any time. It can also display the date and time of each count report.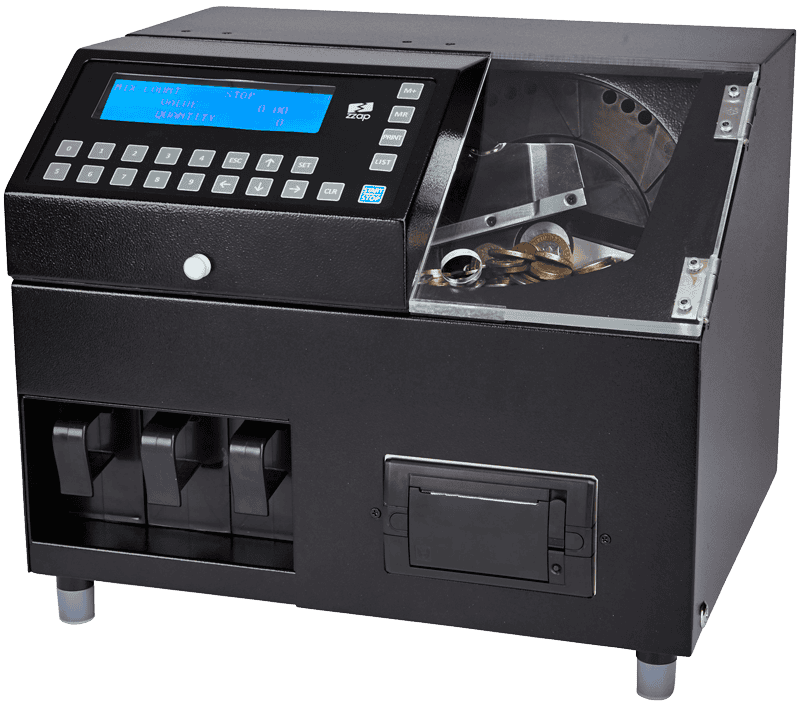 Presorting Coin Feeder
The CS70 coin feeder is the best way to pour your coins into the hopper. Not only does it conveniently funnel the coins, it also incorporates small holes that allow foreign objects e.g. paper clips to be rejected before counting.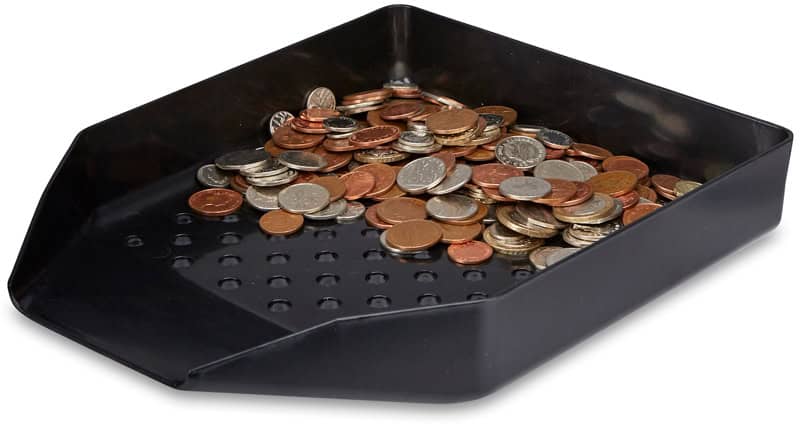 Export Count Reports To a PC
To make your administration even easier, you can export your counting report to a PC using our free ZZap Coin Counting Software.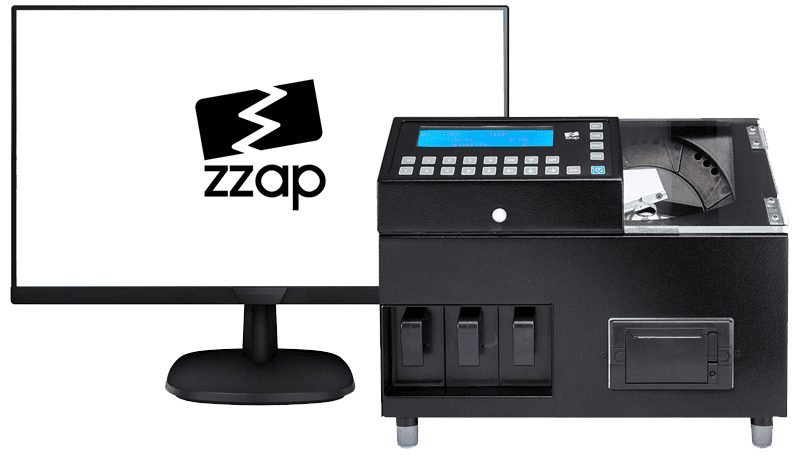 Counts & Sorts All Denominations
The CS70 coin counter has a sorting process which incorporates precision engineering. It can count and sort all denominations so whatever the denomination, the CS70 won't let you down.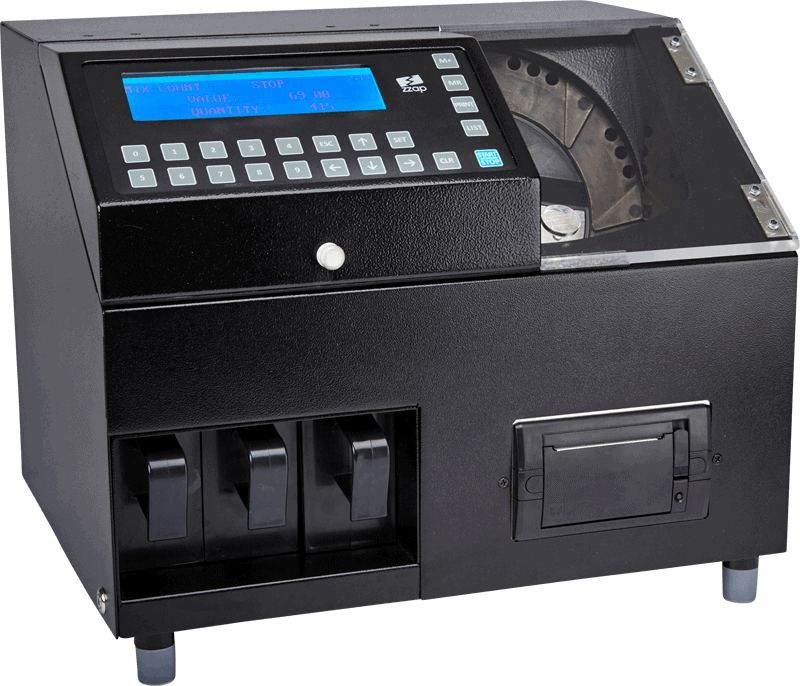 Robust With Anti-Jam Technology
The CS70 incorporates a heavy duty motor & an all-steel chassis, enabling it to withstand heavy use while operating smoothly and seamlessly. It's unique automatic reverse gear can even clear coin jams. The CS70 features easy maintenance access, allowing fast simple cleaning. No technical knowledge required.
Whether it's the steel counting disc, automatic self-diagnostic or its powerful motor, this coin counting machine guarantees accuracy and reliability in each and every count.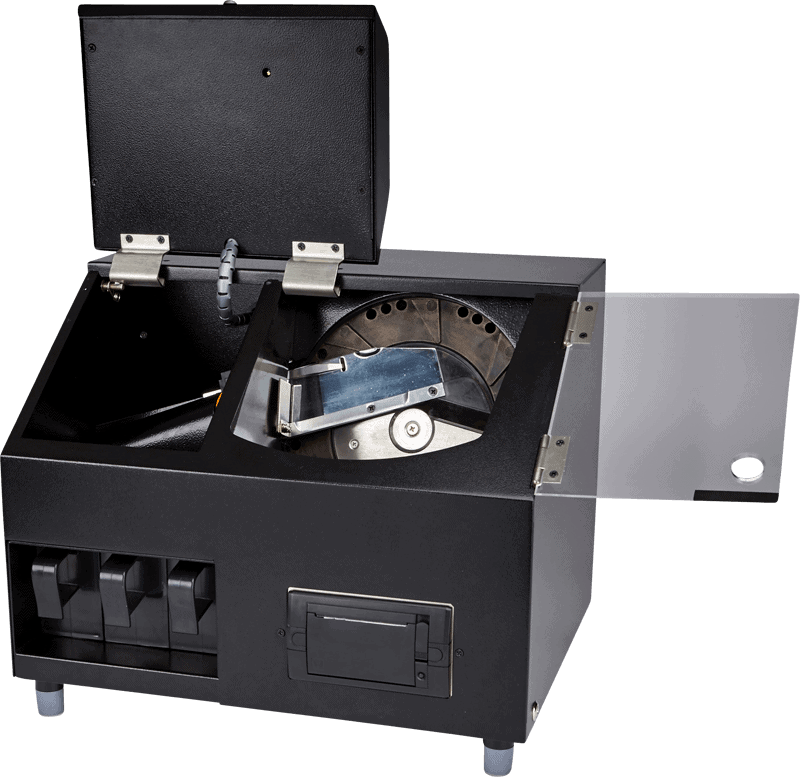 Coin Bag Trays (Optional Extra)
If you require larger tray capacities, look no further. The CS70 coin bag trays increase the tray capacities so they can hold more coins.
You also have the option to attach coin bank bags to each tray to make batch counting even simpler. The CS70 coin bag trays are available to purchase in accessories.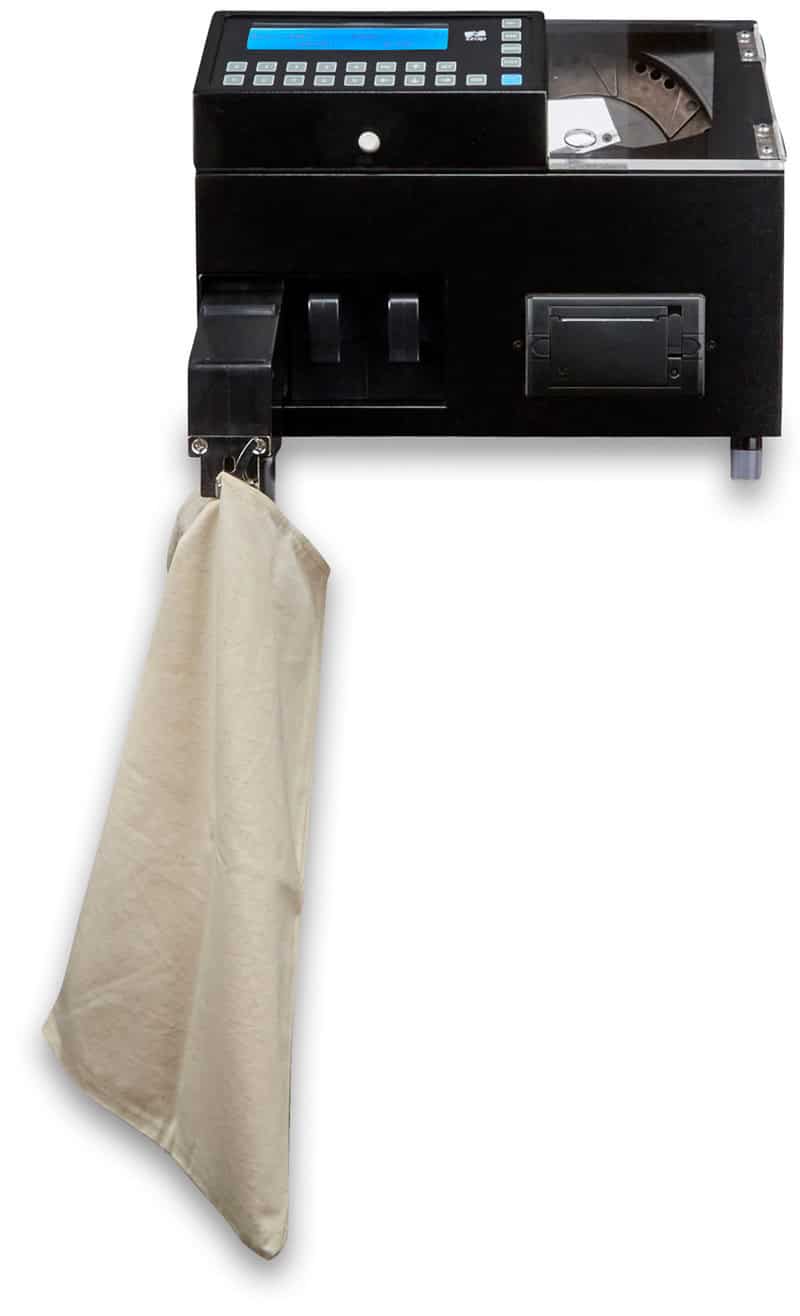 Technical Details
Technical Details
Suitable for the new & old £1 coin
Currency: GBP
Display type: LCD
Hopper capacity: 350 coins
Large tray capacity: 1,200 coins
Small tray capacity: 600 coins
Weight: 13 KG
Dimensions: 28 x 36.5 x 29.4 cm
Power: AC220-240V/50Hz
CE certified
Package Contents
ZZap CS70 Coin Counter & Sorter
Coin feeder
User manual
2 coin trays
Servicing kit
Power cable
Optional Extras

Compare the ZZap Coin Counter Range
To compare specific products
Tick the boxes above the products
then click the filter button below
Reset
Filter
Specification
Function
Counting speed
Hopper capacity
Tray capacity
Add function
Batch counting
Reports total value
Reports total quantity
Reports total value per denomination
Reports total quantity per denomination
Printer port for external printer
Inbuilt thermal printer
Export count reports to a PC
Presorting hopper
Rejects foreign/counterfeit/odd coins
Save & view count reports in the memory
Optional coin bag trays
Counts all currencies
Counts tokens, casino chips, etc
Sorting disc type
Display type
Warranty period
Net weight
Dimensions (depth x width x height)
Power source