Features
Accurately counts & sorts 220 coins/minute
Batch counting & add functions
Auto-stop prevents overfilling of coin cups
High capacity hopper (500 coins)
Sorts mixed coins into separate cups
Commercial grade with upgraded motor
Reports the total value counted
Reports quantity counted per denomination
Suitable for the new & old £1 coin
Memory function saves your batch settings
Auto-stop when hopper is empty
Compact & portable design
Easy to operate & professional manual
Different currency versions available
Overview
The CS20 uses an all-new upgraded motor and the latest sensor technology to count & sort 220 coins per minute. Automatic stop prevents overfilling the coin cups and with its batch function preparing bank bags, coin rolls & cash drawers has never been easier. It even saves your batch settings.
Naturally, the CS20 counts the new & old £1 coin. The total value is displayed in real-time while the quantities per denomination are reported. Its large hopper capacity also means less time refilling the hopper. The removable back cover provides easy maintenance access and its compact size enables it to fit on the smallest of countertops.
Fast & Accurate
The CS20 counts at speed of 220 coins per minute enabling you to eliminate human error, simplify your cash handling process and save time. The latest sensor technology ensures maximum counting accuracy & reliability.
0
x
Faster Than Hand Counting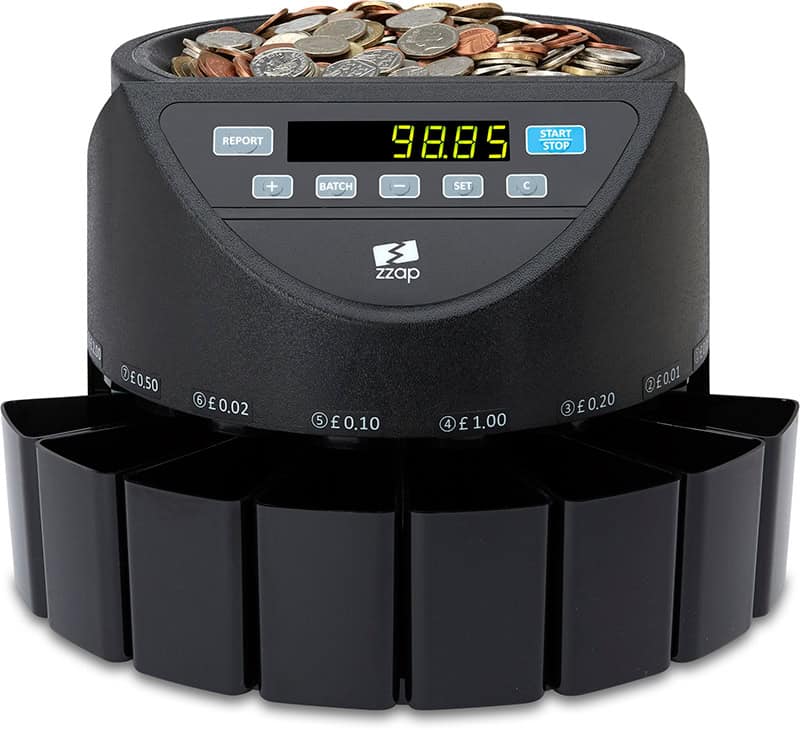 Batch Counting & Add Functions
Preparing bank bags, coin rolls & cash drawers has never been easier. Simply input a batch quantity for each denomination and the CS20 will automatically pause counting each time a denomination reaches the programmed quantity. The CS20 will save your batch quantities to optimise your workflow.
If the hopper needs refilling you can utilise the add function. Simply refill the hopper and press the start button to continue counting. This allows you to keep track of the grand total across individual runs, ideal for large coin volumes.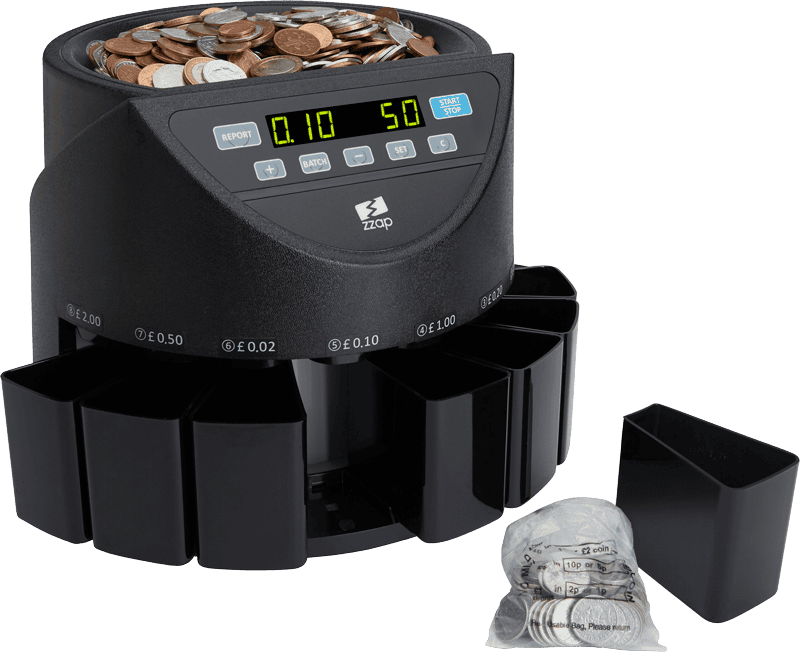 Auto-Stop Prevents Overfilling
The CS20 automatically pauses counting once a coin cup is full, to prevent overfilling. The large display indicates the denomination that needs emptying. Simply empty the coin cup and press start to continue counting.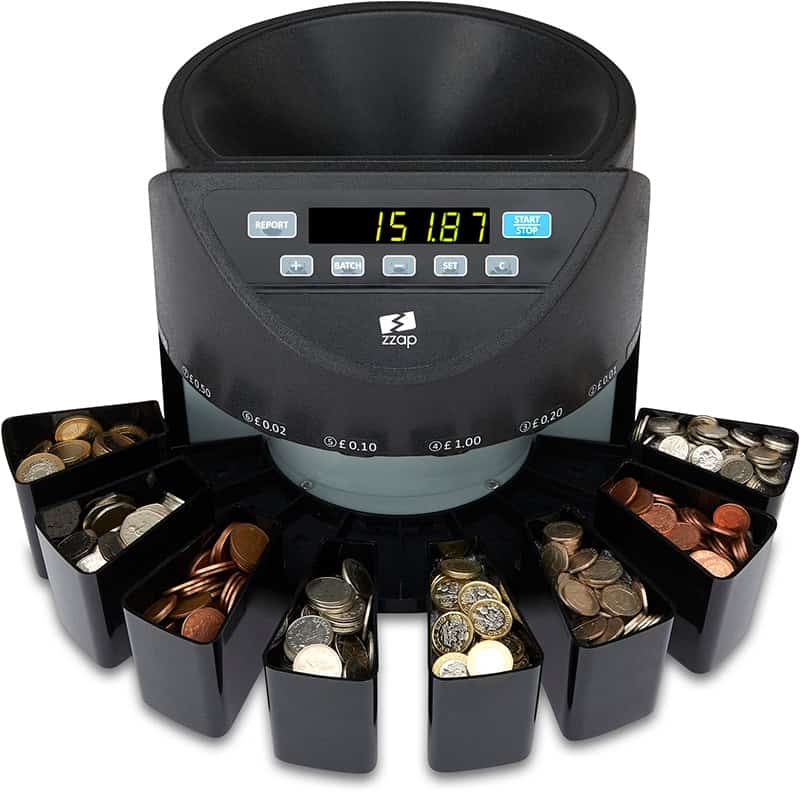 Plentiful Hopper Capacity
The CS20's large 500 coin hopper capacity means less time refilling the hopper and more time for other responsibilities.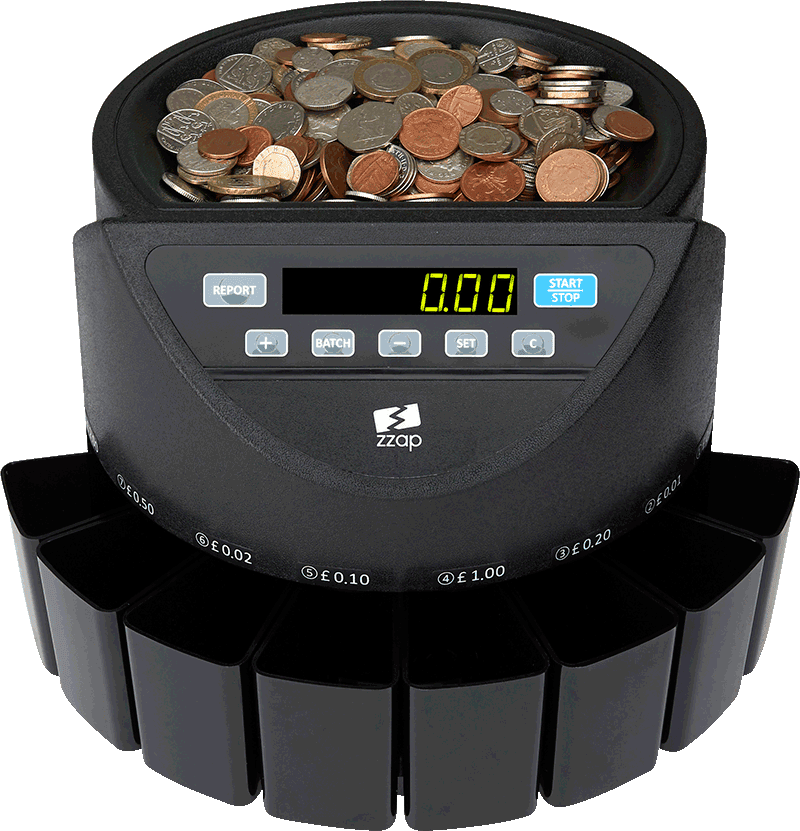 Comprehensive Reporting
The coin counting machine displays the total value counted in real-time on its easy-to-read screen. Once the hopper is empty the CS20 will automatically stop. Simply press "report" to view the total quantity counted for each denomination.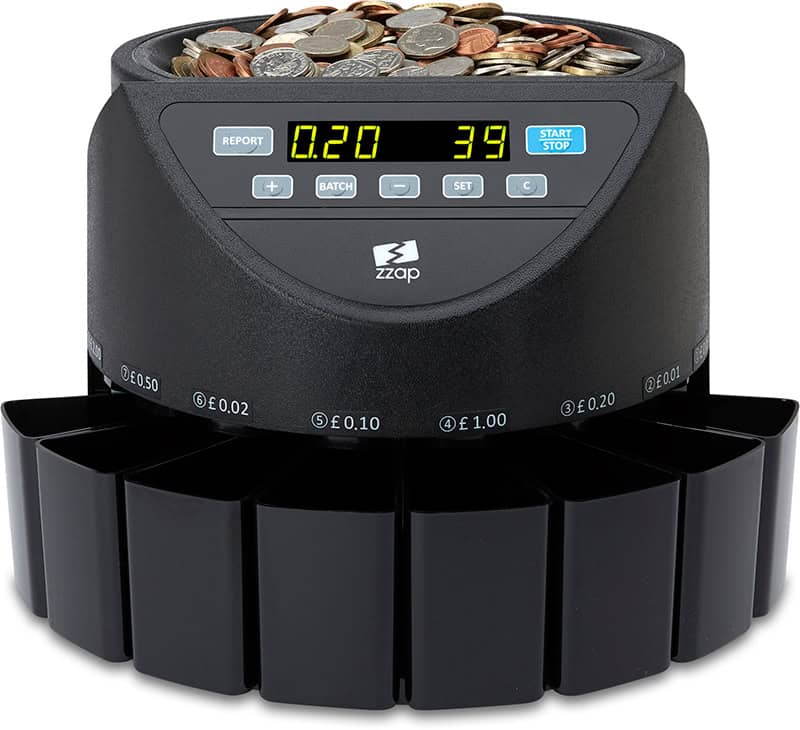 Robust & Reliable
The CS20 has been engineered with commercial grade components that are built to last. The removable back cover also provides easy maintenance access. Whether it's the robust sorting disc, automatic self-diagnostic or latest all-new motor, the CS20 guarantees accuracy and reliability in each and every count.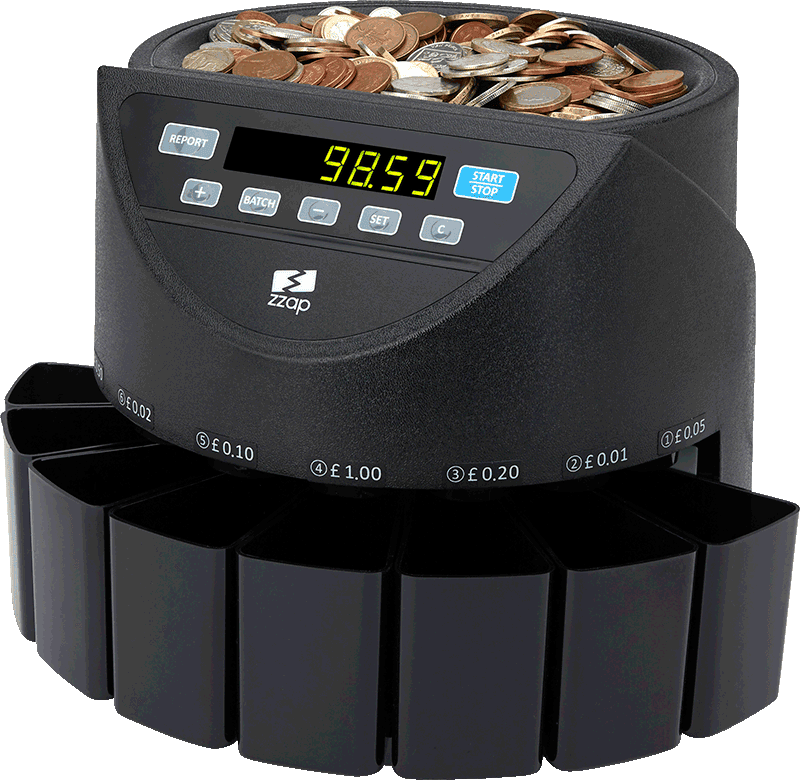 Compact & Portable Design
The CS20's space-saving design enables it to fit perfectly on the smallest of countertops. Its lightweight design also makes it easy to transport to another workstation.
26 cm
34.5 cm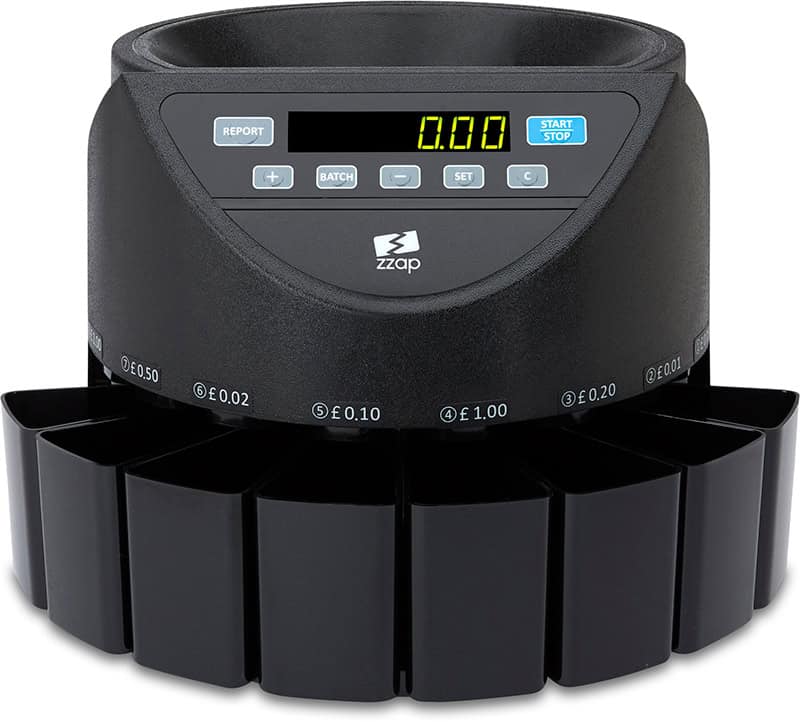 Easy To Operate & Professional Manual
To ensure staff can operate the machine with minimal instruction, we've made sure the CS20 operation is quick and painless. Unlike other manufacturers, we also make sure our user manuals are top-quality, saving you time & hassle.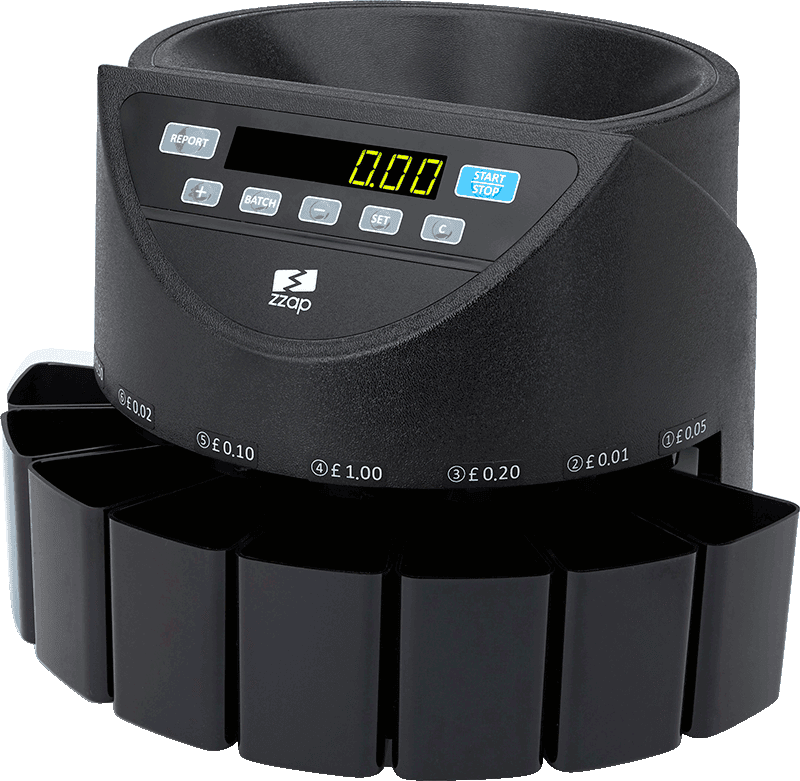 Need To Count Other Currencies?
Coin counters and sorters are configured for 1 currency, therefore we offer a range of currency versions. Select the version you require in the dropdown list at the top of this page.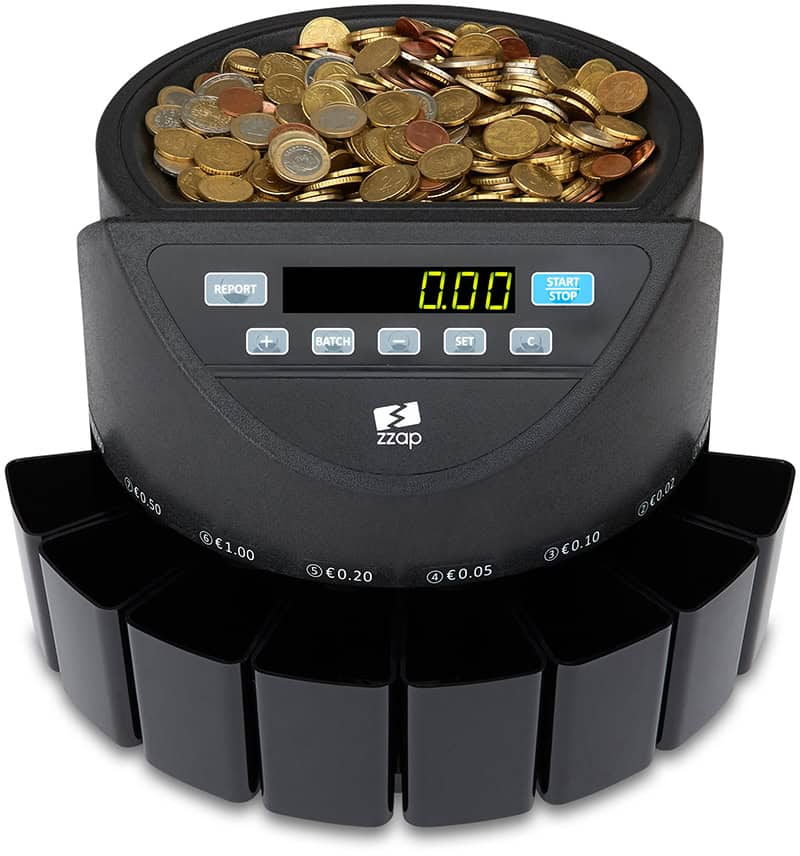 Technical Details
Technical Details
Suitable for the new & old £1 coin
Currency: GBP
Hopper capacity: 500 coins
Tray capacity: 300 coins
Weight: 3.2 KG
Dimensions: 30.6 x 34.5 x 26 cm
Power: AC220V-240V/50Hz
CE certified
Package Contents
ZZap CS20 Coin Counter & Sorter
User manual
Power cable
8 coin trays

Customer reviews for this product
The best thing we've ever bought! Great – thank you.
Great machine & saves time for my staff. Excellent service.
Fantastic service – fantastic machine – Going to save me hours! Thanks
Very very good, worth the money, probably worth double
Ordered 2pm, arrived next morning (new years eve). Paid for its self in 15 minutes. Very good
Great item. Loads cheaper than others on the Market. Really pleased. Thank you.
Accurate and time-saving. Essential for charity collections. Highly Recommended. Thanks.
Exactly as described and fast delivery. Excellent service and product.
Terrific product! Counts large amounts so quickly and saves so much time!
Ordered in the afternoon, delivered next day! Fantastic service!
Fantastic product and fantastic service would use again.
Super express delivery service. Highly recommended for price and service.
Works fine, may get some more soon, McDonalds.
Excellent Item, Fast Delivery, Many Thanks. AA++++++++++++++++++++
Excellent item, very fast service, many thanks.
Brilliant, top service, great product A+++++++
Great to deal with, easy transaction, first class!!!
A+ fast delivery, great item, thanks. Saves us so much time.
Superb machine. Perfect for charity collections.
Excellent product, excellent service.
Top quality product. Excellent customer service. Fast delivery.
Fast delivery, would recommend, amazing bit of kit
Great item and super fast delivery!
Very nice. Good quality. Super fast delivery.
Top class item, fast delivery. Recommended.
Excellent transaction. Very fast delivery.
Excellent value and superfast service AAAA++++
Item arrived quickly and as described. Works well. Very pleased.
Made my life so much easier!
Fast, well packed, as described, good seller, good product A++
Great product, perfect for what we want, fast delivery and helpful after sales A+
Thank you, just the job, saves me a lot of time, recommend 5 * * * * *
Excellent seller, good communication, fast delivery, no problems. Highly recommended. A+
Superb item, absolutely delighted 🙂 excellent delivery, highly recommended A+
Fast delivery, fabulous machine.
Used this product? Why not submit a review here. You will need to quote your invoice number. All reviews are authentic and verified. Contact us for more information.
Compare the ZZap Coin Counter Range
To compare specific products
Tick the boxes above the products
then click the filter button below
Reset
Filter
Specification
Function
Counting speed
Hopper capacity
Tray capacity
Add function
Batch counting
Reports total value
Reports total quantity
Reports total value per denomination
Reports total quantity per denomination
Printer port for external printer
Inbuilt thermal printer
Export count reports to a PC
Presorting hopper
Rejects foreign/counterfeit/odd coins
Save & view count reports in the memory
Optional coin bag trays
Counts all currencies
Counts tokens, casino chips, etc
Sorting disc type
Display type
Warranty period
Net weight
Dimensions (depth x width x height)
Power source