Features
Counts presorted coins
Counts 2,300 coins per minute
Batch counting & add functions
5,500 coin hopper capacity
Counts all currencies
Automatically rejects odd coins
Save and total counting results
Counts tokens, casino chips, etc
Automatic anti-jamming mechanism
Automatic stop
Includes 2 x large cotton bags
Robust & reliable
Why you'll love the CC10 Coin Counting Machine
The CC10 coin counter is designed for high volume counting and is the perfect time and cost saving machine. The CC10 counts presorted coins at a staggering 2,300 coins per minute and thanks to it batch counting function, counting your coins into batches has never been quicker.
To make things simple the CC10 machine features a coin rejection function, saving you the hassle of manually discarding odd coins. The CC10 has the ability to count all currencies and can even count non-currency items such as tokens or casino chips.
What it does
The CC10 is an easy to use high-speed coin counter that counts presorted coins (coins that are the same denomination). If your coins are not presorted you will require a ZZap coin counter & sorter. To operate the CC10 you simply select the denomination you are counting using the diameter and thickness selectors, fill the hopper with coins and press start. The total quantity counted will then be displayed on the CC10's large LED display.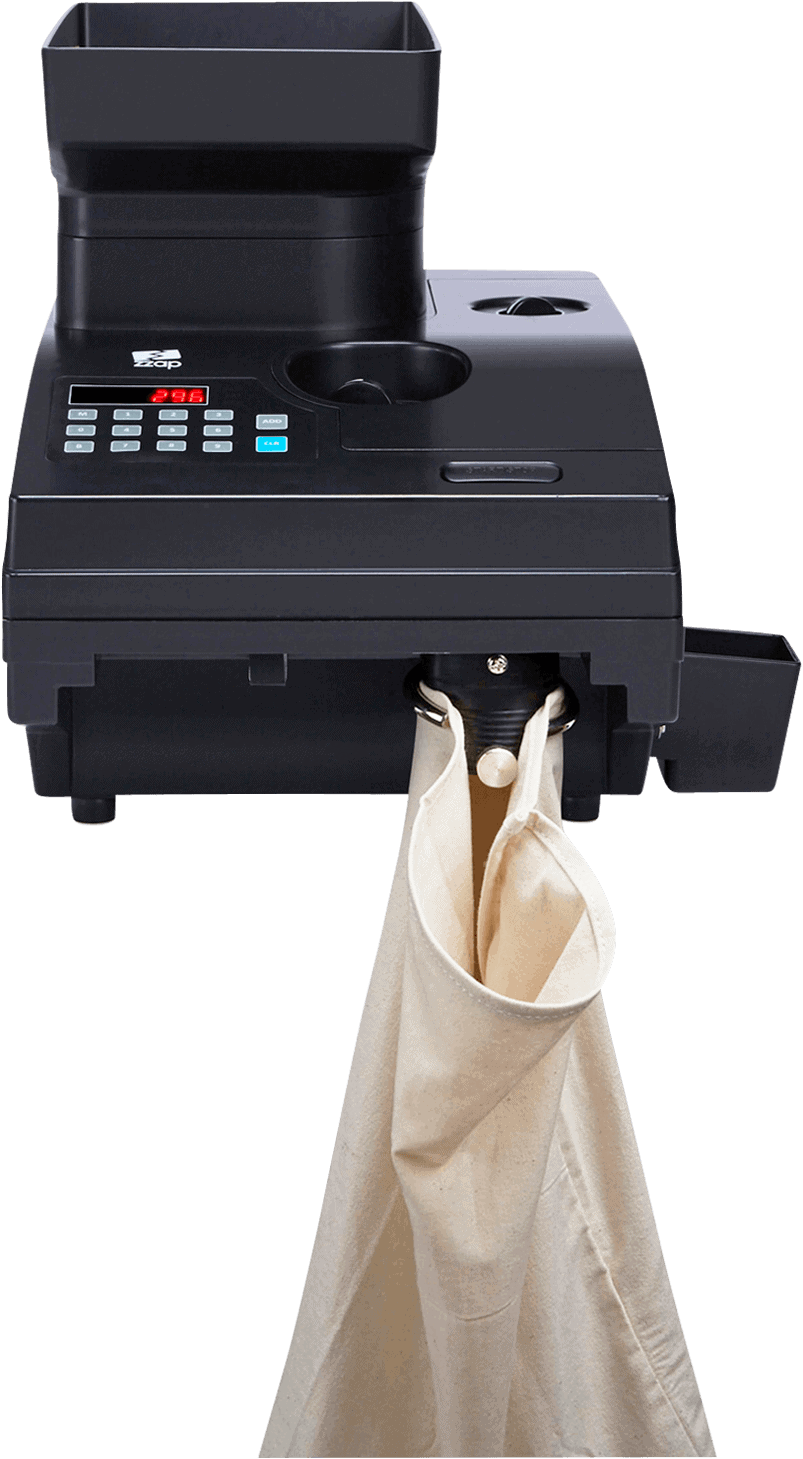 Fast & accurate
The CC10 machine is one of the quickest coin counters on the market. It can rapidly count coins at a staggering 2,300 coins per minute. Thanks to its accurate sensors it can keep count of every single coin, providing you with the precise counting result you require.
0
x
faster than manual counting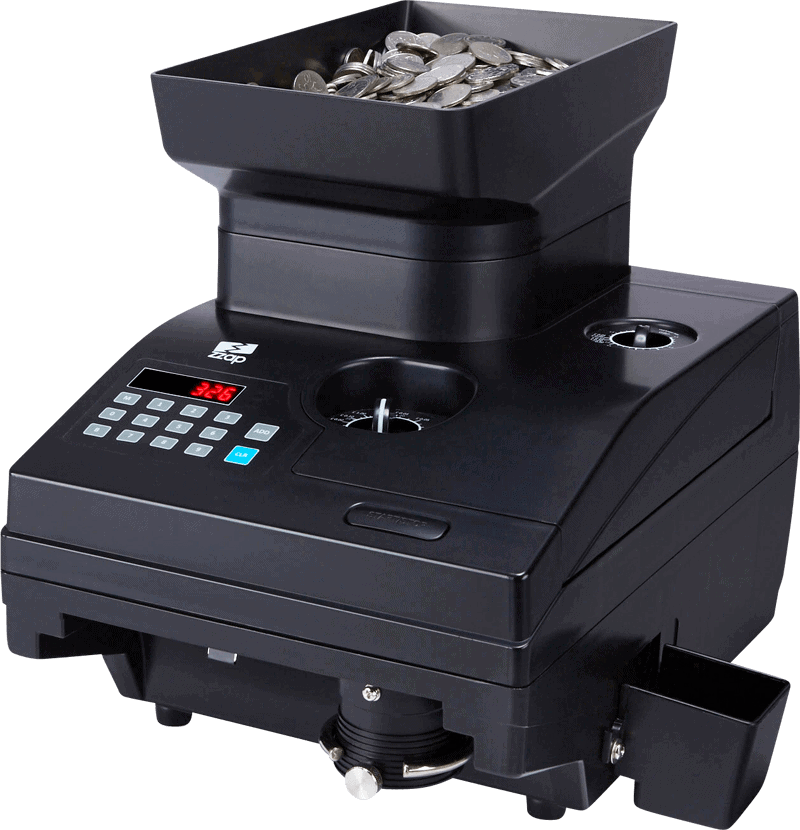 Batch counting & memory function
The CC10 coin counting machine makes your life that bit easier by counting your coins into batches. Simply input your desired batch quantity and press start. The CC10 will automatically pause counting each time it counts the batch quantity. Perfect for preparing bank bags, coin rolls and cash drawers. You can even save your different batch quantities to the memory.
If the hopper needs refilling you can then utilise the add function, simply refill the hopper and press the start button to continue counting. Ideal for keeping track of the total counting result across individual runs. You can also save and total different counting results to the memory.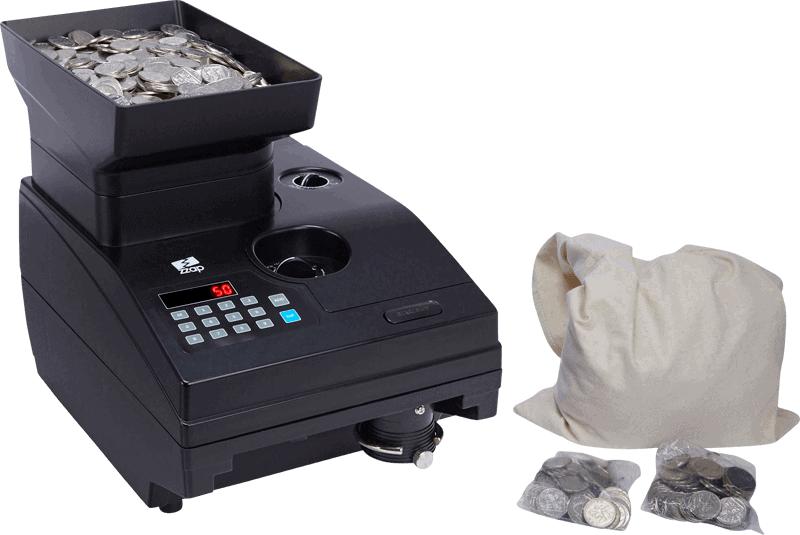 Plentiful hopper capacity
With high performance comes high capacity. The CC10 coin counting machine boasts a hopper capacity of up to 5,500 coins, that's almost 10 times the capacity of most coin sorters. This means there is no need to keep topping up the hopper with coins. Simply pour in all your coins, sit back and relax.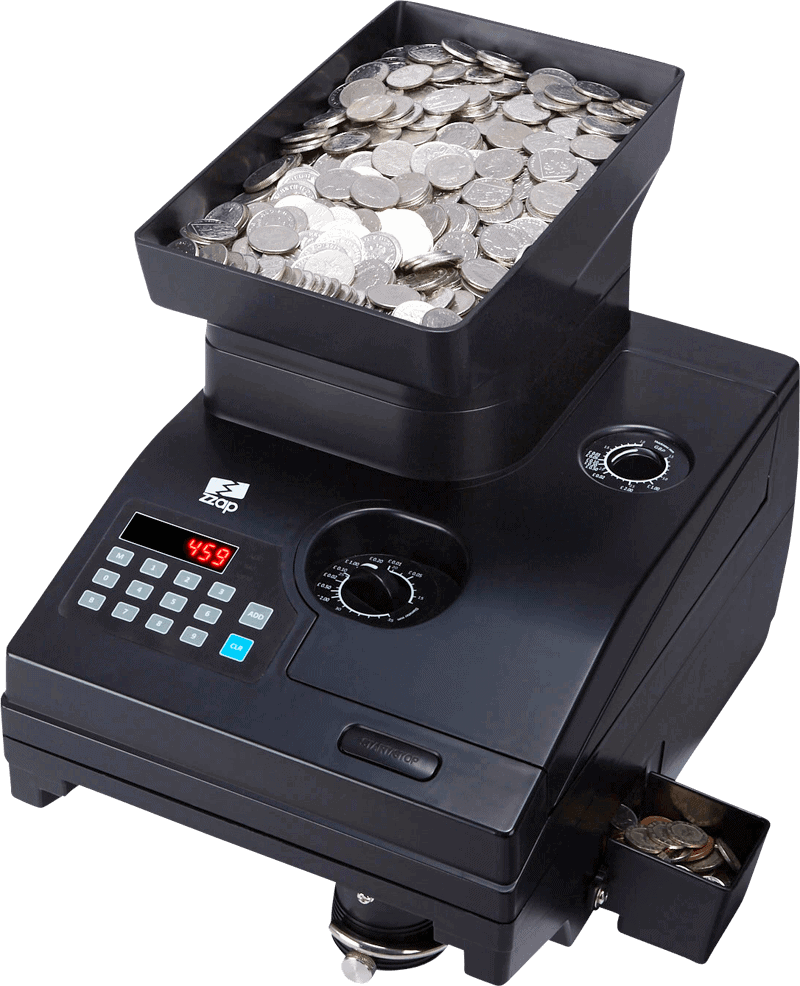 Automatic coin rejection
The CC10 machine has a coin rejection function, saving you the hassle of manually discarding odd coins. The CC10 will reject any coin or token into a separate rejection tray if it is smaller than the selected denomination/size.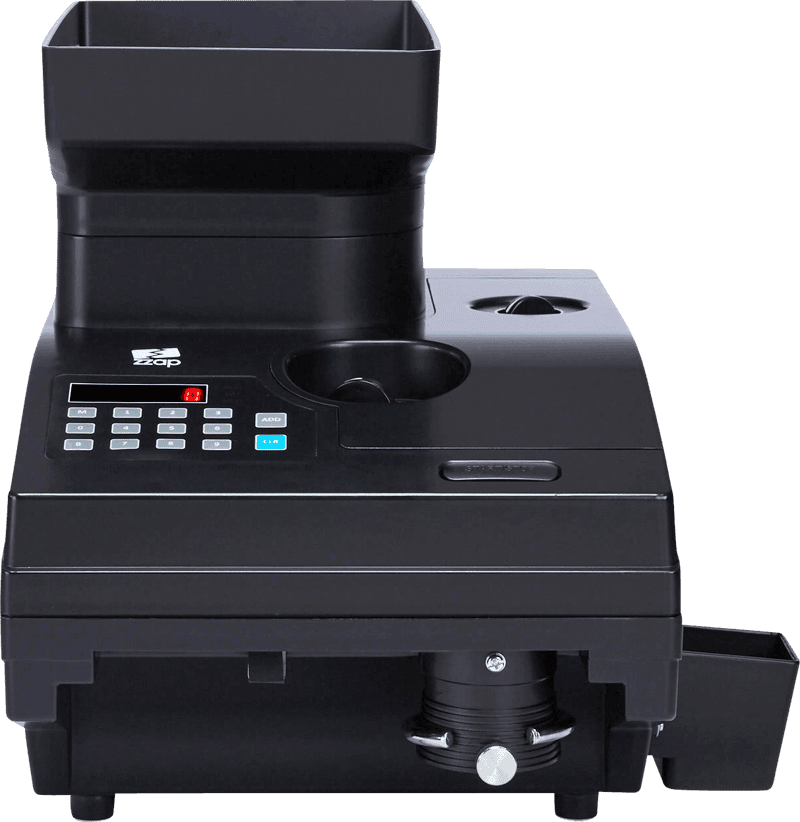 Counts all currencies
The CC10 coin counter counts and rejects coins according to their diameter and thickness. The diameter and thickness selectors are fully adjustable so you can count any currency including newly issued coins.
GBP coin diameter and thickness indicators are provided, so you can easily select the GBP denomination you are counting. Blank indicators are also provided so you can mark in other currency denominations yourself. EURO coin diameter and thickness indicators are an optional extra. Other currency indicators are available on request.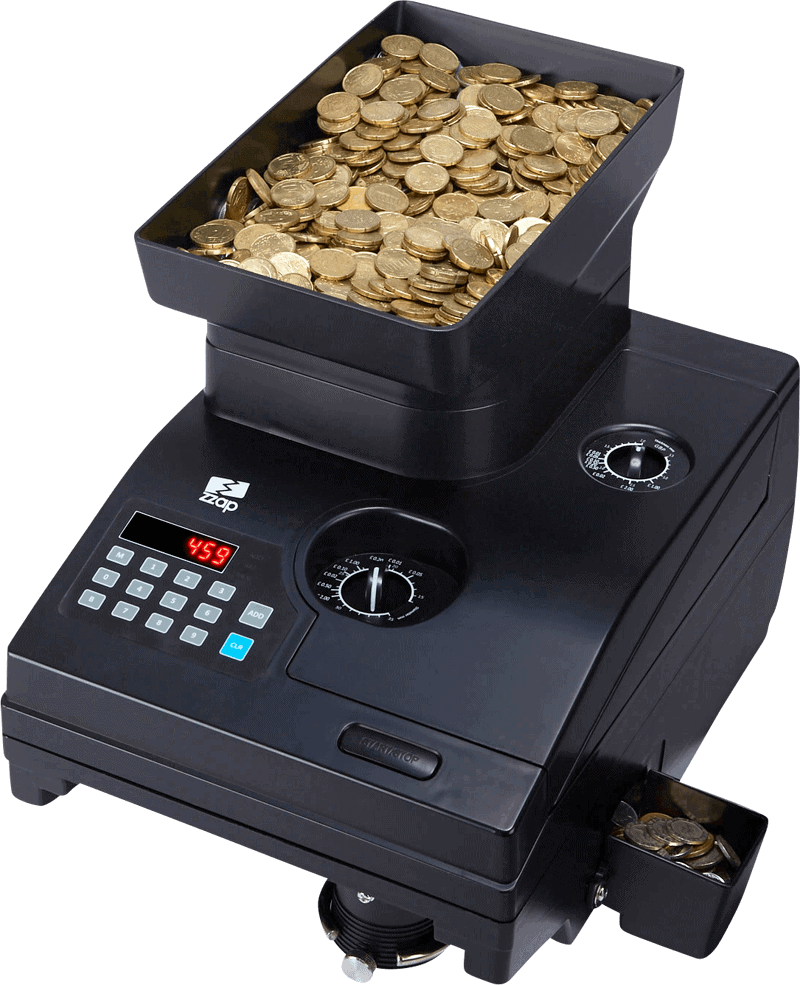 Counts non-cash items
Thanks its fully adjustable diameter and thickness selectors, the CC10 can count tokens, casino chips and other non-cash items.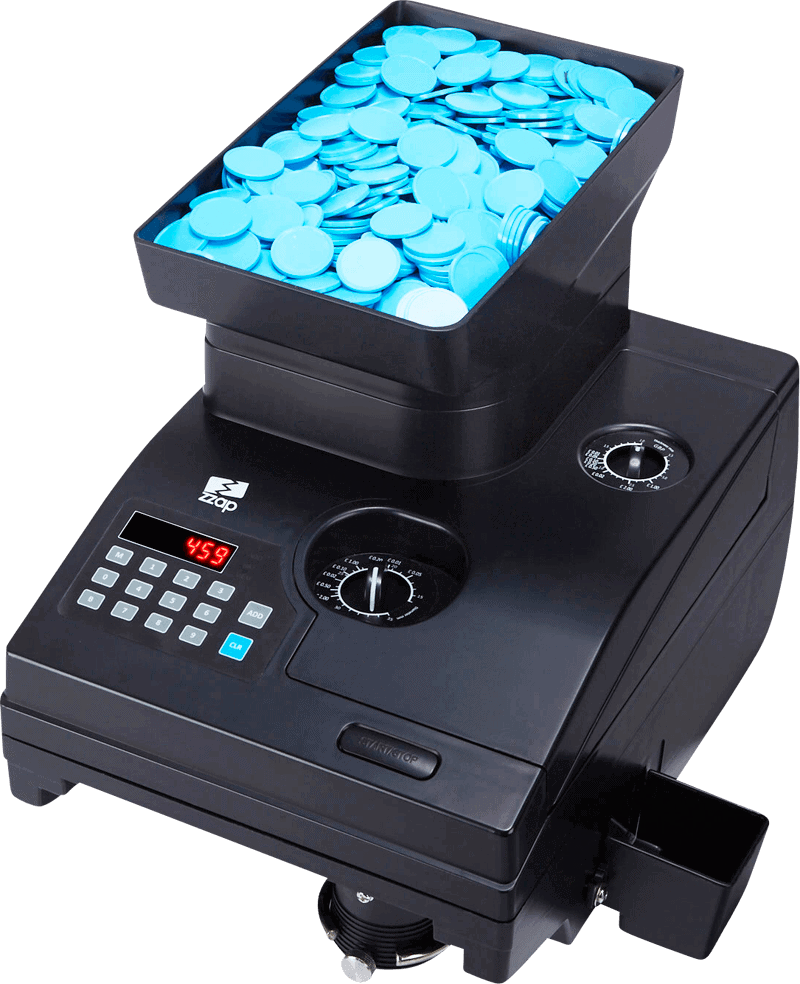 Robust & reliable
Designed for high volume counting, the CC10 machine combines durable high quality components with innovative technology. In the unlikely event of a coin jam, the CC10's automatic reverse gear engages and clears the coin jam instantaneously. The detachable front cover also provides easy maintenance access.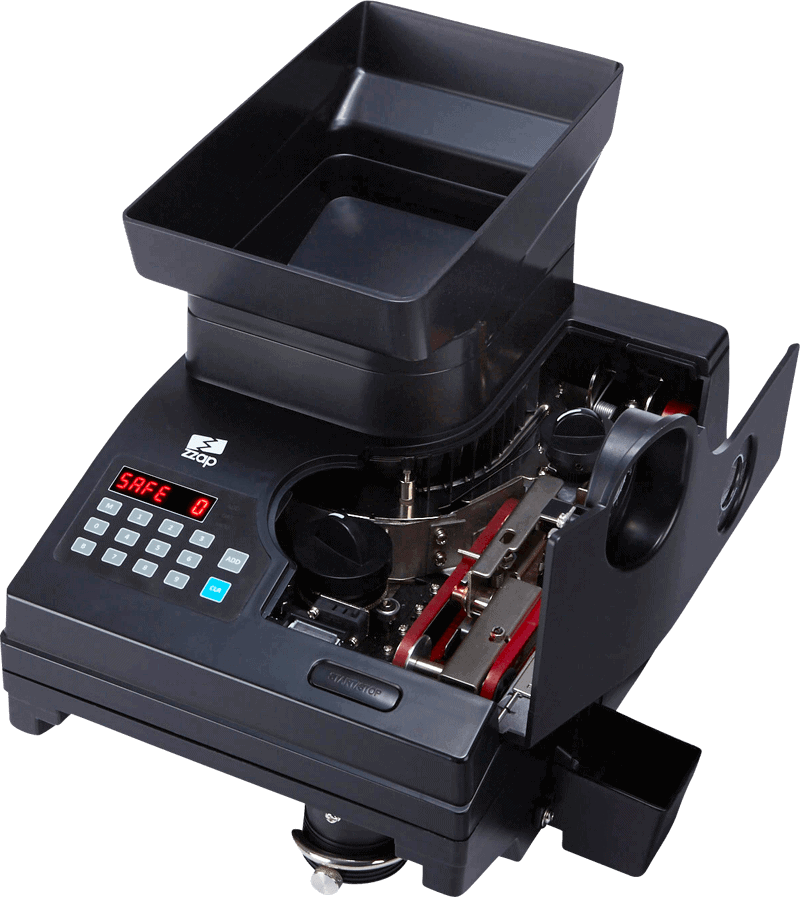 Technical Details
Technical Details
CE, CB and FCC certified
Display type: LED
Hopper capacity: 5,500 coins
Net weight: 11 KG
Dimensions: 362 x 240 x 270 mm
Power source: AC220-240V/50Hz
Package Contents
ZZap CC10 Coin Counter
Hopper extension
Coin rejection holder
Coin rejection bag attachment
Diameter and thickness indicators
3 x spare V-belts
2 x cotton bags
User manual
Power lead
Optional Extras

Customer reviews for this product
Very quick and professional service.
Used this product? Why not submit a review here. You will need to quote your invoice number. All reviews are authentic and verified. Contact us for more information.
Compare the ZZap Coin Counter Range
To compare specific products
Tick the boxes above the products
then click the filter button below
Reset
Filter
Specification
Function
Counting speed
Hopper capacity
Tray capacity
Add function
Batch counting
Reports total value
Reports total quantity
Reports total value per denomination
Reports total quantity per denomination
Printer port for external printer
Inbuilt thermal printer
Export count reports to a PC
Presorting hopper
Rejects foreign/counterfeit/odd coins
Save & view count reports in the memory
Optional coin bag trays
Counts all currencies
Counts tokens, casino chips, etc
Sorting disc type
Display type
Warranty period
Net weight
Dimensions (depth x width x height)
Power source