Features
Unique built-in printer
Battery (or mains) powered
Market-leading display with quick menu
Count your entire cash drawer in 2 minutes
Unique 2 KG weight capacity
Counts new & worn cash
Detailed & easy-to-read count reports
Counts coins, notes, bags, rolls, bundles, clips
Suitable for all new & old banknotes & coins
Calibrate & use any coin cup
Save & view count reports in the memory
Export count reports to a PC
Download free currency updates
Counts multiple currencies
Automatic add & scroll features
Reference numbers & date-time stamps
Counts tokens, chips, vouchers & tickets
Automatic calibration for continuous use
Space-saving & portable design
Can also be used as a precision weighing scale
Overview
The MS40i is the ultimate all-in-one time saver. It features a unique built-in printer and rechargeable battery putting the MS40i in a league of its own. Thanks to its unique display it's able to show detailed reports, menus & instructions in an easy to read format. The MS40i has the highest weighing capacity in its class, meaning less time refilling the hopper. Its precision accuracy also allows it to count new and worn cash together. The MS40i can count coins, banknotes, coin bags, coin rolls & banknote bundles in multiple currencies. It can even count non-cash items such as tokens or vouchers.
The MS40i can work with any coin cup including your own cash drawer coin cups. Combined with its automatic add & denomination switching, you can count your cash drawer in under 2 minutes. Save up to 100 count reports in the memory or export them to a PC. Reference numbers also enable you to tag your count report with a till or cashier.
Unique Built-In Printer
The MS40i is the first money counting scale to incorporate an inbuilt thermal printer. No cables, no separate printer & no ink required. Ideal for quietly & automatically printing your full counting report, just press print.
A paper roll is included to get you started. The MS40i unique printer light flashes when the paper has run out. The printer uses standard, widely available thermal printing paper.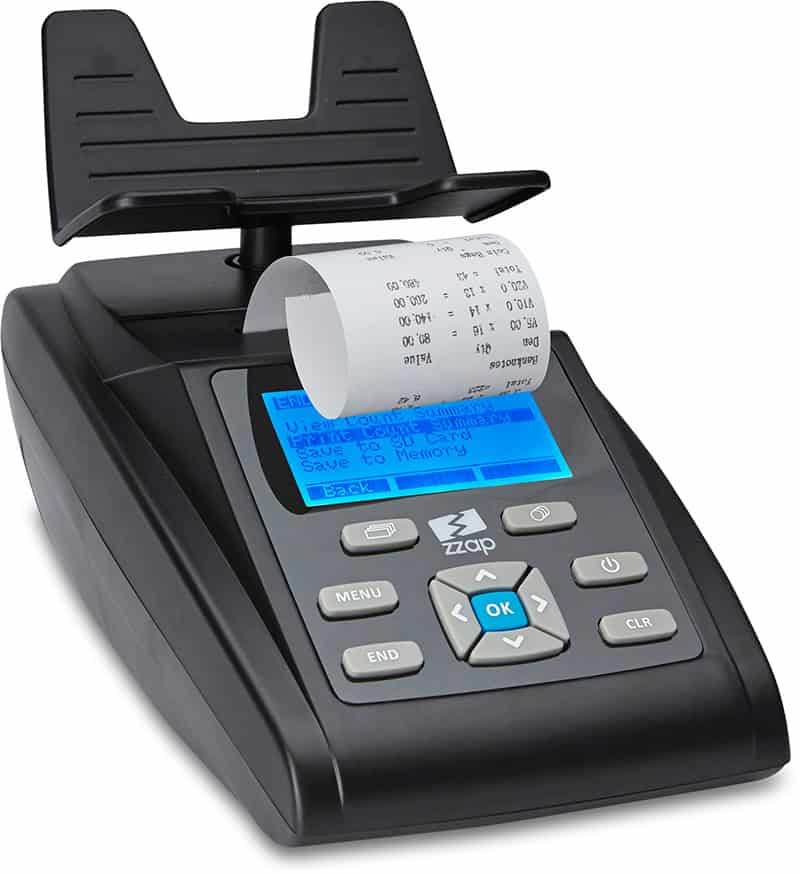 Inbuilt Rechargeable Battery
With up to 10 hours of mobile use, the MS40i inbuilt rechargeable battery gives you the freedom to count your cash any time, any place. The MS40i can also run off mains power.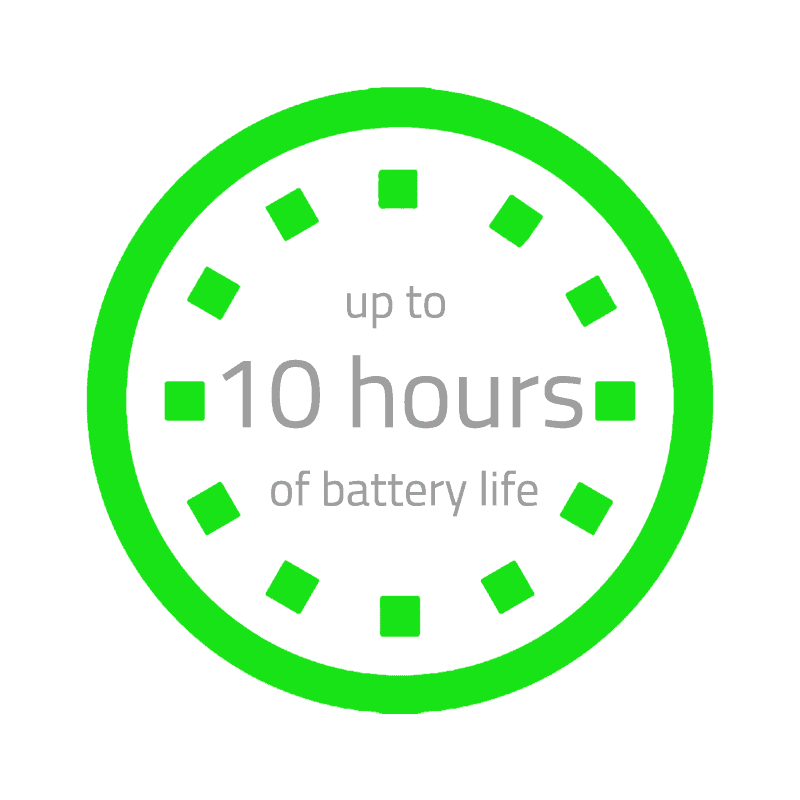 Market Leading Display With Quick Menu
Unlike other products with digital number displays & complex keypads, the ZZap MS40i uses a unique LCD display with an easy to use control panel. Thanks to its extra large display it's able to show detailed menus & instructions, making operation quick & painless.
Each report clearly displays the breakdown of the counting results for each category (banknotes, coins, banknote bundles, coin bags/rolls) along with subtotals and the grand total counted.
The main screen shows in real-time what you need to know: the selected currency and denomination, the quantity and value counted per denomination and the grand total counted.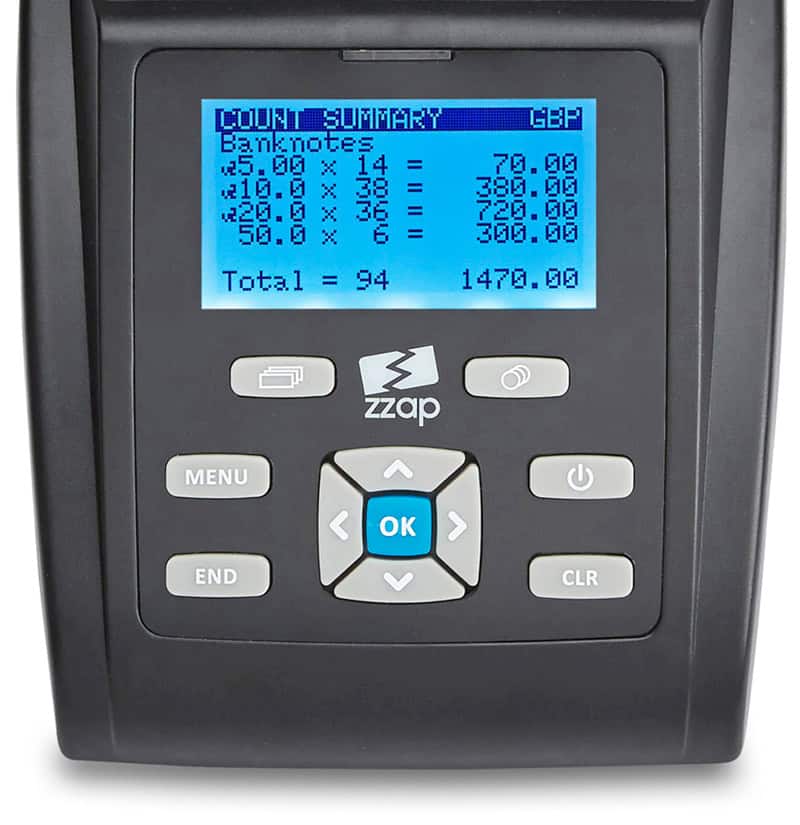 Count Your Entire Cash Drawer In 2 Minutes
Thanks to its high-speed weighing system, automatic denomination switching & high load capacity, the ZZap MS40i can count an entire cash drawer quicker than most money counting scales.
Simply place each coin denomination on the scale in the provided coin cup, then each banknote denomination in small stacks. In as little as 2 minutes the job is done.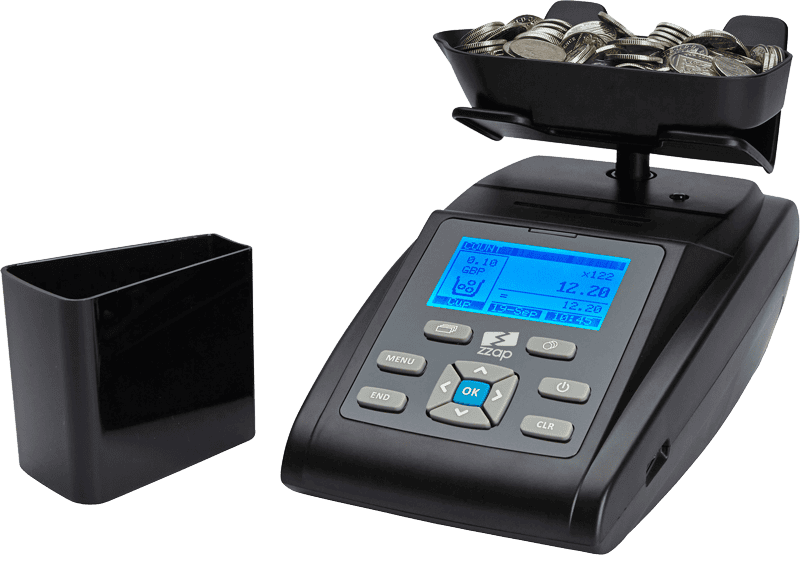 Unique 2KG Load Capacity
Similar to its fast counting speed, the MS40i cash scale also has the highest maximum load capacity in its class. The MS40i impressive 2 KG weighing capacity means less time refilling the coin cup and more time for other responsibilities. In fact the MS40i can count over 600 coins in just over a second.
0
Coins Counted In 1 Second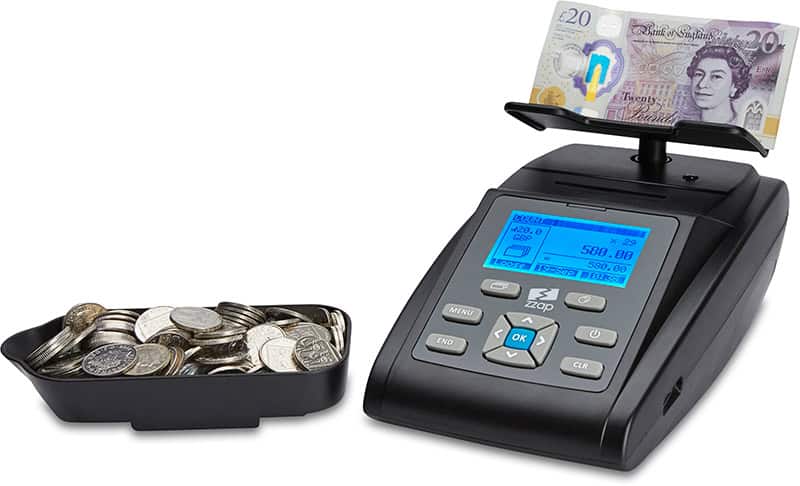 Count New, Worn & Different Versions Of Cash
The longer coins & banknotes are in circulation the more worn and degraded they become. This effects their weight. The MS40i unique precision accuracy allows you to count new & worn cash together.
Central banks issues new banknotes and coins. Both the new and old version can be in circulation for years. The MS40i money scale offers maximum flexibility since it can count 2 versions of a denomination as apposed to just one.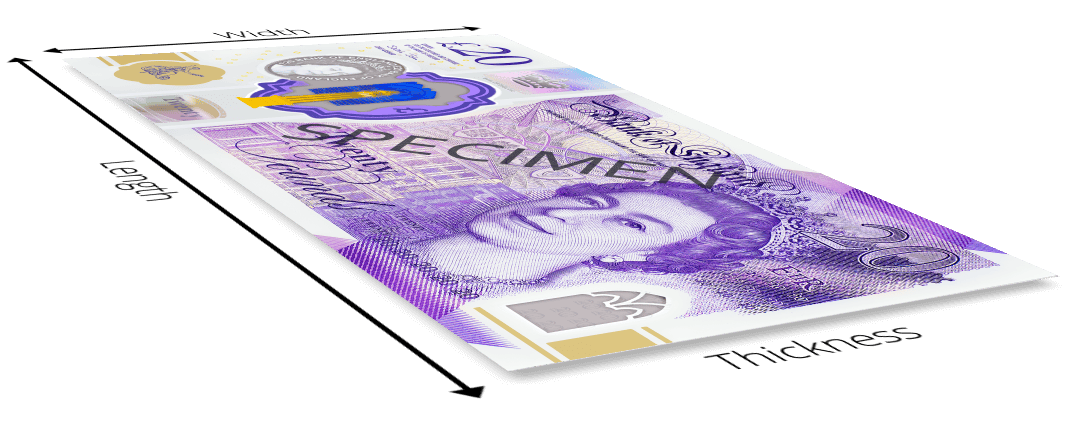 Counts Coins, Banknotes, Coin Bags & Banknote Bundles
The MS40i scale reliably counts loose coins and banknotes. Thanks to the latest technology the MS40i can count one or more coin bags, coin rolls and banknote bundles.
It can even count banknote bundles that are in currency straps, money clips and envelopes.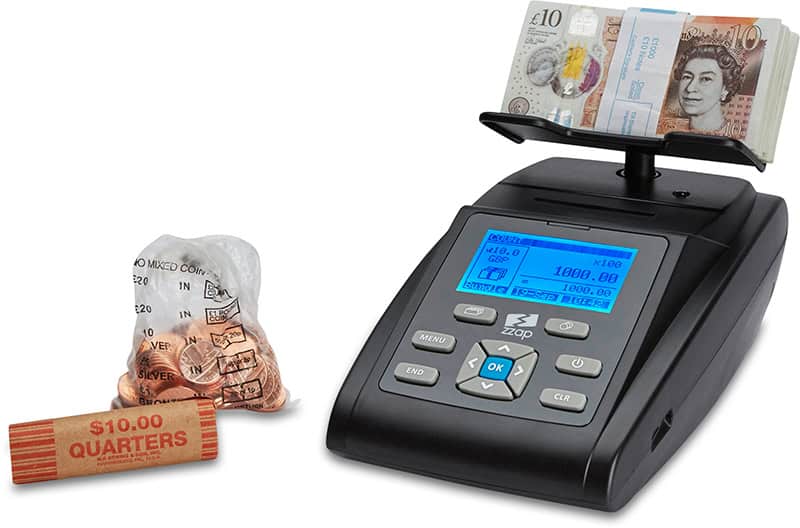 Calibrate Any Coin Cup
To streamline your cash-counting, the MS40i can be calibrated to work with your own cash drawer coin cups or other containers.
There is no need to fumble getting coins out of your cash drawer, simply place each coin cup straight on the scale. The end result is maximum efficiency.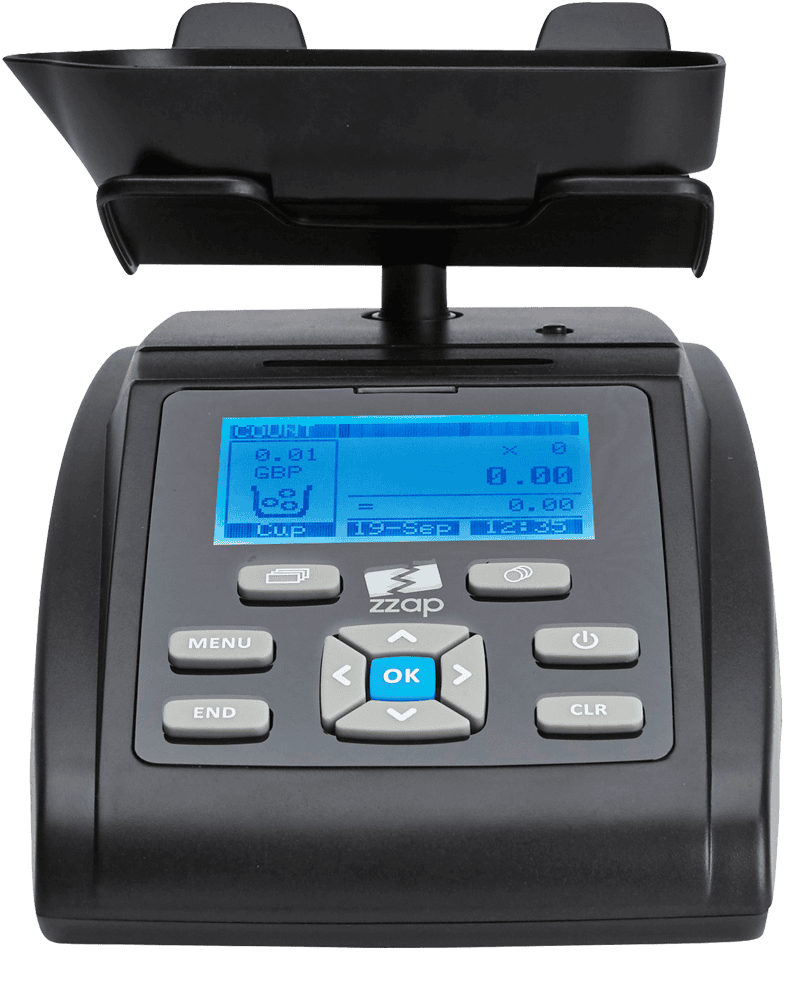 Save & View Detailed Count Reports
The MS40i unique internal memory can store an impressive 100 count reports that can be viewed at any time. Unlike most products, the MS40i can display your reports in a detailed, easy to read format.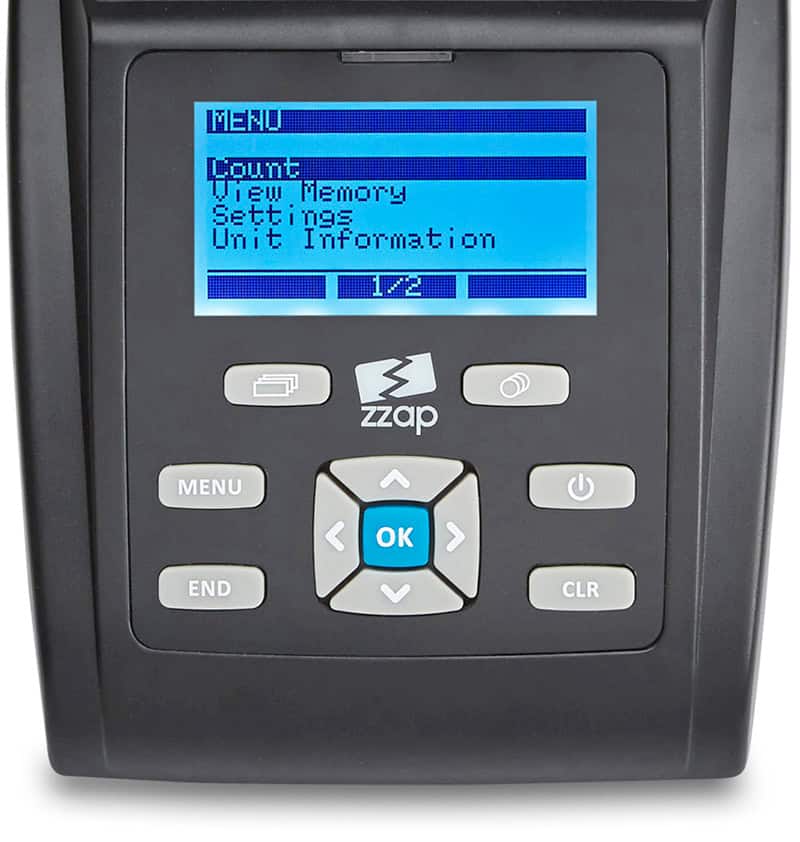 Download Free Updates & Export Results
New banknotes or coins issued? No problem. Updates and instructions can be downloaded, free of charge from our website. We work with Central Banks to ensure the update is available before the new banknote or coin enters circulation.
To save you time you can export your counting reports to a PC. Each report includes a detailed breakdown of the counting results. Perfect for audit trails & record keeping.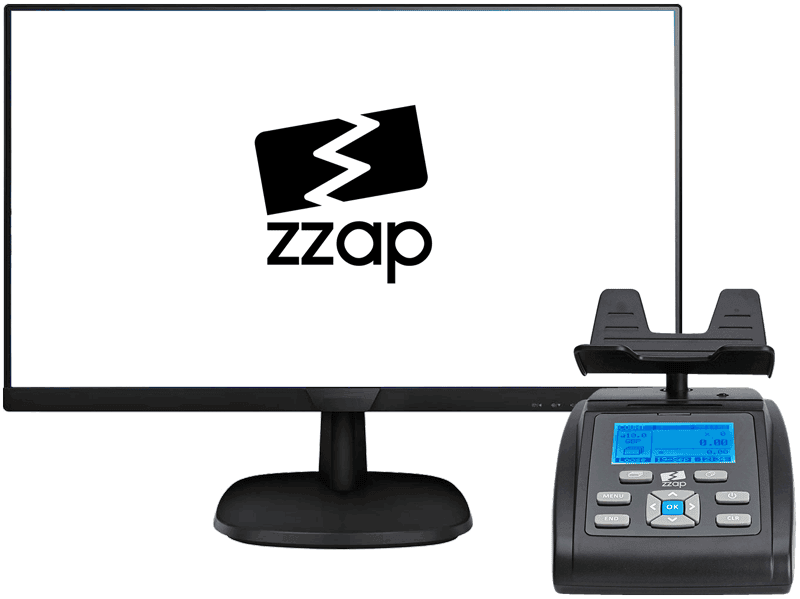 Count Multiple Currencies
The MS40i state-of-the-art sensors are engineered to count even the most advanced currencies. 4 currencies are installed & others can be downloaded.
Installed currencies:
GBP - British Pound Sterling (English banknotes only)
EUR - EURO
USD - United States Dollar
CHF - Swiss Franc
Contact us to install a custom currency package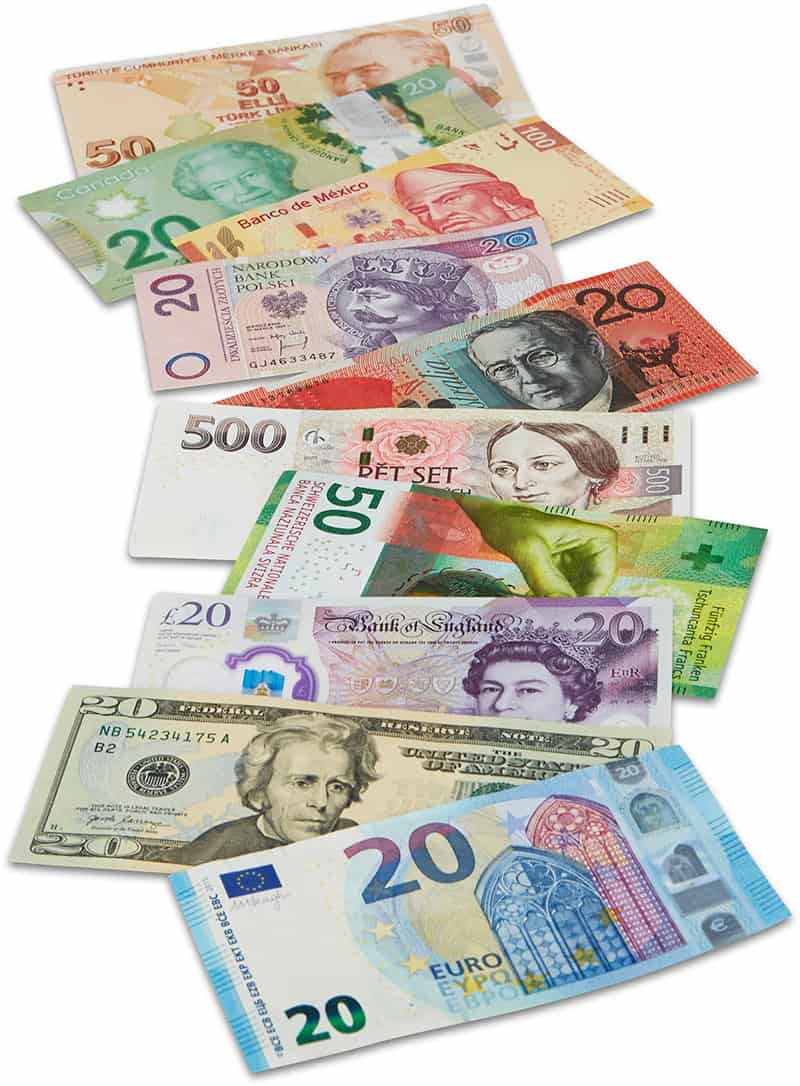 Automatic Add & Scroll Features
The MS40i takes productivity a step further. As soon as you remove the cash from the MS40i, the counting result will be added to the running total and the selected denomination will automatically change so it's ready to count the next denomination. No buttons to press.
Alternatively, these functions can be switched off or if needed, manually selected at a push of a button.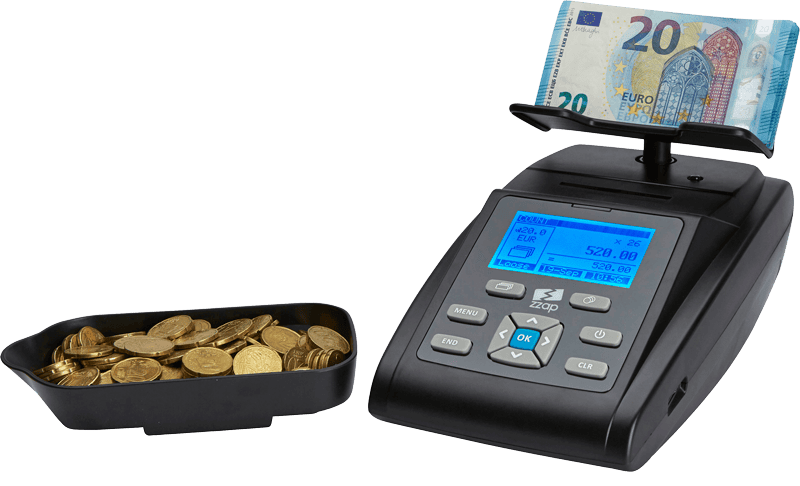 Reference Numbers & Date-Time Stamps
Use reference numbers to tag count reports with tills or cashiers for improved accountability and audit trails. Date-time stamps also make administration easier.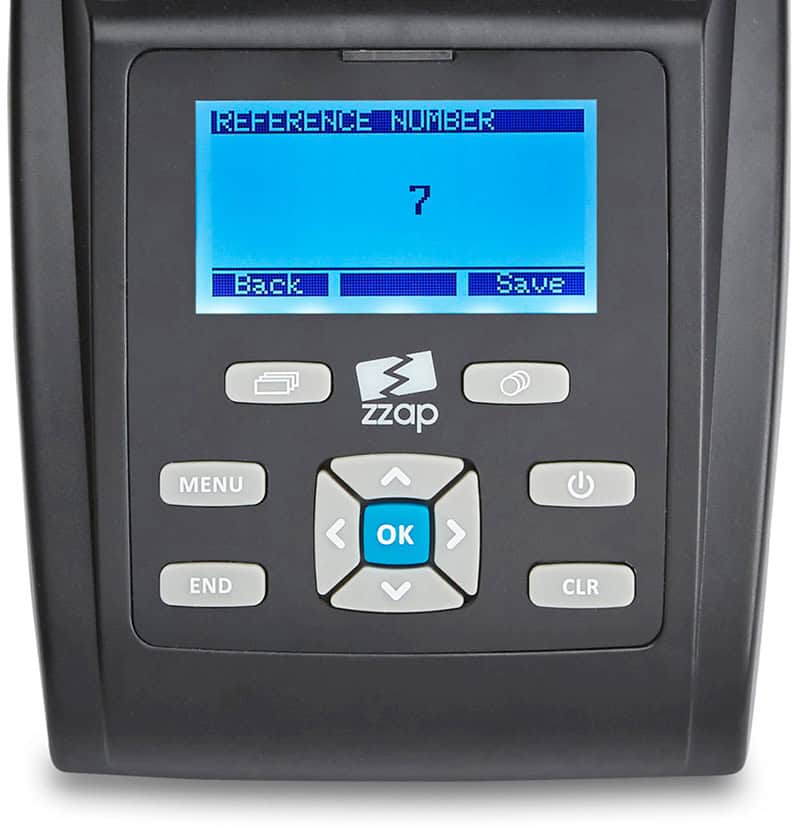 Counts Tokens, Chips, Vouchers & Tickets
The MS40i money counting scale can count non-cash items as well as currency. In just a few seconds you can calibrate the MS40i to automatically count any item.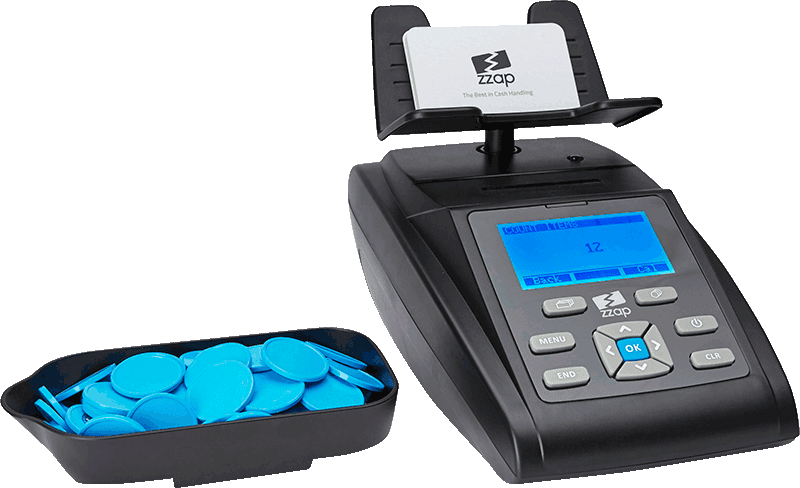 Latest Automatic Self-Calibration
Whether you are moving the MS40i around the office or taking it to another country, it will always be ready for use.
Did you know, different countries have a different gravitational pull. Therefore we engineered a unique country select feature to ensure you get accurate results no matter what country you're in.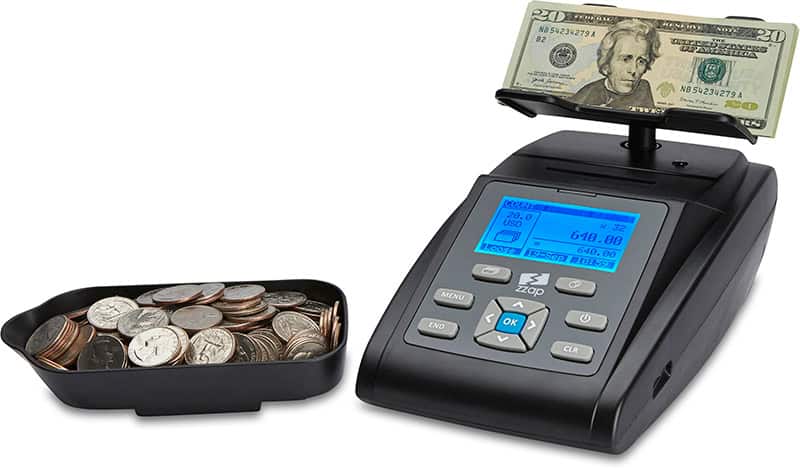 Compact & Portable Design
The MS40i space-saving design enables it to fit perfectly on small countertops. It's also lightweight making it easy to transport to another workstation, whenever and wherever it's needed.
15 cm
16.2 cm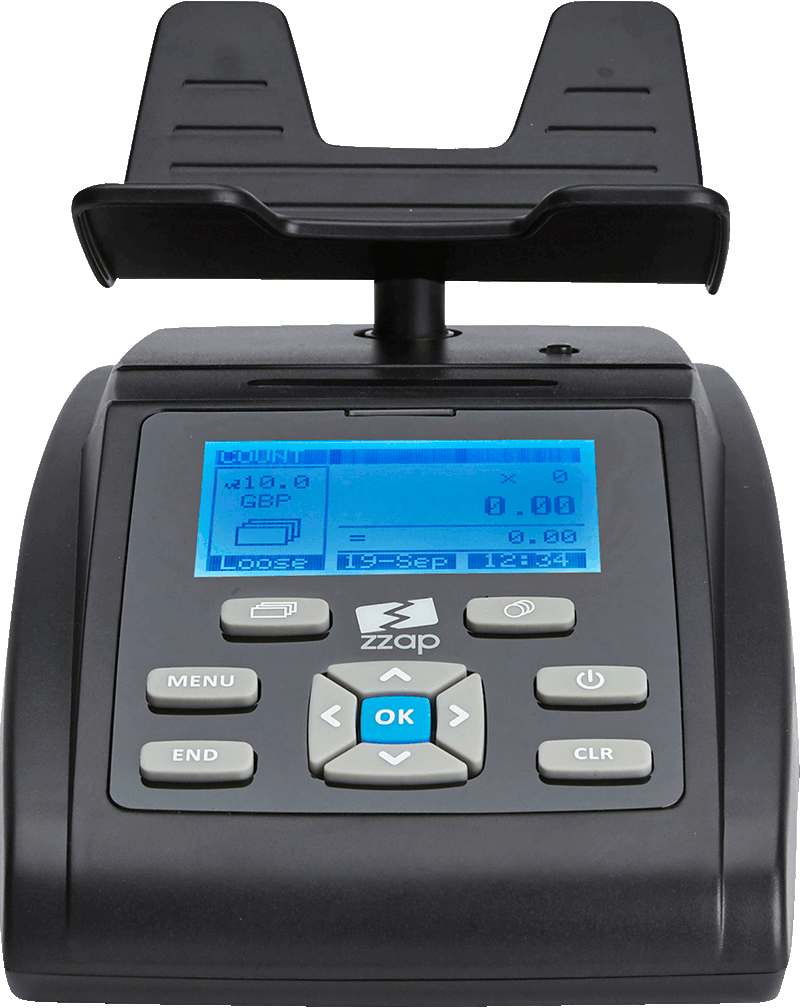 Precision Weighing Scale
In addition to its many features, the MS40i can also be used to accurately weigh any item in grams.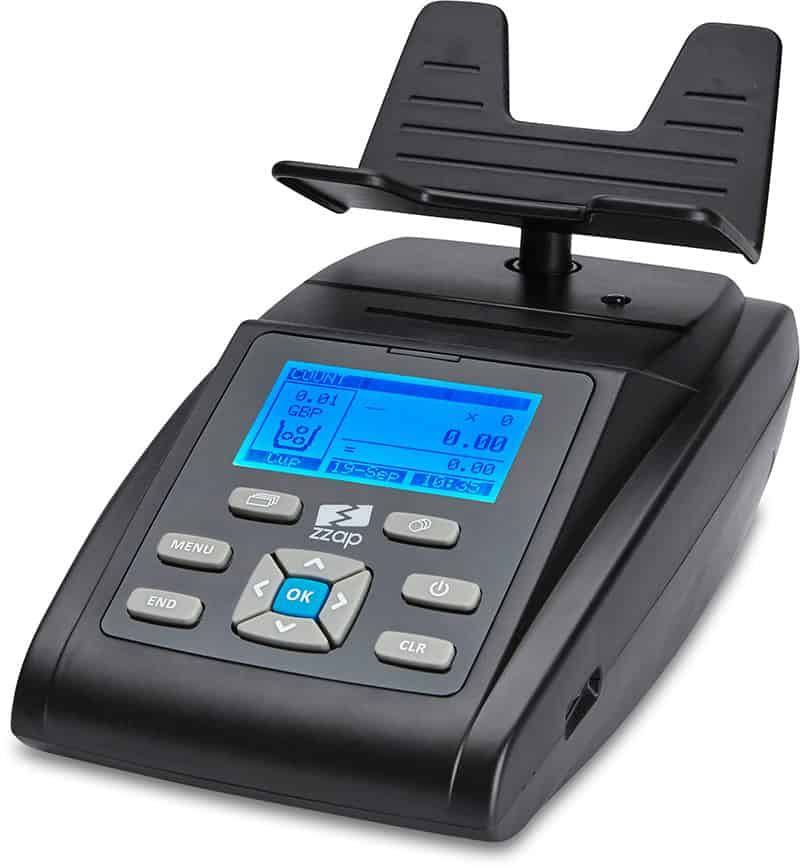 Technical Details
Technical Details
Inbuilt thermal printer
Inbuilt rechargeable battery
Suitable for the new & old £1 coin
Suitable for new & old GBP notes
Suitable for new & old EUR notes
Maximum load: 2 KG
Weight: 1.03 KG
Dimensions: 25.5 x 15 x 16.2 cm
Power: AC100-240V/50-60Hz
CE certified
Package Contents
ZZap MS40i Money Counting Scale
Coin cup
User manual
Hopper
Power lead & adaptor

Customer reviews for this product
Excellent item, on time and well packaged
Makes a tedious job very easy. Thank you
Great seller, thank you so much. Great price! Fast!
Item received as described, thank you.
Top company….10 out of 10..,super fast..will use again
Excellent service, very pleased with my purchase.
Arrived quickly as described, good quality very pleased would buy again.
Excellent seller amazing quality thank you
Most helpful and quick to respond highly recommend
Great seller. Beautiful condition goods. Pleasure to deal with.
Fast delivery, excellent service, perfect product thanks
Excellent seller. Very happy with service and product. Recomended
Everthing I need and more. Perfect for the job in hand
Excellent product – great service – many thanks
100% happy. Good communication. Very friendly.
Fantastic seller!! really pleased with product and cheaper than anywhere else!!
Very pleased with this seller,prompt and good quality
Excellent service, quality machine at excellent price
Fantastic bit of kit! high quality and a great asset to my business.
Great product, will save a lot of my time, brilliant.
A1, thank you, top seller
Excellent! Thank you for quick dispatch.
The delivery was fast but… ParcelForce delivered to the wrong address, luckily the person was nice enough to drop it off at my address for me.
Great service, will do business again
Thanks so much it's great, love to do business again
Easy transaction – arrived quickly – works well
Used this product? Why not submit a review here. You will need to quote your invoice number. All reviews are authentic and verified. Contact us for more information.
Compare the ZZap Money Counting Scale Range
To compare specific products
Tick the boxes above the products
then click the filter button below
Reset
Filter
Counting Capability
Counts banknotes
Counts coins
Counts coin bags & rolls/banknote bundles
Counts non-cash items
Currencies
Functionality
Inbuilt thermal printer
Inbuilt rechargeable battery
Save & view count reports in the memory
Reference number function
Time & date function
Automatic add function
Automatic scroll function
Free weighing function
Export count reports to a PC
Currency updating
Specifications
Maximum weighing capacity
Display type
Printer port
Automatic calibration
Warranty
Dimensions (depth x width x height)
Net weight
Power source