Features
Counts sorted coins in 5 currencies
Counts the total value instantaneously
Unique 3 KG capacity (up to 1,300 coins)
Counts one or more coin bank bags/rolls
Counts coin cups, bags & containers
Ability to add all denominations together
Ability to add different coin batches together
Suitable for the new £1 coin
Counts new & worn coins together
Battery or mains powered
Counts tokens, vouchers, chips, tickets, etc
Easy recalibration for newly issued coins
Large backlit LCD display
Export counting results to a PC
Tare function
Includes coin tray
Automatic calibration for continuous use
Quickly select each denomination
Printer compatible
Quick & easy to use
Can also be used as a precision weighing scale
Space-saving & portable design
Overview
The MS10 silently counts the total value of loose coins, bank bags and coin bags quicker and more reliably than the most experienced cashier. Unlike other products, the MS10 is accurate to 0.5g allowing you to count new & worn coins together. It can count up to 3 KG worth of coins in less than a second - thats up to 1,300 coins in a single count, the highest load capacity in its class. Thanks to its tare function you can calibrate your own coin containers such as cash drawer coin cups.
The MS10 is easy to use, has an excellent backlit display and it can even run off batteries. It can count 5 different currencies and with its add function you can add different counting results together. The MS10 is perfect for counting non-cash items such as tokens and it can also be used to weigh items.
Unique 3 KG Load Capacity
Simply place the coins on the scale and in less than a second the total value will be displayed, enabling you to eliminate human error, simplify your cash handling process and save time.
Counting up to 1,300 coins, the MS10 has the highest load capacity in its class (3 KG), meaning less time refilling the platter. 
0
Coins Counted In 1 Second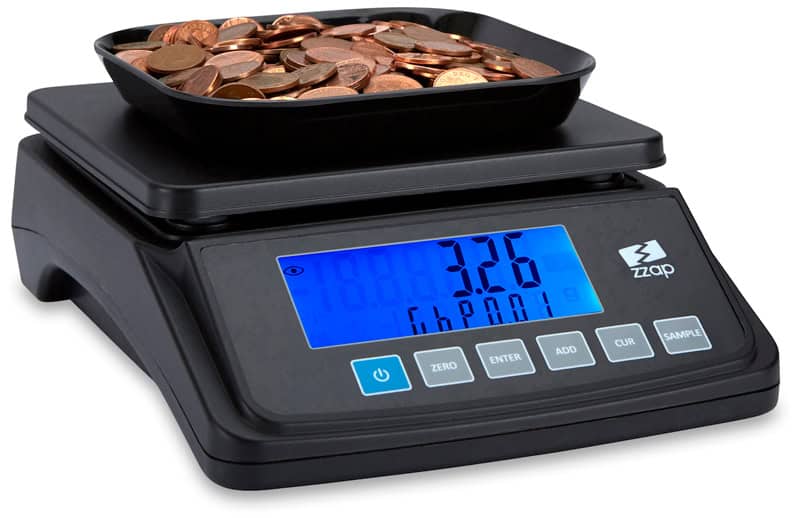 Counts Coin Cups, Bags, Bank Bags & Rolls
A coin tray is provided however by using its convenient tare function, the MS10 can work with any container, perfect for counting one or more bank bags, coin rolls, coin bags, etc. Perfect for checking your deposit before taking it to the bank.
To save even more time, the MS10 can work with your own cash drawer coin cups. There's no need to fumble getting coins out of your cash drawer, simply place each coin cup straight on the scale.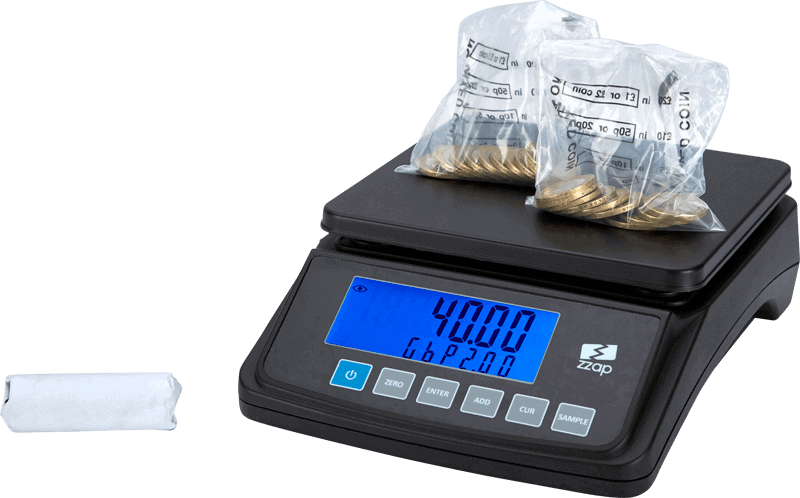 Counts New & Worn Coins In 5 Currencies
The longer coins are in circulation, the more worn and degraded they become. This effects their weight. The MS10's unique precision accuracy allows you to count new & worn coins together (accurate to 0.5g).
The MS10 silently counts sorted coins for all denominations in 4 different currencies. If 4 currencies are not enough, you have the option to calibrate one additional currency.
Installed currencies:
GBP - Pound Sterling

EUR - EURO

USD - United States Dollar

CAD - Canadian Dollar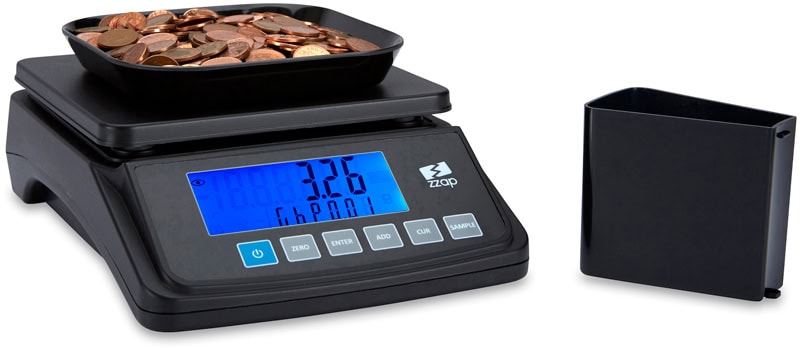 Add Function
The MS10 add function allows you to add different counting results together. Ideal for calculating the total value counted for all denominations.
It's also useful for counting a large volume of coins. Simply count different piles of the same denomination, then add them together using the add function.

Easy To Use With a Large, Backlit Display
The MS10 interface is exceptional. Unlike other products with LED displays and complex keypads, the MS10 uses a spacious, crisp LCD display with an easy to use control panel. Thanks to its backlit display counting results are easy to read, even in brightly lit environments. Unlike other manufacturers, we also make sure our user manuals are top-quality, saving you time & hassle.
The display clearly shows what you need to know in real-time: the selected currency, selected denomination and the value counted.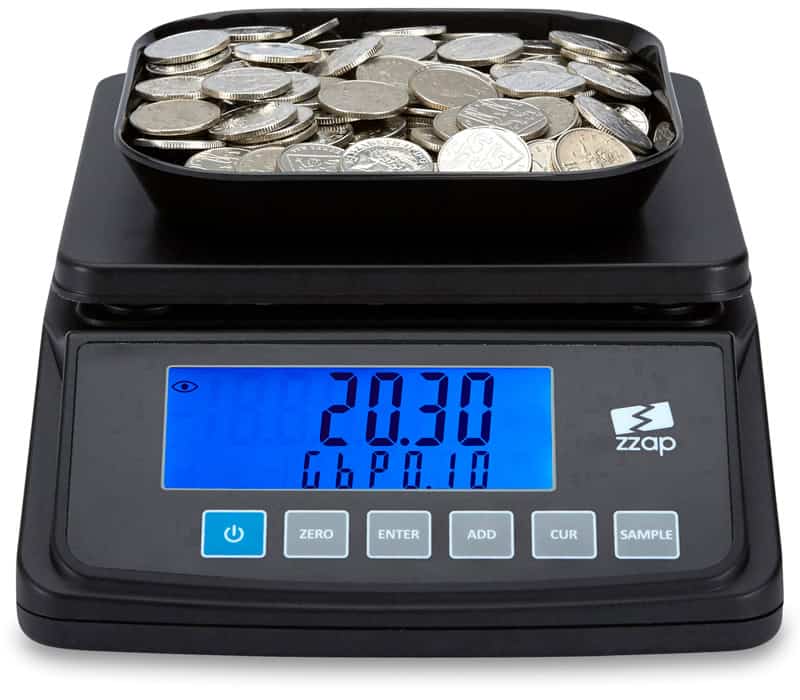 Battery or Mains Powered
Weighing just over 1 KG and using 6 x AA batteries (not included), the MS10 gives you the freedom to count your coins any time, any place. Furthermore, the MS10 power saving settings maximise battery life.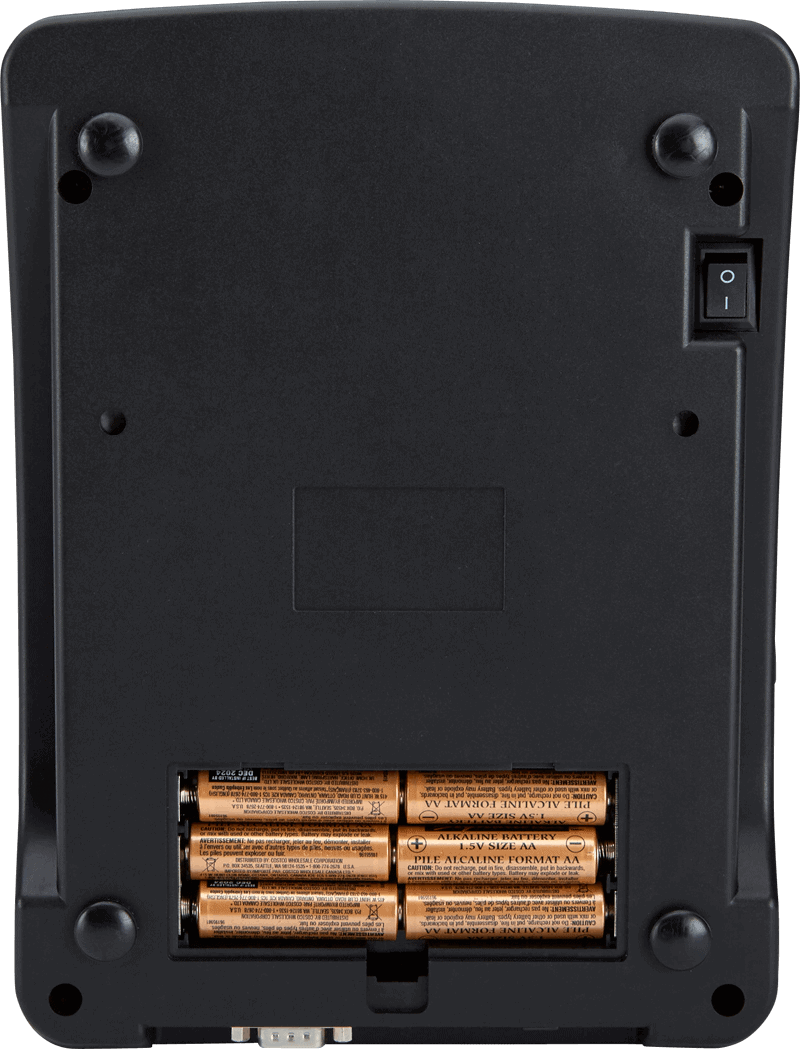 Count 1 Other Currency Of Your Choice
The MS10's simple calibration procedure allows you to count 1 more currency in addition to the 4 installed currencies. Simply input all the denominations then weigh each denomination and voilà the MS10 can count your currency.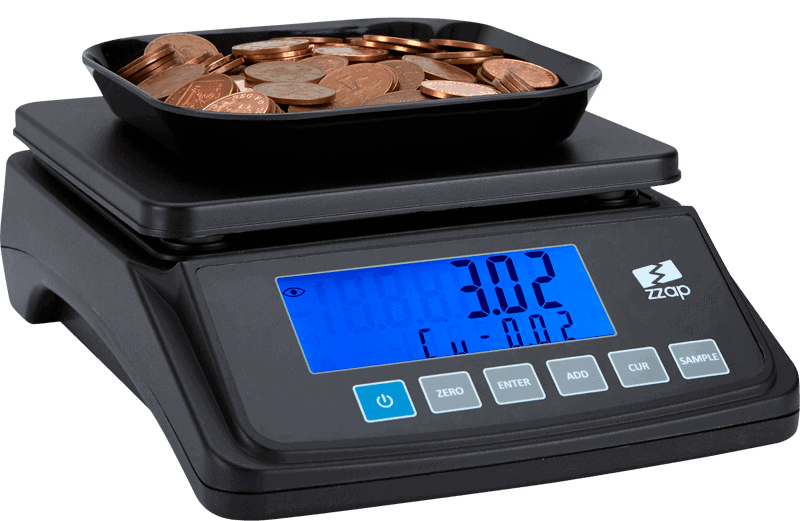 Currency Updating & Export Results
New coins issued? No problem. The MS10 can be easily calibrated to count new coins. Thanks to its integrated RS232 port, counting results can also be exported to your PC, perfect for audit trails & record keeping.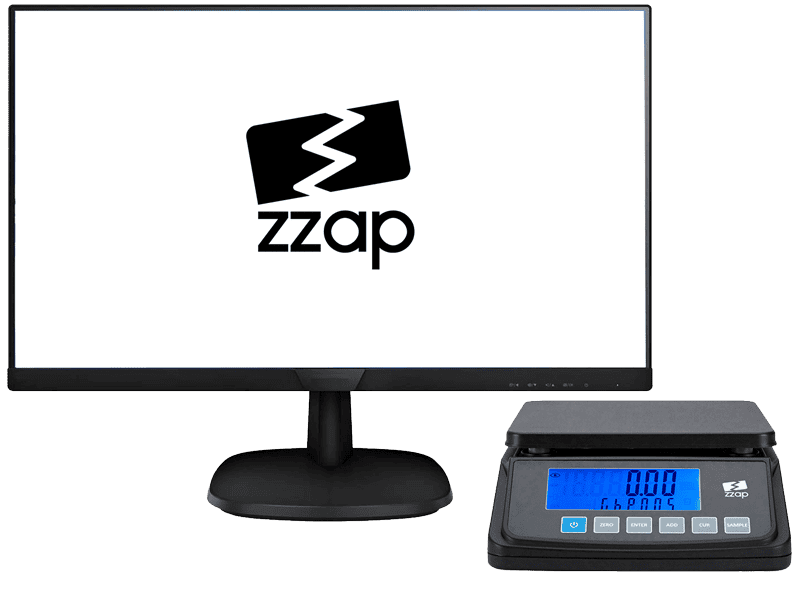 Print Your Count Reports
The MS10's integrated RS232 port allows you to connect a thermal printer so you can print hard copies of your counting results.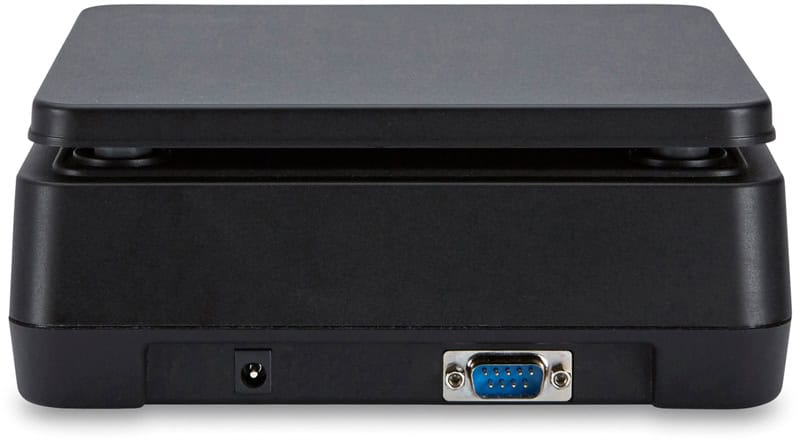 Counts Tokens, Chips, Vouchers, Tickets, etc
The MS10 can count non-cash items as well as coins. In just a few seconds you can calibrate the MS10 to count the quantity or value of any item. The MS10 can also be used as a precision weighing scale, measuring in pounds, ounces, grams and kilograms.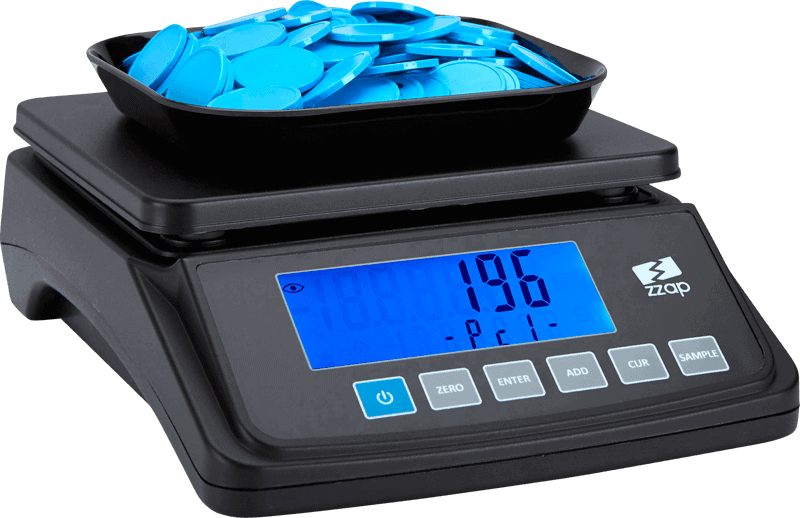 Space-Saving & Portable Design
The MS10 space-saving design enables it to fit perfectly on small countertops. It's also engineered to be lightweight & feature automatic self-calibration, meaning you can carry the MS10 to the cash, whenever and wherever it's needed.
18.8 cm
7.8 cm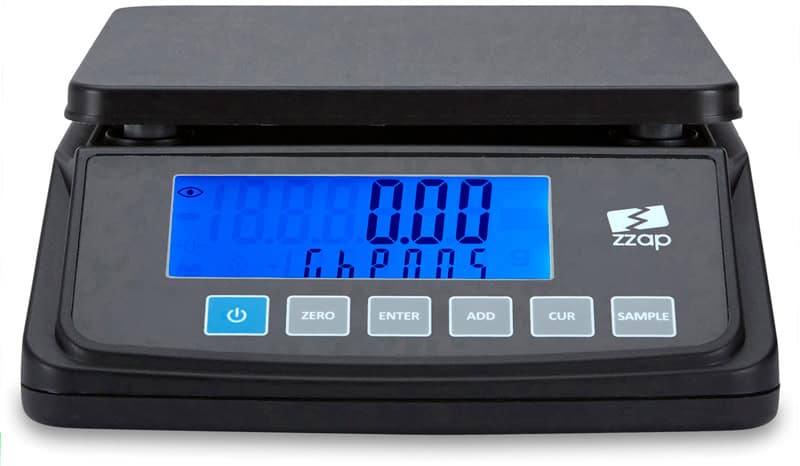 Technical Details
Technical Details
Suitable for the new £1 coin
Weight: 1.35 KG
Maximum load: 3 KG
Dimensions: 26.5 x 18.8 x 7.8 cm
Power: AC100-240V/50-60Hz
Power consumption: ≤2.7W
CE certified
Package Contents
ZZap MS10 Coin Counting Scale
Coin tray
Platter
User manual
Power lead & adaptor

Customer reviews for this product
Great product. Thank You!
Thanks for your quick service 🙂
Good machine. Good delivery
As described and quick delivery. … brilliant
Excellents, does what I need it to do
Used this product? Why not submit a review here. You will need to quote your invoice number. All reviews are authentic and verified. Contact us for more information.
Compare the ZZap Money Counting Scale Range
To compare specific products
Tick the boxes above the products
then click the filter button below
Reset
Filter
Counting Capability
Counts banknotes
Counts coins
Counts coin bags & rolls/banknote bundles
Counts non-cash items
Currencies
Functionality
Inbuilt thermal printer
Inbuilt rechargeable battery
Save & view count reports in the memory
Reference number function
Time & date function
Automatic add function
Automatic scroll function
Free weighing function
Export count reports to a PC
Currency updating
Specifications
Maximum weighing capacity
Display type
Printer port
Automatic calibration
Warranty
Dimensions (depth x width x height)
Net weight
Power source