You cannot add "ZZap D50 Banknote Counter" to the basket because the product is out of stock.
ZZap D1 Counterfeit Detector Pens
Features
Set of 10 counterfeit detector pens
Verifies all paper currencies
No detector pen works with polymer notes
Ink turns dark if it is a counterfeit
Doesn't mark genuine banknotes
Quick & easy to use
Compact & portable
Why you'll love the D1 Counterfeit Money Pen
The ZZap D1 has established itself as one of the best selling counterfeit detector pens. The ZZap D1 can instantly verify all currencies. Simply mark any part of the banknote and if the ink turns dark the banknote is likely to be fake money.
The D1 counterfeit money pen is extremely portable and can fit comfortably in your pocket. Ideal for events, taxis, courier drivers, markets etc. The D1 pen uses only the best iodine-based ink. ZZap has tested various iodine inks to perfect the ZZap D1 counterfeit detector pen, so you can be sure you are receiving the best.
Iodine detection
Simply mark the banknote with the pen. If the ink turns dark the banknote is likely to be a counterfeit note. The D1 uses iodine-based ink that reacts with starch found in all standard papers but does not react with official cotton-based or polymer banknotes used by central banks worldwide. The pale mark left by our counterfeit detector pens on genuine banknotes will disappear within 24 hours.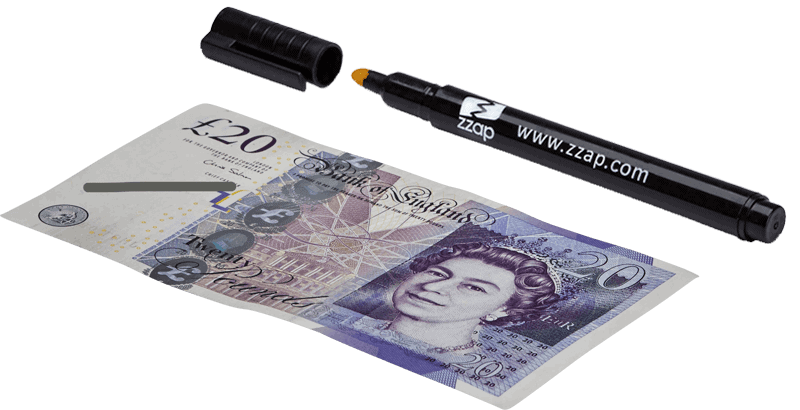 Compact & portable
Weighing 9 grams and comfortably fitting in your pocket, the D1 counterfeit detector pen is as portable as it gets.
13.5 cm
1.5 cm

Technical Details
Technical Details
Shelf life: 12 months+
Net weight: 9 grams
Dimensions: 135 x 15 mm

Customer reviews for this product
Nice. Perfect! Top product.
Great product, fast dispatch.
Fast delivery, delighted with the purchase, A+++++
Great seller, top quality. A+++
Speedy delivery, excellent service
Great seller, highly recommend A++++++++++
Good seller, all positive
Good quick delivery, product as described, A1
Great, highly recommend 10/10
Item received, thank you, highly recommended.
Happy with my purchase, thanks!
As described, Many thanks.
Used this product? Why not submit a review here. You will need to quote your invoice number. All reviews are authentic and verified. Contact us for more information.
Compare the ZZap Counterfeit Detector Range
To compare specific products
Tick the boxes above the products
then click the filter button below
Reset
Filter
Counterfeit Detections
Ultraviolet <1 Watt
Ultraviolet 1 Watt
Ultraviolet 3 Watt
Ultraviolet 9 Watt
Ultraviolet 2 x 9 Watt
Integrated reflector
Magnetic
Watermark
Metal thread
Infrared
Length
Width
Thickness
Specifications
Automatic or manual detection
Currencies
Verifies official items
Audio & visual counterfeit alarm
Value & quantity counting
Central bank certified
Battery powered
Warranty
Net weight
Dimensions (depth x width x height)
Power source