ZZap D5 Counterfeit Detector
Features
Strong 1 Watt UV light detection
Verifies all currencies & denominations
Verifies driving licences, passports, etc
Suitable for polymer & old banknotes
Battery included
High quality aluminium casing
Waterproof (cannot be used underwater)
Scratch & impact resistant
Wrist strap included
Overview
The D5 is in a different league to most UV torches. Its strong 1 watt UV bulb makes it quick and easy to spot counterfeit banknotes and official items such as driving licenses and passports. It can also be used in security, engineering, outdoor activities and other applications.
Unlike cheaper models, the D5 emits pure UV light at the optimum frequency (365nm). This means it's easier to see UV marks, it works with worn banknotes and it's useful in more applications. The D5 also includes a long-life battery.
UV Light Detection
Genuine banknotes and some official items incorporate invisible UV marks that only become visible when exposed to ultraviolet light at a specific frequency (365nm). The D5's pure UV light illuminates any UV marks so you can easily verify banknotes and official items.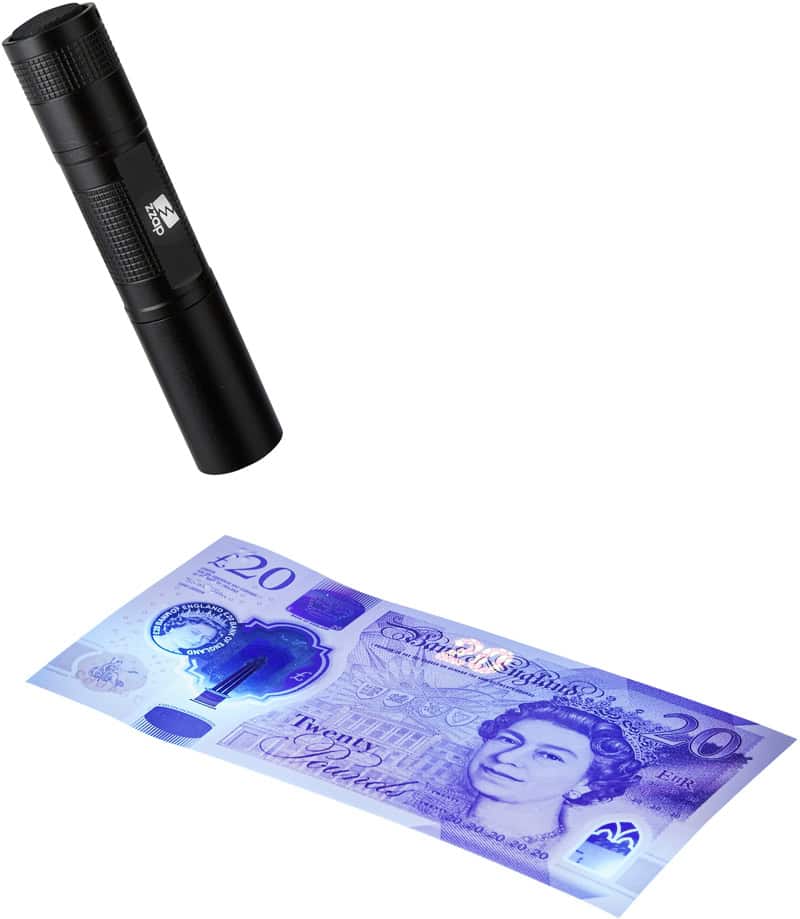 Verifies Official Items
The D5 instantly illuminates UV marks on official items, ideal for verifying driving licences, credit/debit/bank cards, passports, ID cards, cheques, permits, stamps, certificates of authenticity on software packaging and other official items with UV marks. It also illuminates UV ink such as Smartwater or SelectaDNA that is used to protect valuables from theft or confirm event admission.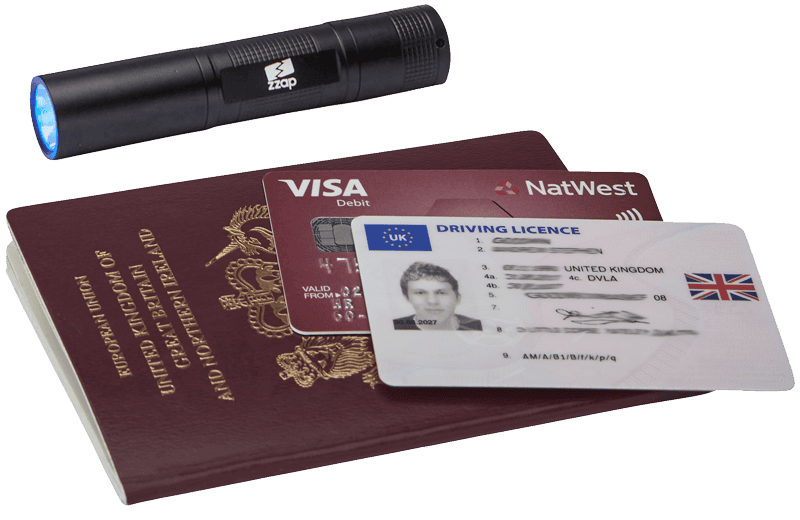 Small & Portable
The D5 was designed with portability in mind. Ideal for events, taxis, courier drivers, markets, etc. The wrist strap means it's always to hand, its compact design allows it to be put in your pocket and with its AA battery (included), you can use the D5 practically anywhere.

Technical Details
Technical Details
Suitable for new & old GBP notes
Suitable for new & old EUR notes
Weight: 30 grams
Dimensions: 9.7 x 2 cm
Power source: 1 x AA battery (included)
Voltage: 1.5V
CE certified
Package Contents
ZZap D5 Counterfeit Detector
AA battery
Wrist strap

Customer reviews for this product
Fast delivery. Very effective UV flashlight. Helpful seller, thanks.
Very accurate. Top quality.
Very pleased. Thank you. Great Seller. A+++++.
Great item, recommended seller, A++++.
Accurate description, speedy delivery.
Exactly as described. Recommended A+.
Thanks, quick delivery, AAAAAAAAA.
Used this product? Why not submit a review here. You will need to quote your invoice number. All reviews are authentic and verified. Contact us for more information.
Compare the ZZap Counterfeit Detector Range
To compare specific products
Tick the boxes above the products
then click the filter button below
Reset
Filter
Counterfeit Detections
Ultraviolet <1 Watt
Ultraviolet 1 Watt
Ultraviolet 3 Watt
Ultraviolet 9 Watt
Ultraviolet 2 x 9 Watt
Integrated reflector
Magnetic
Watermark
Metal thread
Infrared
Length
Width
Thickness
Specifications
Automatic or manual detection
Currencies
Verifies official items
Audio & visual counterfeit alarm
Value & quantity counting
Central bank certified
Battery powered
Warranty
Net weight
Dimensions (depth x width x height)
Power source