ZZap D50 Banknote Counter
Features
Value counts unsorted notes for 4 currencies
Counts 250 banknotes per minute
Batch, add & sort functions
7-fold counterfeit detection
Top loading hopper for continuous counting
Compact & portable
Value counts sorted notes for all currencies
Bank of England certified
Export count report to a PC
USB & SD card update ports
Automatic or manual start
Easy to use & large LCD display
Counts vouchers, tickets, etc
Why you'll love the D50 Note Counter & Counterfeit Detector
The D50 banknote counter and counterfeit detector is a truly unique product. You can enjoy great functionality in a small & compact machine. It can value count up to 4 currencies and if need be, you can download other currencies and updates via the USB and SD card ports. It also counts at a quick 250 banknotes per minute.
With its 100% accurate counterfeit detection, even the most advanced counterfeit banknote will be detected. Batch, add & sort functions help you organise your cash and you can even view, save and print your counting results on a PC.
Mixed denomination value counting for 4 currencies
The D50 has made counting simple. It can count the total value of mixed denomination banknotes without presorting them. The D50 displays the total value & quantity counted and also reports the total value & quantity counted per denomination. The D50 has 4 default currencies installed however other currencies can be downloaded to the machine (excluding USD). Other currencies are available on request.
Default currencies:
GBP (English banknotes only)
EURO
CHF - Swiss Franc
TRY - Turkish Lira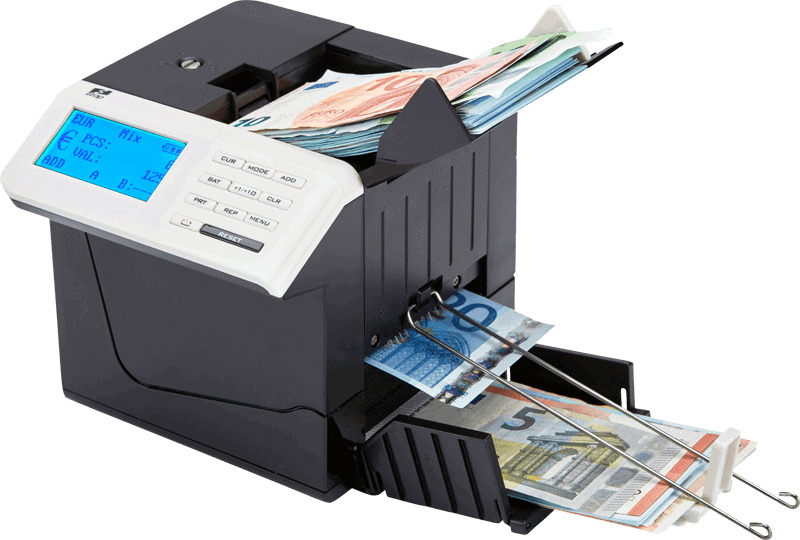 Fast & accurate
The D50 has the same 100% counterfeit detection accuracy as our other detectors, such as the D40, however the D50 counts up to 250 banknotes per minute, so not only does it get the job done, it also gets it done quickly.
0
x
faster than manual counting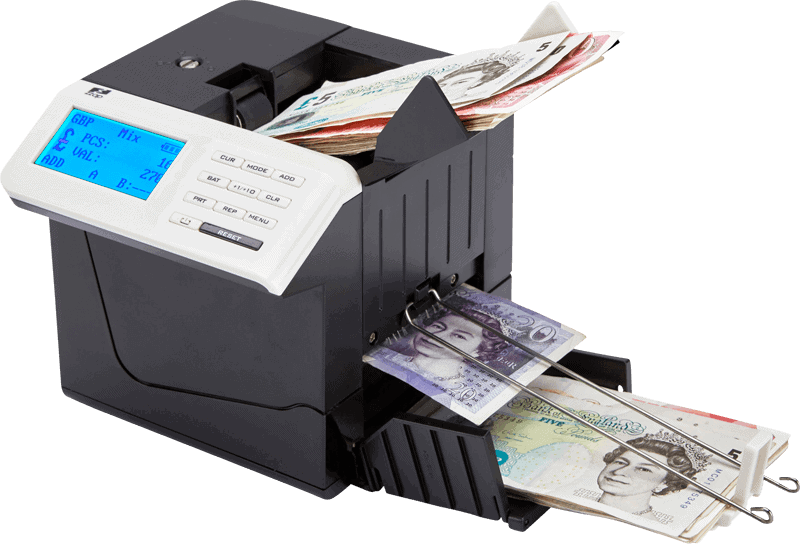 Single denomination batch counting
The D50 batch counting function allows you to count your single denomination/sorted banknotes into batches. Simply input your desired batch quantity and the D50 will automatically pause counting each time it counts that quantity. Perfect for preparing bank deposits and cash drawers. The D50 will even alert you to any rogue denominations within your stack.
The D50's add function also allows you to add different stacks of banknotes together. Ideal for keeping track of the total counting result across individual runs.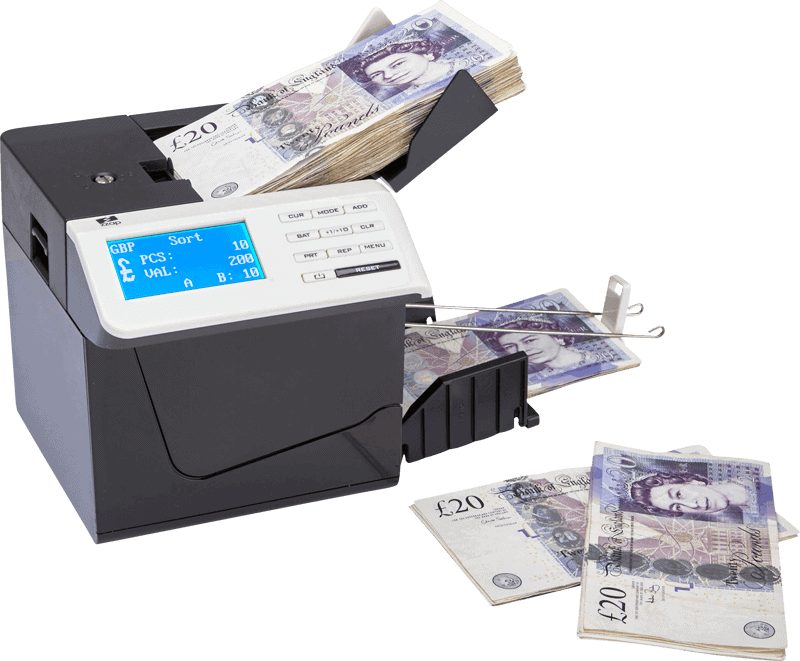 Mixed denomination batch counting
The D50 is one of the few machines that can value count batches for mixed denomination/unsorted banknotes. Simply input your desired batch value and the D50 will automatically pause counting each time the batch value is reached.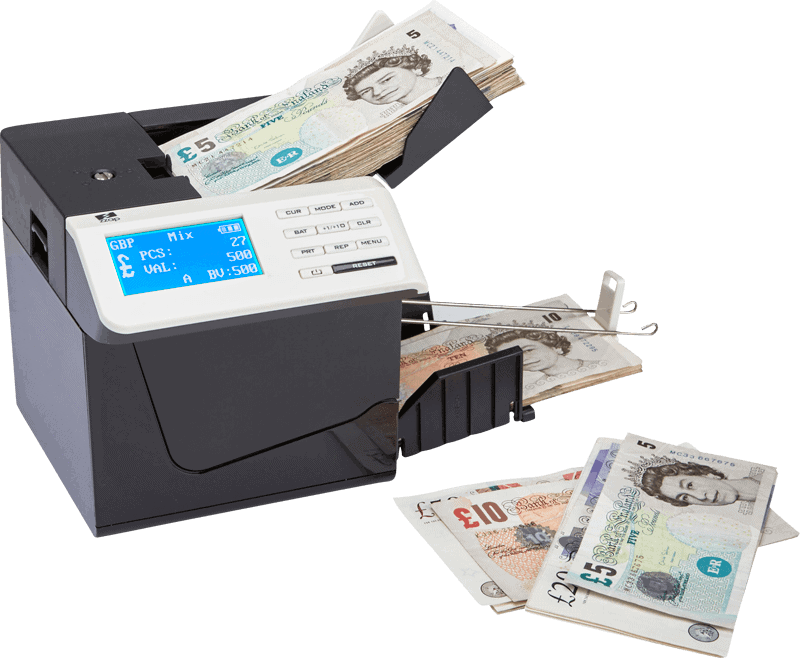 100% accurate counterfeit detection*
The D50 automatically verifies your banknotes so you don't accept worthless counterfeits. When a counterfeit banknote is detected the D50 automatically stops counting and alerts you with a visual and audio warning. No manual checking means no time wasted and no customer confrontations.
Security features are incorporated into every currency to prevent counterfeiting. The D50 checks the security features on each banknote using the following detections:
Magnetic
Watermark
Metal thread
Infrared
Length
Width
Thickness
*Tested by the Bank of England.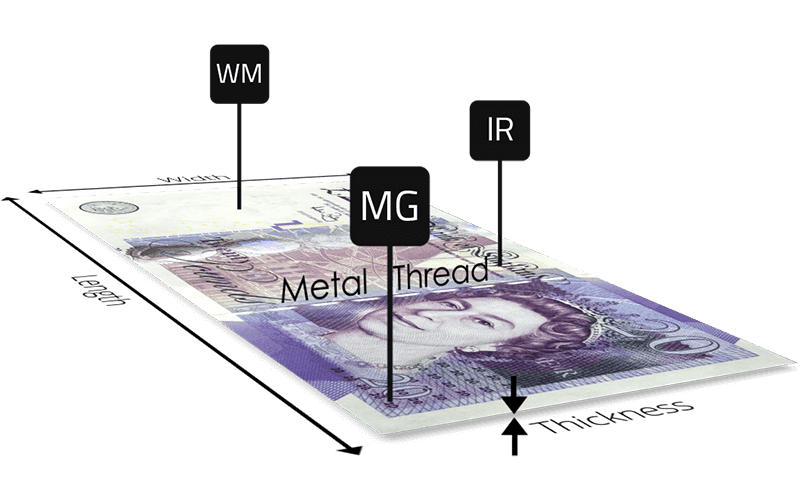 Single denomination value counting for all currencies
We know the D50 (or any other value counter) doesn't value count mixed denomination banknotes for every currency. So for other currencies we designed a calculator function whereby you input the denomination you are counting and the D50 will count the total value of your banknotes. No manual calculations, no time wasted.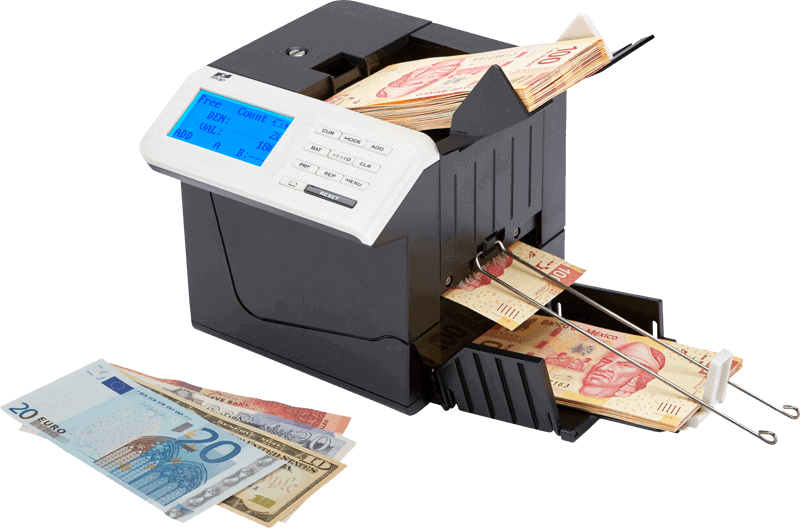 Sort function
The D50 sort function can detect rogue denominations within your single denomination banknotes. If a different denomination is counted, the D50 automatically pauses counting and alerts you with a visual & audio warning. No manual sorting, no time wasted.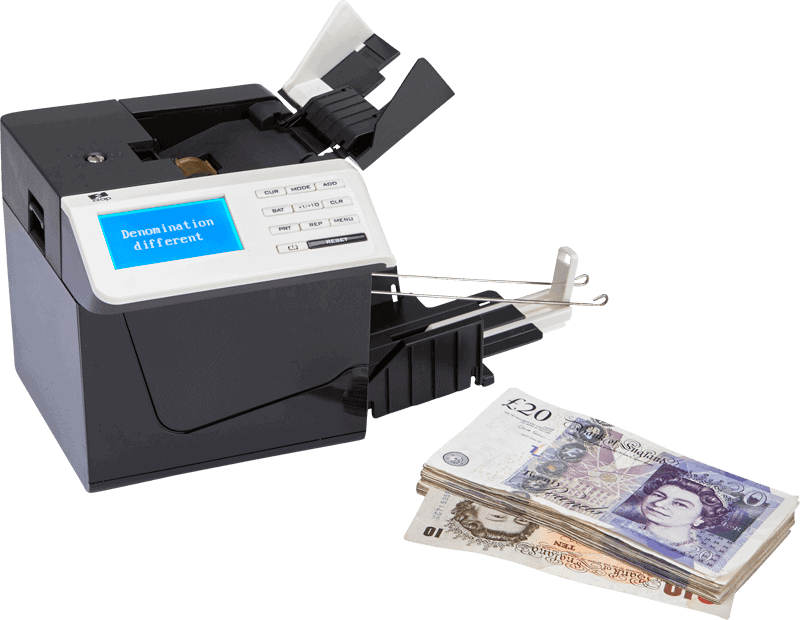 Currency updating & PC compatibility
Need to value count other currencies? New banknotes issued? No problem. The D50 has integrated USB & SD card currency update ports so you can easily download currencies and updates. The D50 can also display the counting result on a PC, which can then be saved and printed.
ZZap provides all currency updates free of charge. PC requirements: Windows 7, 8 or XP. If you wish, the ZZap team can update your D50 for you, contact us for further details.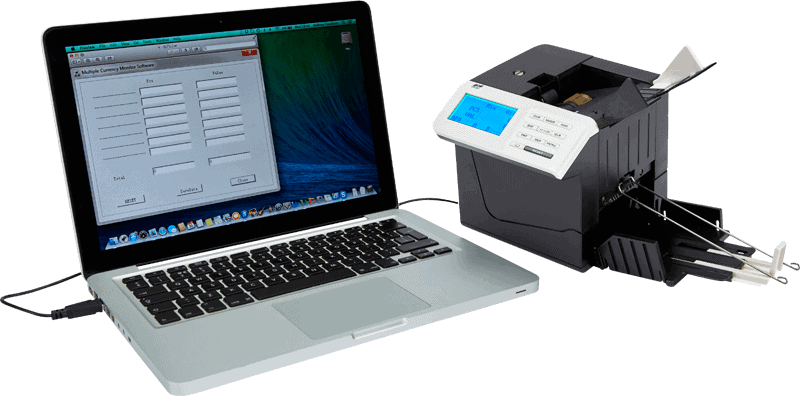 Top loading hopper
The D50 features an innovative top loading hopper that's easier to use, has a larger banknote capacity and allows you to add banknotes to the hopper while it runs, for continuous counting.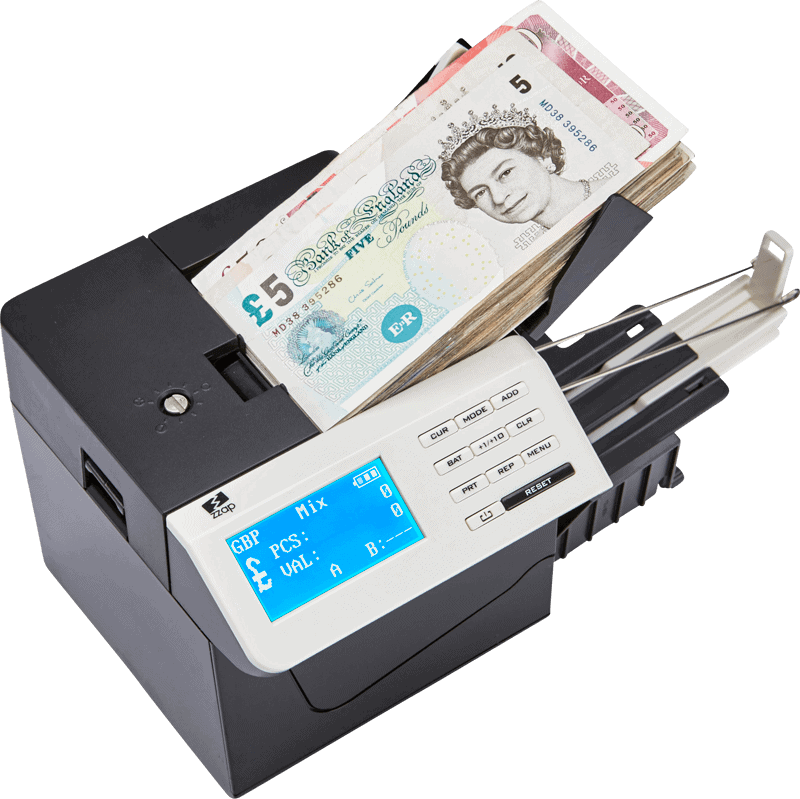 Compact & portable
The D50 is compact, lightweight and portable. Weighing in at only 1.75 kg and its length measuring no more than size of your hand, it's remarkable how such a small device can perform so many functions.
15.2 cm
15.7 cm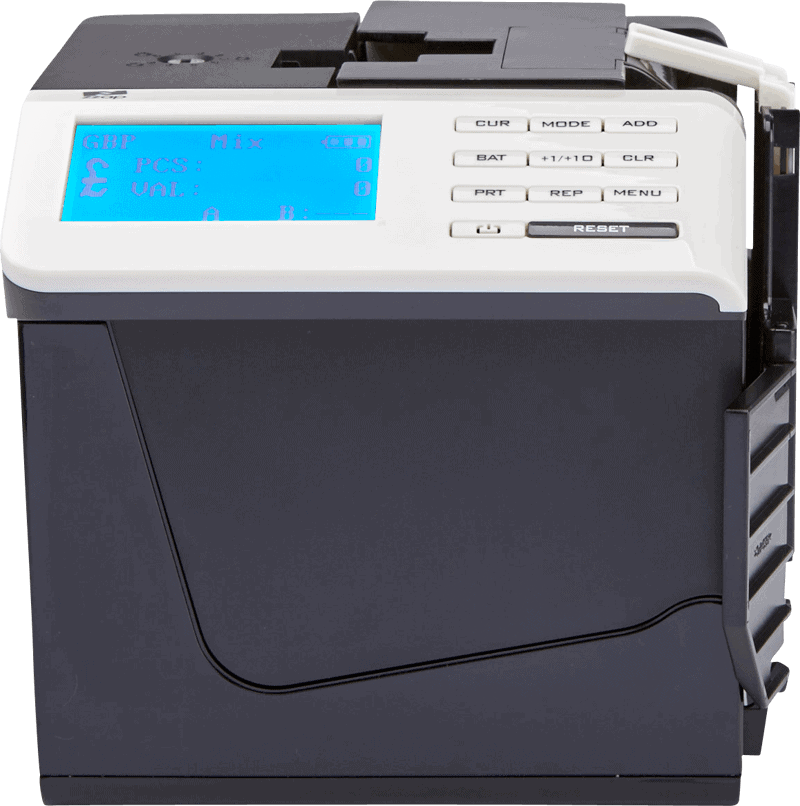 Robust & reliable
The D50 has been engineered to exacting specifications making it one of the most accurate counterfeit detection systems available on the market. It also incorporates commercial grade components that are built to last.
No counterfeit detector is without maintenance. That's why the D50 has easy maintenance access allowing fast simple cleaning. No technical knowledge required.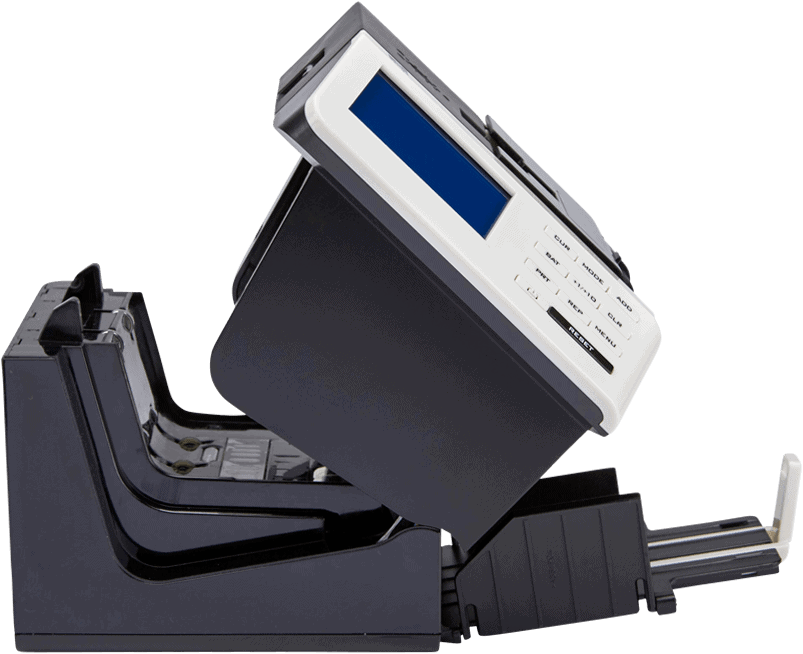 Not counting currency?
It could not be simpler. All counterfeit detections can be turned off at the touch of a button, turning the D50 into a universal counting machine that can count vouchers, coupons or tickets (depending on size).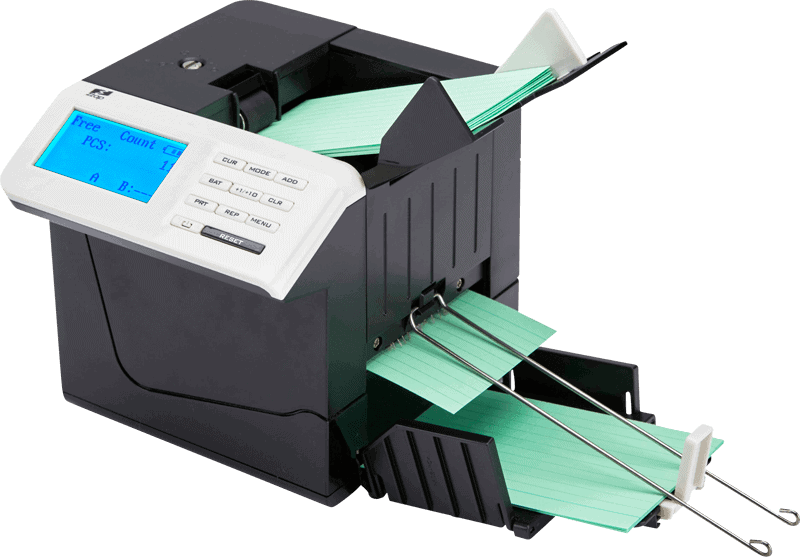 Technical Details
Technical Details
CE certified
Bank of England certified
Hopper capacity: 100
Stacker capacity: 100
Net weight: 1.75 KG
Dimensions: 170 x 152 x 157 mm
Power source: AC100-240V/50-60Hz
Package Contents
ZZap D50 Counterfeit Detector
Power cable & adaptor
User manual
Cleaning brush
Banknote pressing frame
Optional Extras

Customer reviews for this product
Excellent seller fast delivery. Item as described a*****
Used this product? Why not submit a review here. You will need to quote your invoice number. All reviews are authentic and verified. Contact us for more information.
Compare the ZZap Counterfeit Detector Range
To compare specific products
Tick the boxes above the products
then click the filter button below
Reset
Filter
Counterfeit Detections
Ultraviolet <1 Watt
Ultraviolet 1 Watt
Ultraviolet 3 Watt
Ultraviolet 9 Watt
Ultraviolet 2 x 9 Watt
Integrated reflector
Magnetic
Watermark
Metal thread
Infrared
Length
Width
Thickness
Specifications
Automatic or manual detection
Currencies
Verifies official items
Audio & visual counterfeit alarm
Value & quantity counting
Central bank certified
Battery powered
Warranty
Net weight
Dimensions (depth x width x height)
Power source