Features
Counts mixed & sorted notes for GBP & EURO
Top loader: High volume continuous counting
7-fold counterfeit detection
Counts 15x faster than hand counting
Batch counting & add functions
Suitable for new & old banknotes (inc new £20)
Includes external display & dust cover
Counts sorted banknotes for all currencies
Sort function can detect rogue denominations
Export count report to a PC (free software)
Compatible with the ZZap P20 printer
USB update port (free currency updates)
The NC45 is one of the few banknote counters in this price range to feature mixed denomination value counting and a high capacity top loading hopper. The NC45 counts 15x faster than hand counting while verifying every banknote with 7-fold counterfeit detection.
The batch counting function is the fastest way to prepare cash drawers and bank deposits. The NC45 also offers unique features such as rogue denomination detection, automatic or manual start and includes an external customer display and a custom dust cover. Count reports can be exported to the P20 printer or to a PC using our free ZZap Banknote Counting Software.
Mixed Denomination Value Counting
Simply place your unsorted (or sorted) banknotes on the hopper and the NC45 will automatically start counting. The NC45 scans & reads denominations in any orientation. It will display the total value & quantity counted and also report the total value & quantity counted for each denomination. The NC45 also has the capability to count sorted banknotes for all currencies.
Installed currencies:
GBP - British Pound Sterling (English banknotes only)
EURO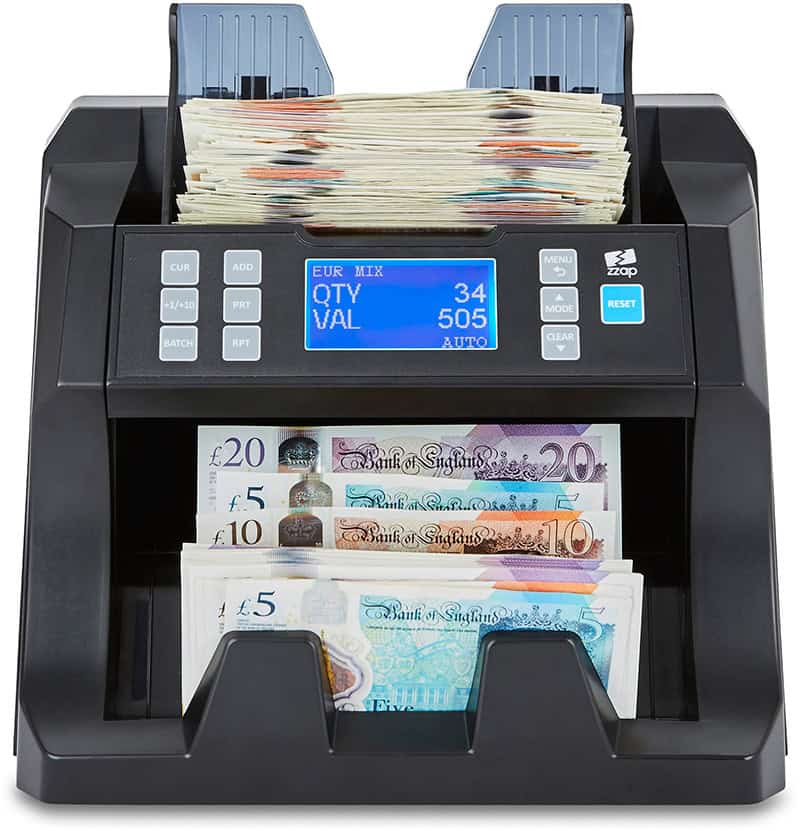 High Capacity Continuous Feeding
The NC45 is one of the few banknote counters in this price range to incorporate a top loading hopper. It's easier to use, has a larger banknote capacity and allows you to add banknotes to the hopper while it runs, for continuous counting.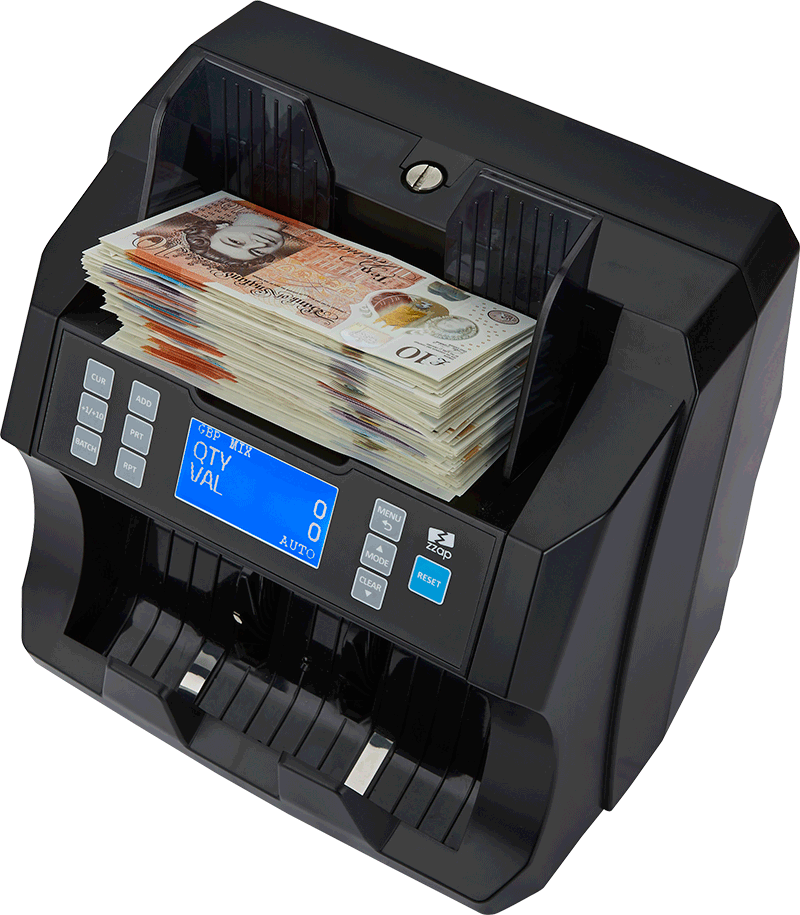 Latest 7-fold Counterfeit Detection
The NC45 simultaneously counts & verifies your banknotes. If a counterfeit is detected the NC45 pauses counting and alerts you with a visual and audio warning. Simply remove the counterfeit and press start to resume counting.
The NC45 examines seven advanced security features on each banknote using the latest counterfeit detection technology:
Ultraviolet
Magnetic
Infrared
Metallic Thread
Length
Width
Thickness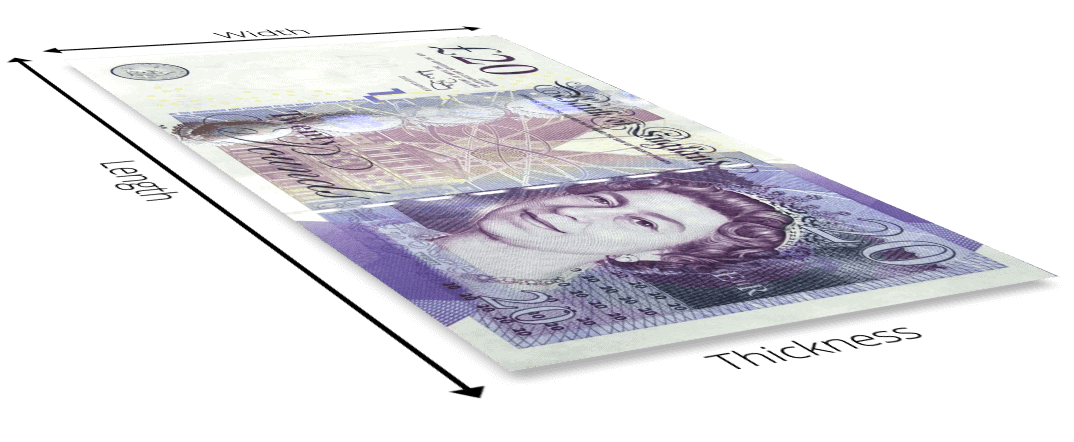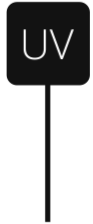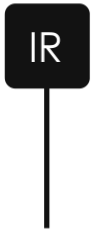 Fast & Accurate
The NC45 accurately counts at high speed (800 banknotes per minute) enabling you to eliminate human error, simplify your cash handling process and save time.
0
x
Faster Than Hand Counting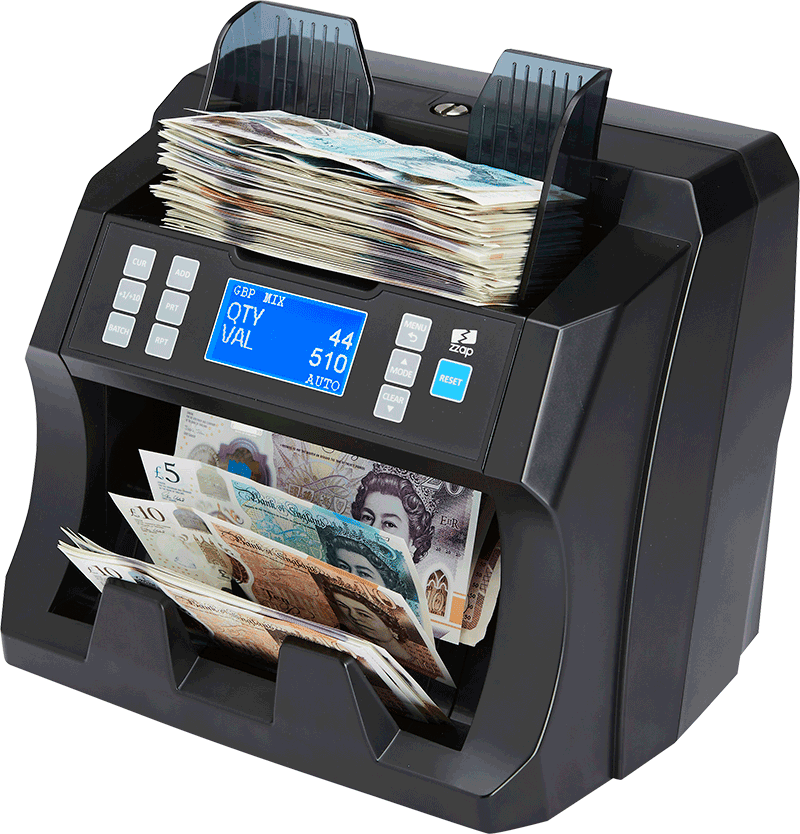 Batch Counting & Add Functions
The batch counting function allows you to count your single denomination banknotes into batches. Simply input your desired batch quantity and the NC45 will automatically pause counting each time it counts that quantity. Perfect for bank deposits, cash drawers & currency straps. The sort function will even alert you to any rogue denominations.
The add function allows you to add different stacks of banknotes together. Ideal for keeping track of the total counting result across individual runs. The add and batch function can be used at the same time for maximum efficiency.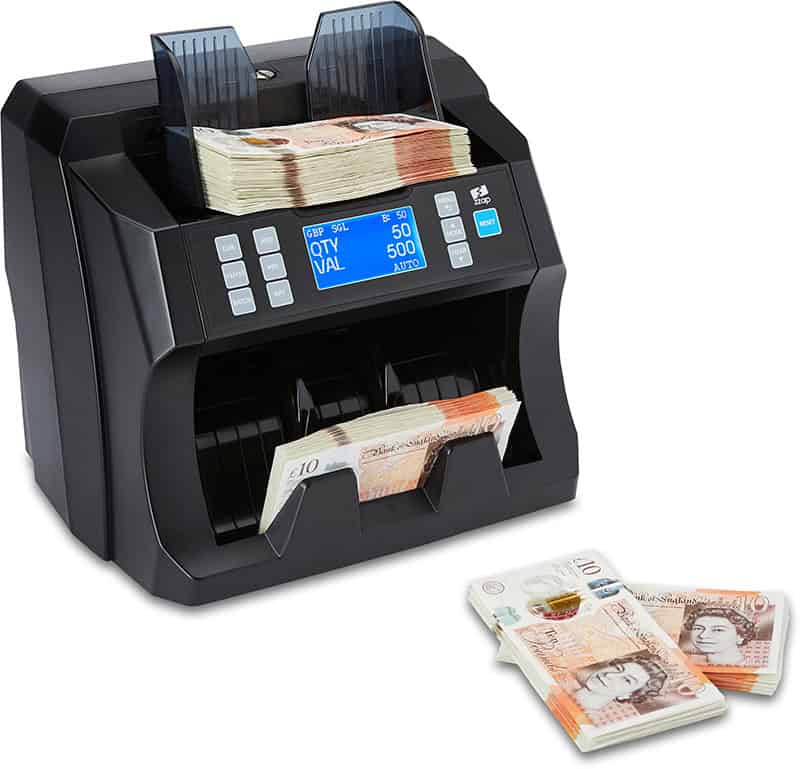 Count & Verify All Currencies
As well as counting unsorted banknotes, the NC45 also counts sorted banknotes for all currencies & denominations. Thanks to its high specification sensors, the NC45 can use up to 5 counterfeit detections for any currency. Advanced, fully adjustable counterfeit detection also offers maximum flexibility for future currency technology.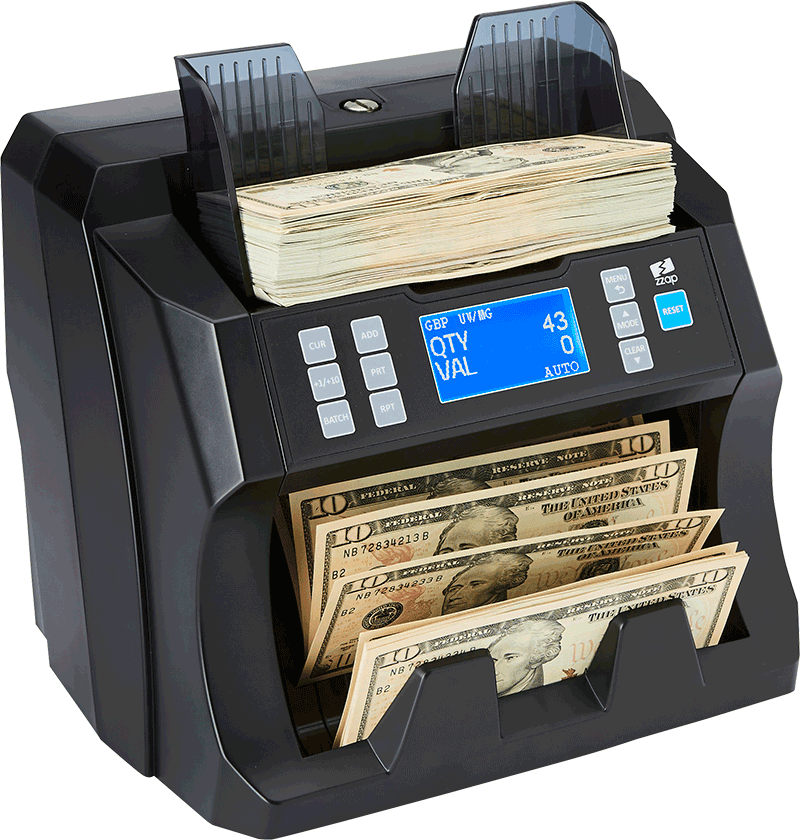 Dust Cover, Customer Display & Maintenance Kit
Unlike other manufacturers the NC45 includes unique accessories. The provided customer display duplicates the counting results shown on the machine, allowing the customer to view the results in real time. Simply plug it into your NC45 and you're set.
A maintenance kit is also included for fast simple cleaning. Finally, the provided custom dust cover is the perfect complement to your NC45, it fits exactly as it should, shielding the sensors from dust build up.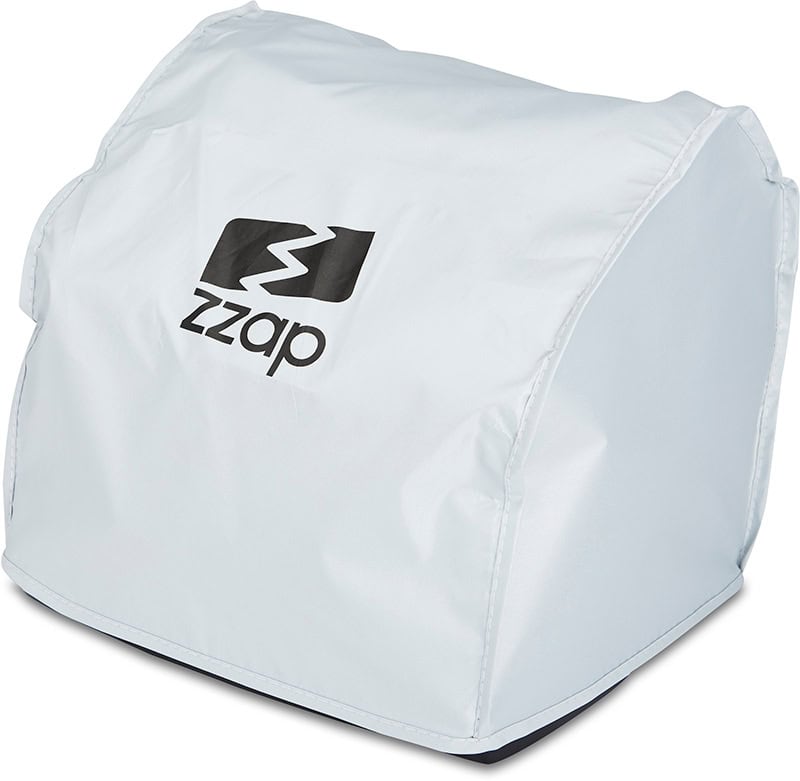 Unique Sort Function
The sort function detects rogue denominations that have been mistakenly put in your sorted banknotes. If a different denomination is counted, the NC45 automatically pauses counting and alerts you with a visual & audio warning. No manual checking, no time wasted.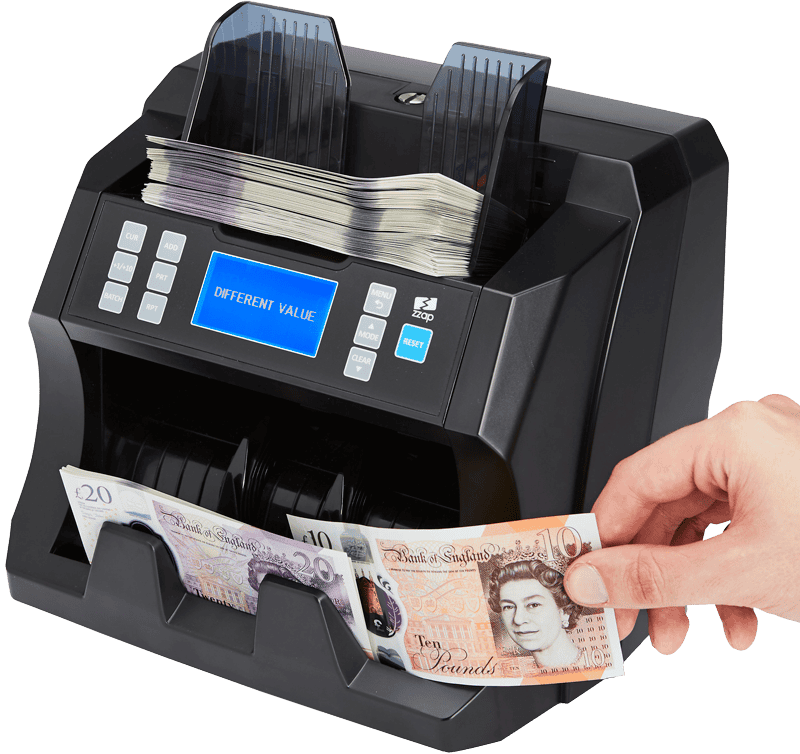 Print Your Count Report
The NC45 can automatically print your count report in seconds using the optional ZZap P20 Printer. Ideal for when you need to print a hard copy for your records. To make administration easy, the date, time, currency & full counting report breakdown is clearly shown. The P20 uses thermal printing technology therefore no ink is required, just press print.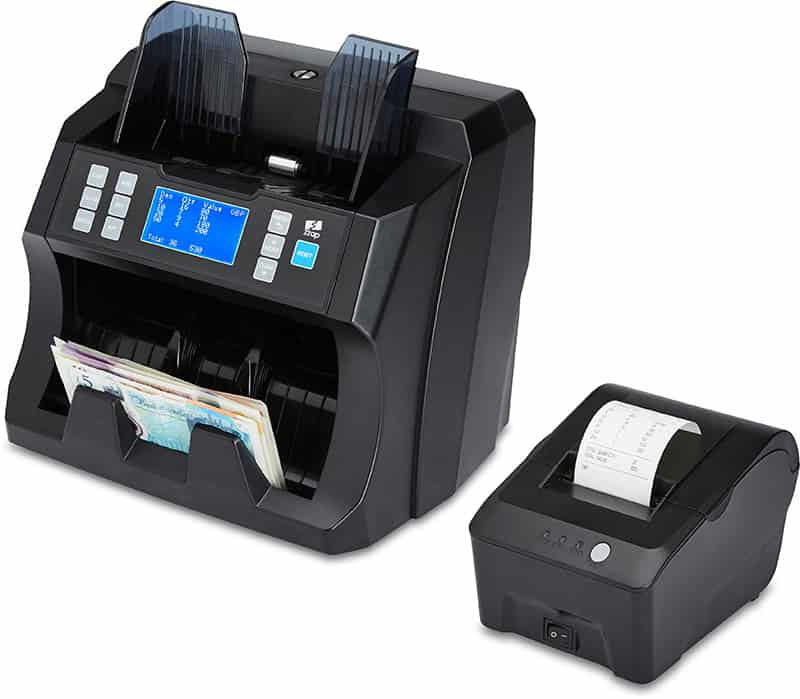 Export Results & Download Updates
To make your administration even easier, you can export & save your full counting report to a PC using our free ZZap Banknote Counting Software.
New banknotes issued? No problem. The NC45 has an integrated USB update port so you can easily download updates. Currency updates and instructions can be downloaded, free of charge from our website. We work with Central Banks to ensure the update is available before the new banknote enters circulation.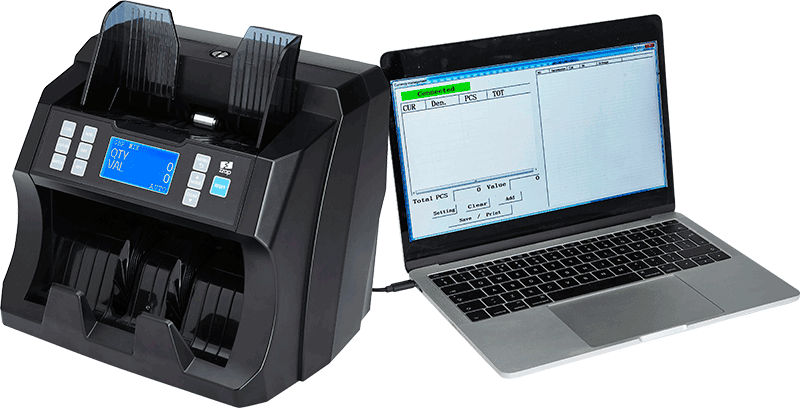 Automatic or Manual Start
Simplicity at its best; effortlessly place the banknotes in the hopper and watch the NC45 start & stop counting automatically. Alternatively, manual start is always available.
Batch counting is also made that bit more manageable. Simply take the banknotes from the stacker and the NC45 will instantly start to count the next batch - no buttons to press.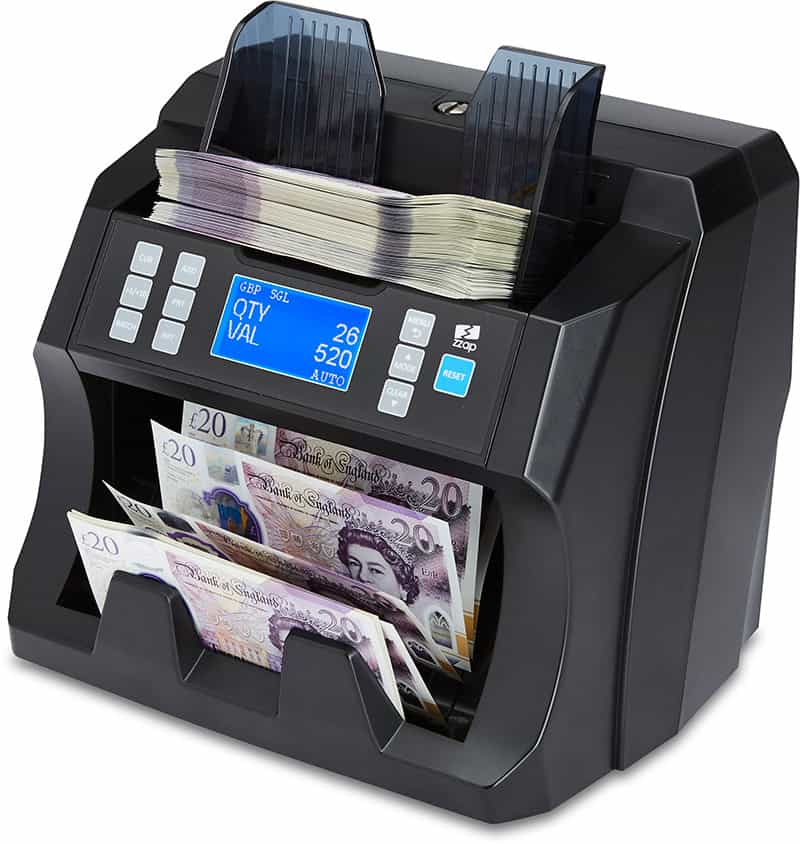 Counts Vouchers, Coupons, Tickets, etc
It could not be simpler. All counterfeit detections can be turned off at the touch of a button, turning the NC45 into a universal counting machine that can count vouchers, coupons or tickets (depending on size).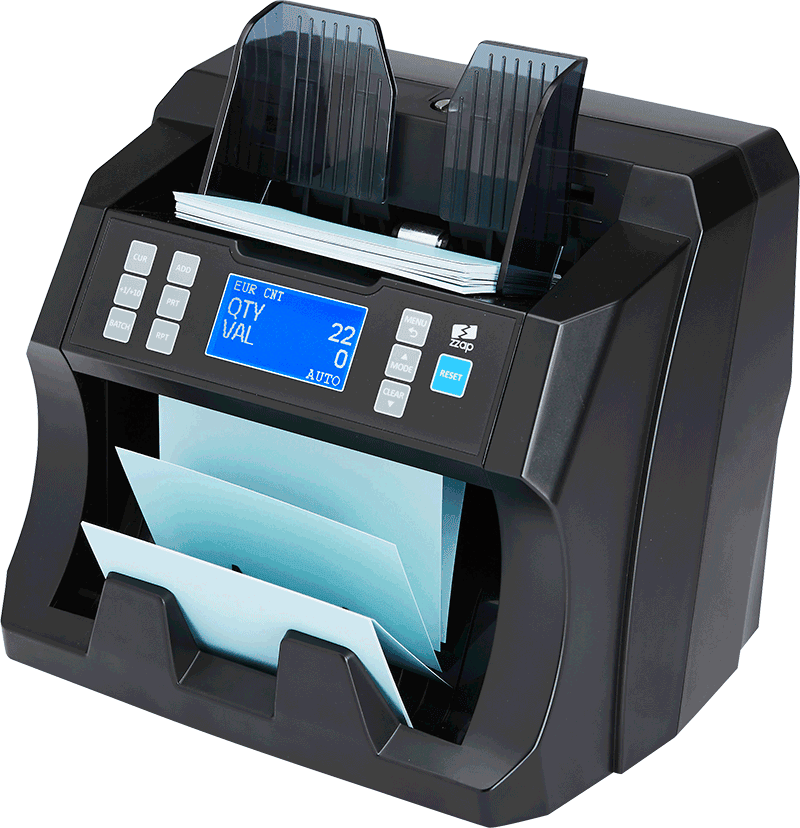 Space-Saving Design
The NC45 has been engineered to fit perfectly on the smallest of countertops. It also has an integrated carry handle for easy transport.
26.8 cm
23.7 cm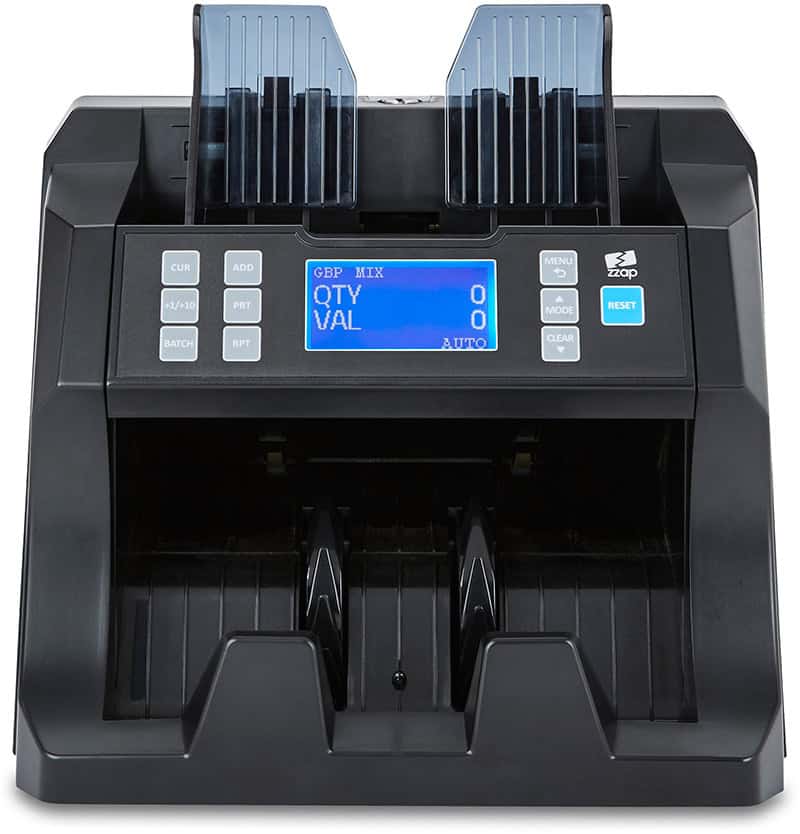 Technical Details
Technical Details
CE certified
Hopper capacity: 400
Stacker capacity: 250
Net weight: 4 KG
Dimensions: 210 x 268 x 237 mm
Power source: AC100-240V/50-60Hz
Package Contents
ZZap NC45 Banknote Counter
User manual
Maintenance kit
Power cable
External customer display
Dust cover
Optional Extras

Compare the ZZap Banknote Counter Range
To compare specific products
Tick the boxes above the products
then click the filter button below
Reset
Filter
Counterfeit Detection
Ultraviolet light
Magnetic
Infrared
Metal thread
3D
Serial number
Color
Image
Half-note
Width
Thickness
Specifications
Counting Speed (banknotes/minute)
Adjustable speed
Optional automatic or manual start
Central bank certified
Single denomination quantity counting
Single denomination value counting
Mixed denomination value counting
Export count report to a PC
Serial number scanning
Face/orient/den/counterfeit sorting
Contact image sensor x1
Contact image sensor x2
Battery powered
Hopper capacity
Stacker capacity
Warranty
Net weight
Dimensions (depth x width x height)
Power source