ZZap S10 POS Banknote Safe
Features
Mounts underneath a countertop
Stores banknotes, cheques, vouchers, etc
Robust steel casing
Security lock for countertop release
Security lock for banknote storage
Neatly stores up to 400 banknotes
Quick & reliable operation
Jam-free mechanism
Includes 4 mounting screws
Includes 2 keys for counter release (1 spare)
Includes 2 keys for banknote storage (1 spare)
Why you'll love the S10?
The S10 neatly stores your high value/excess banknotes within two layers of hardened steel, reducing the risk of robbery and internal theft at the point of sale. The S10 is a small investment that could save you a lot of money in the future. The S10 can be securely mounted under a countertop, close to your cash register but out of sight. The S10 has 2 security locks. 1 lock to connect/release to the countertop (for staff) and 1 lock to open the banknote storage (for management). The safe has no electronic or plastic parts ensuring reliable operation.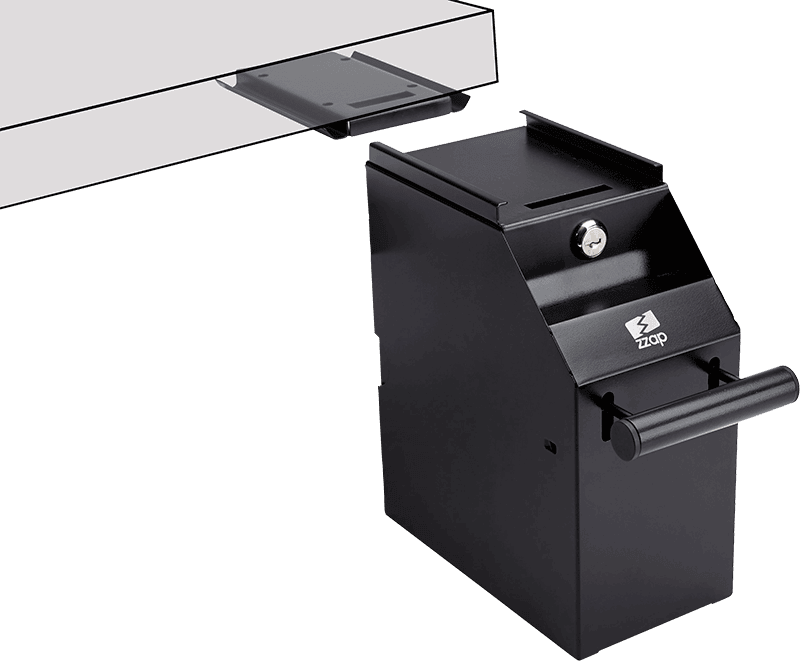 Mounts underneath a countertop
It takes just minutes to securely mount the S10 under your countertop using the enclosed screws. Close to your cash register but out of sight. Using the key you can quickly release the safe from the countertop for a safe & secure removal process to the safe deposit/office location.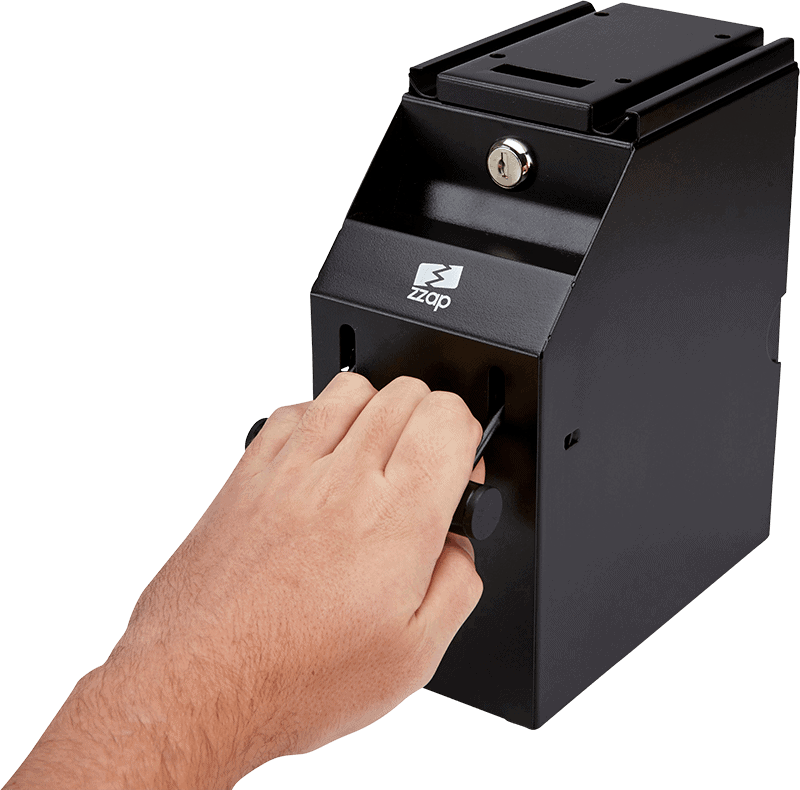 Quick & reliable operation
Simply drop one or more banknotes into the slot, press the handle downwards and the banknotes are stored. Once stored, the banknotes can only be accessed using the key. The S10 incorporates a jam-free mechanism that uses no plastic or electronic parts ensuring reliable operation.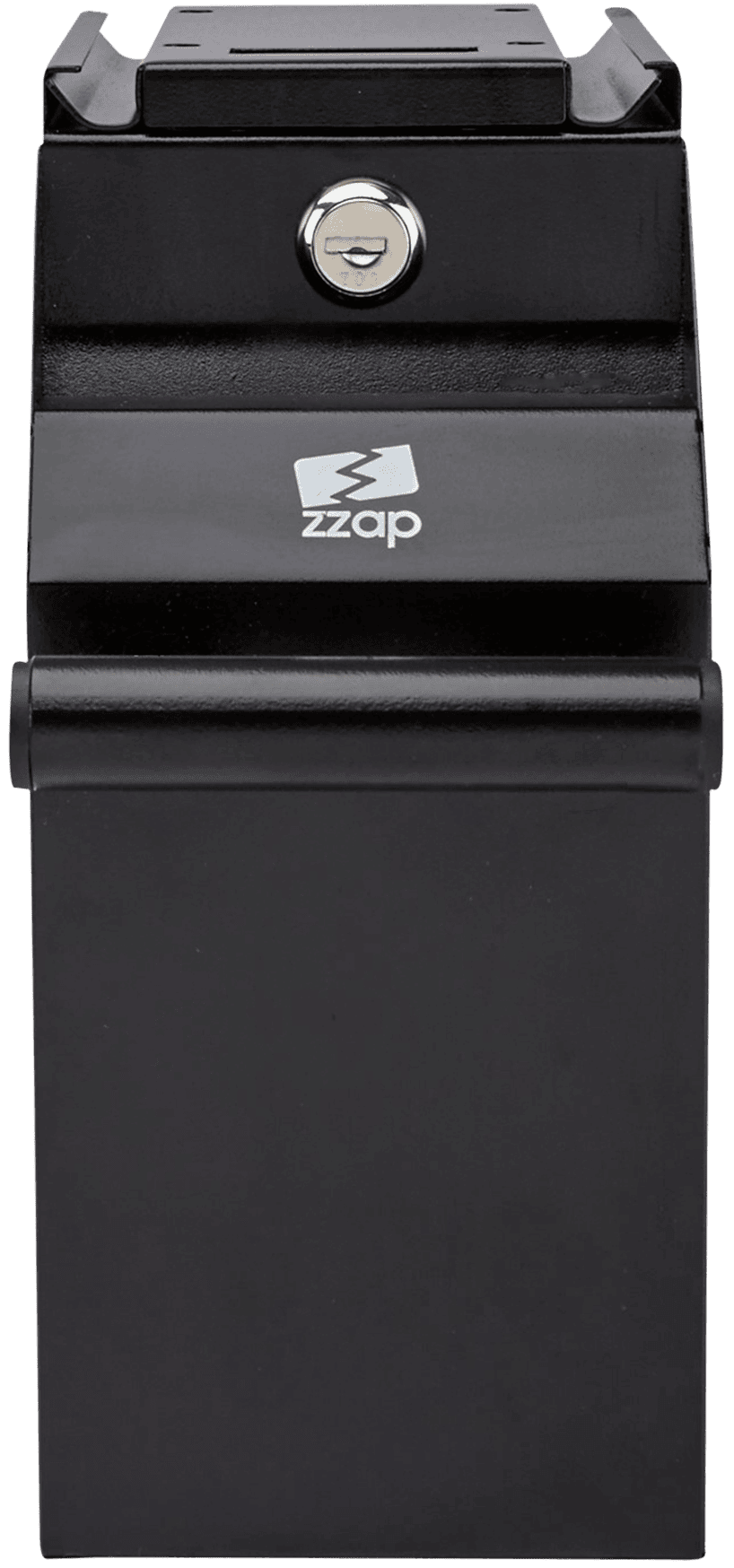 Robust steel casing
The S10 has two layers of solid hardened steel to ensure complete piece of mind.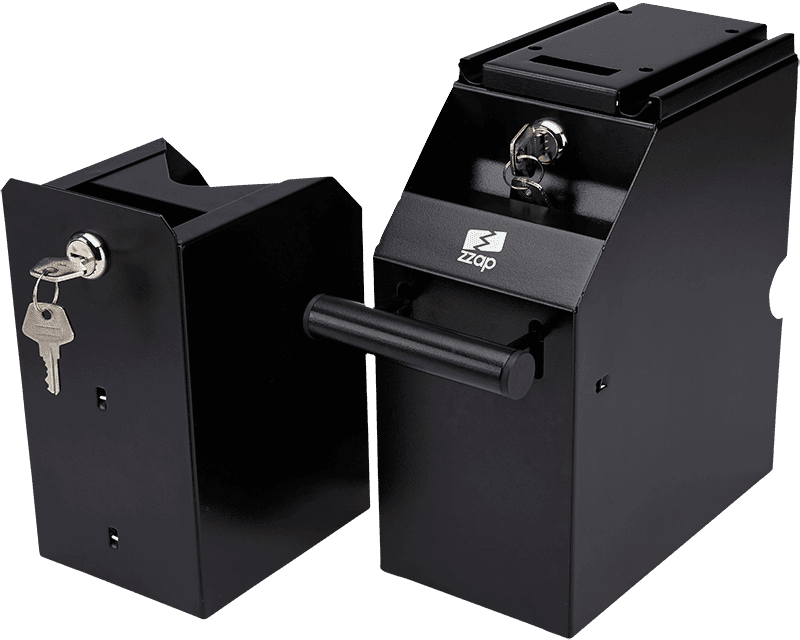 2 security locks
The S10 has 2 security locks and includes 4 keys (2 spares). 1 key is used to connect/release the safe from the countertop (for staff); the other is used to access the banknote storage compartment (for management).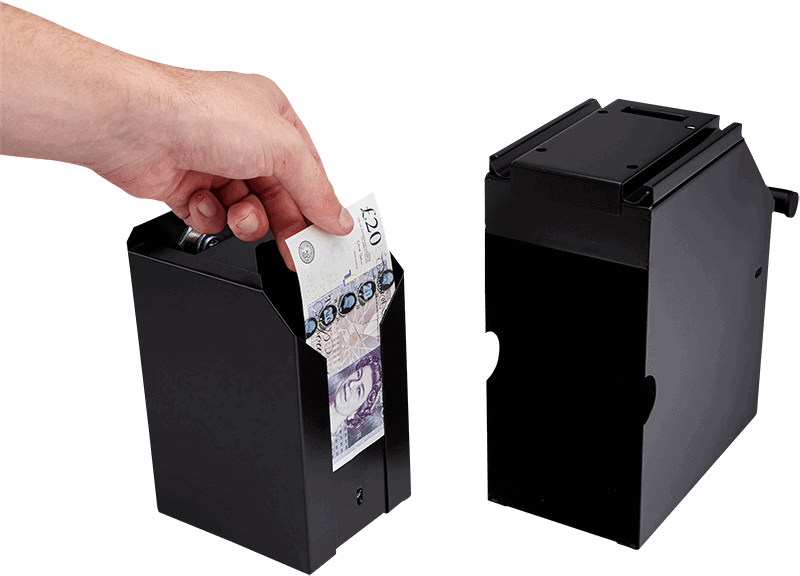 Neatly stores up to 400 banknotes
The S10 stores up to 400 banknotes (all currencies & denominations) in a neat and orderly fashion within the safe. It can even store items such as cheques or vouchers.
Technical Details
Technical Details
CE certified
Storage capacity: 400 banknotes
Net weight: 2.2 KG
Dimensions: 240 x 110 x 240 mm
Package Contents
ZZap S10 POS Banknote Safe
2 x Banknote storage keys
2 x Countertop release keys
4 x Mounting screws
User manual

Customer reviews for this product
Very pleased with purchase and quick delivery! Would recommend!! A++
Great item, quick service, many thanks. 100% happy :o)
Best quality and fast dispatch.
Superb every time. Thank you.
Great product, no hassle, easy transaction.
Perfect item. Very quick delivery. Thank you.
Very fast service. Well packaged.
Very good, would use again.
Good, highly recommended.
Great seller and good service, thanks again A +++
Great communication, very good seller 🙂
As described, immediate delivery, very pleased.
FANTASTIC, THANK YOU, FAST FAST FAST DELIVERY!!
Very quick delivery and perfect item.
Good purchase, quick communication.
Fast and quick service. Excellent!
Can't believe how fast it was delivered. Just fantastic.
Used this product? Why not submit a review here. You will need to quote your invoice number. All reviews are authentic and verified. Contact us for more information.
Compare the ZZap Point of Sale Safe Range
To compare specific products
Tick the boxes above the products
then click the filter button below
Reset
Filter
Specifications
Stores
Mounting capability
Casing
Lock type
Storage capacity
Includes mounting bolts/screws
Separate key for banknote storage
Spare keys included
Jam-free mechanism
Cash box with carry handle & lock
Warranty
Net weight
Dimensions (depth x width x height)
ZZap S10 POS Banknote Safe

Banknotes
Underside of a surface
Hardened steel
Security lock
Approx. 400 banknotes
3 Years
2.2 KG
240 x 110 x 240 mm

£

44.99

(ex. VAT)

More Details Add to basket

ZZap S20 POS Cash Safe

Banknotes & coins
On top of a surface
Industrial-grade steel
Industrial-grade lock
Approx. 500 banknotes
3 Years
6.3 KG
250 x 120 x 300 mm

£

99.99

(ex. VAT)

More Details Add to basket

ZZap S30 POS Cash Safe

Banknotes & coins
Underside of a surface
Industrial-grade steel
Industrial-grade lock
Approx. 500 banknotes
3 Years
4.5 KG
245 x 120 x 275 mm

£

99.99

(ex. VAT)

More Details Add to basket